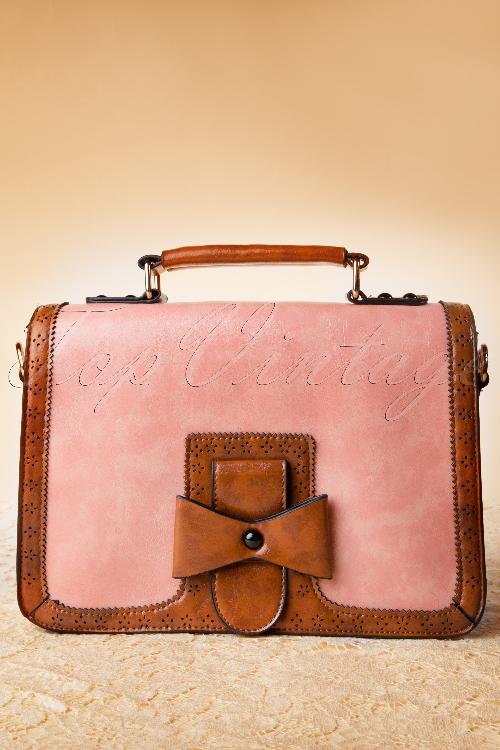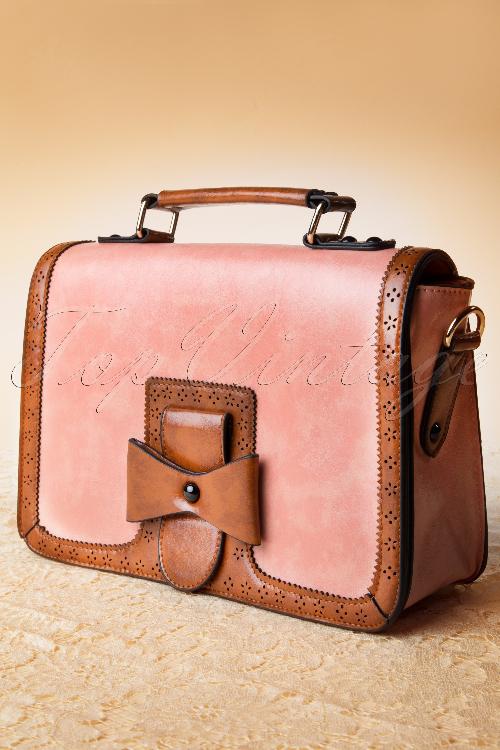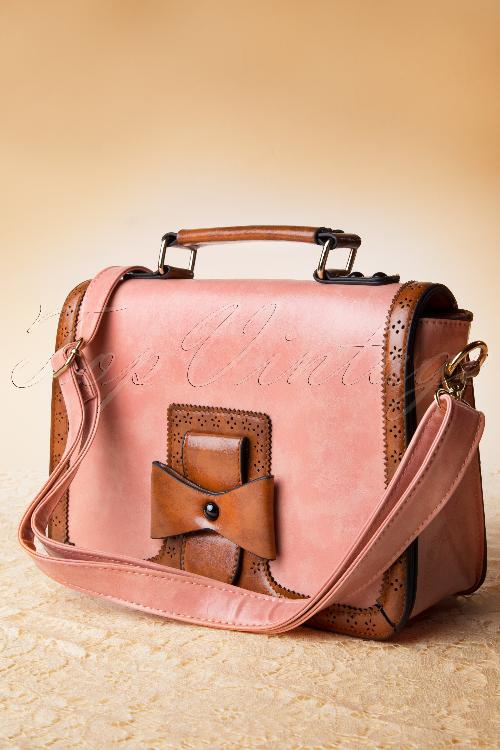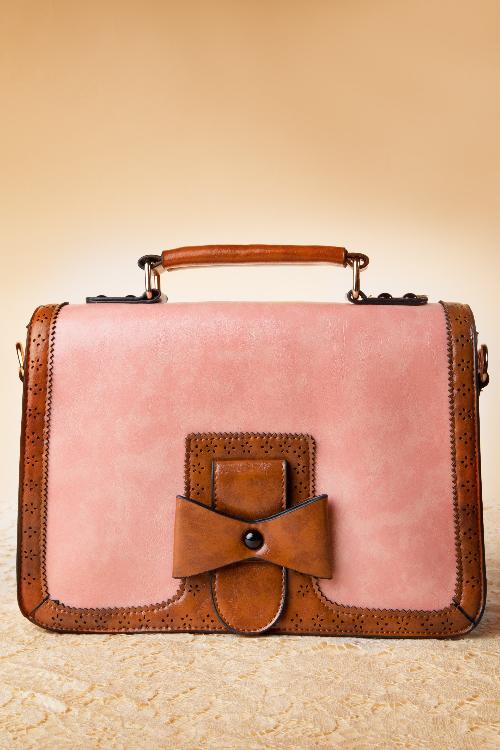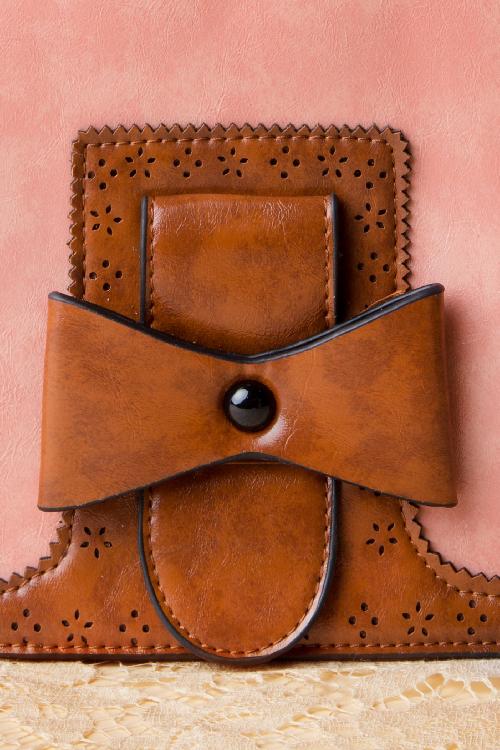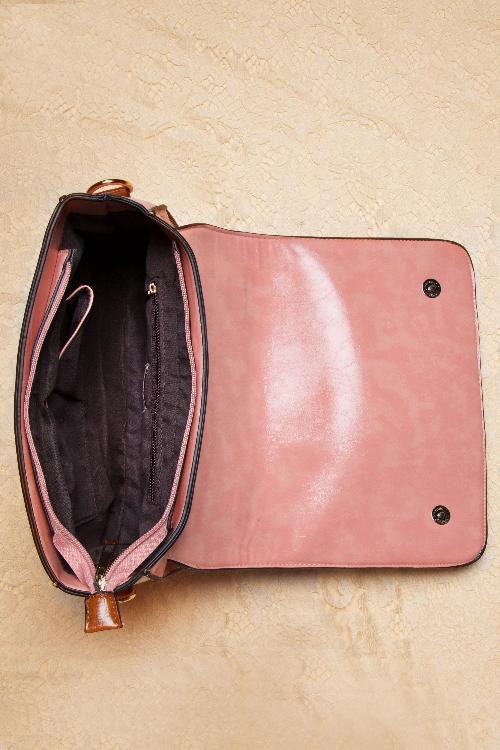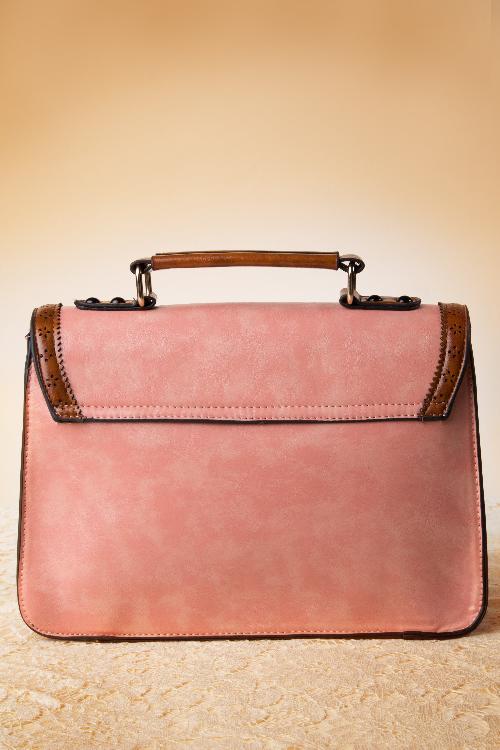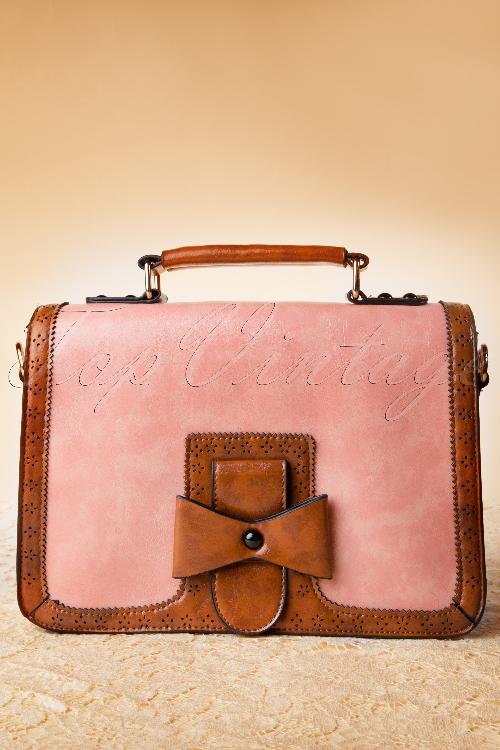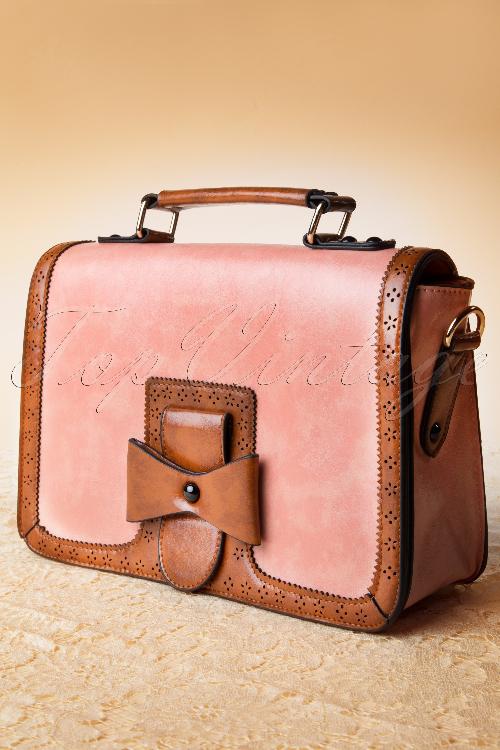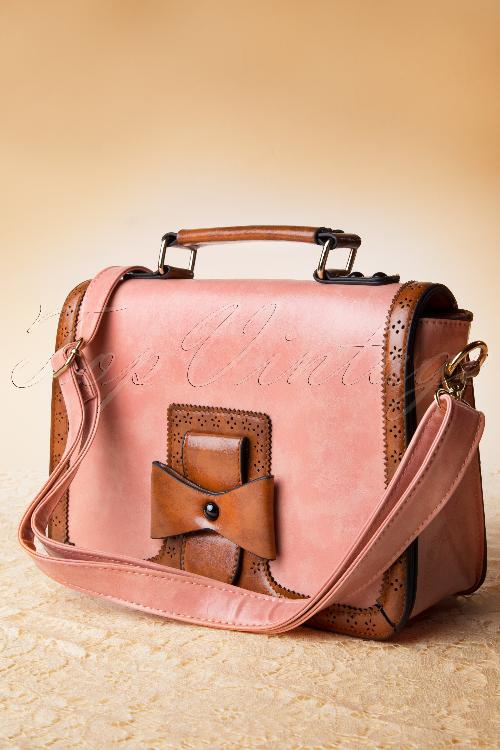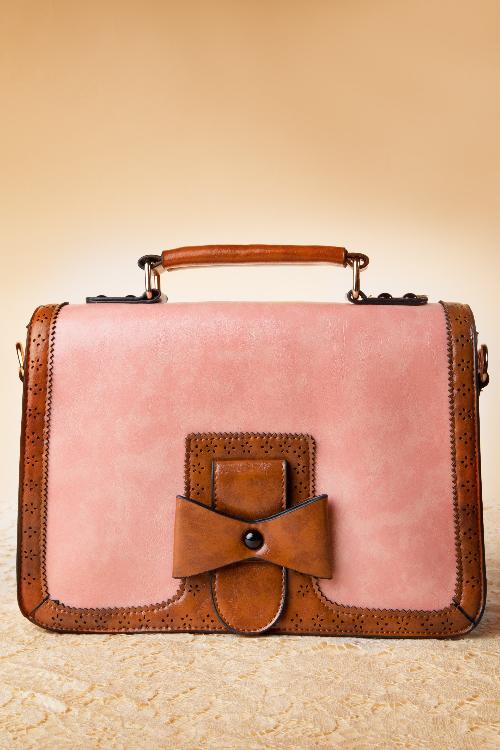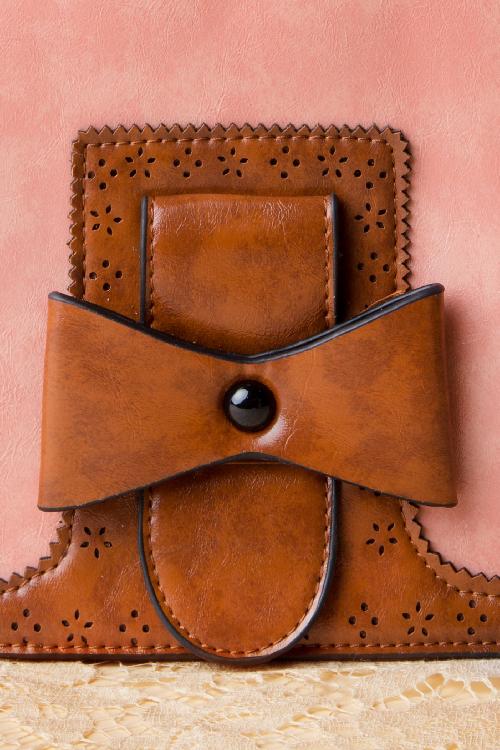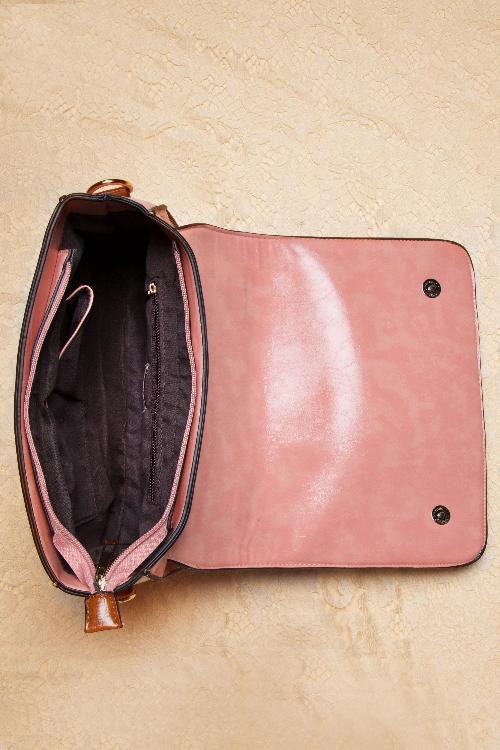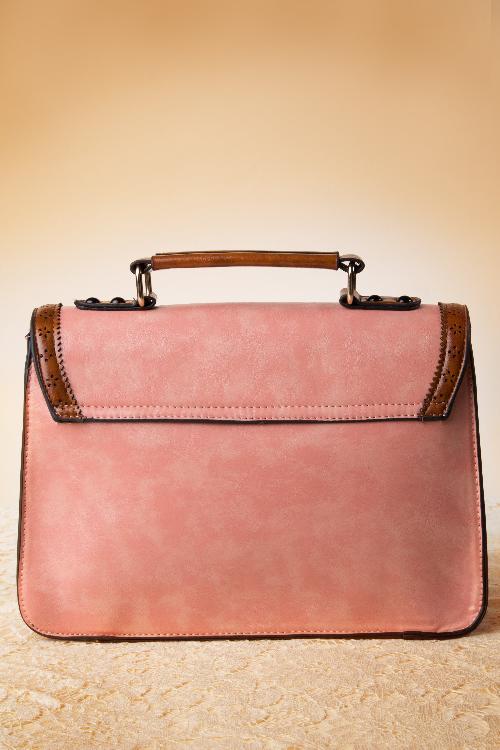 50s Scandal Antique Handbag in Pink
This 50s Scandal Antique Handbag will make up for all the fashion flaws you've ever had in the past, because this one is just too good to be true! A faux leather, medium sized bag in pink, with fabulous brown detailing around the edges, flower shaped cutouts and a bow-shaped appliqué at the front; super cute! Closes with two (hidden) magnets and a zipper and comes with a removable, adjustable shoulder strap. Lined with a brown fabric and finished off with handy inside pockets and an extra zipper compartment. An A4 format doesn't fit, but your iPad and all your other important gear, like your wallet and mobile phone, definitely do!

Height: 20 cm
Width: 29 cm
Depth: 10 cm
This bag is measured without handle.
Goldtone base metal
Vegan leather
Lining polyester
Avoid contact with water/parfum/cleaning agent
Een welverdiende en grote DANKJEWEL voor de mensen achter Topvintage,...

Naast een prachtige collectie ook een bijzonder snelle levering,...

Ik ben en blijf fan,...❤️❤️❤️
Christelle
&nbsp|&nbsp
2016-09-15 07:31:13
---
Wat een heerlijke accessoire!
Hele leuke reacties gekregen op dit tasje. Probeer mijn retro-adresje nog een beetje geheim te houden, al gaat dit lastig.
Bianca
&nbsp|&nbsp
2016-08-25 18:59:33
---
Ein bisschen steif und unhandlich ist sie noch, die Tasche. Aber ansonsten wunderschön!
Stefanie
&nbsp|&nbsp
2016-05-03 14:45:20
---
Heel erg happy met dit nieuwe tasje. Dacht eerst dat ik hem maar beperkt zou kunnen dragen omwille van de kleur, maar dat blijkt reuze mee te vallen. Ik vind vooral de combo van de girlie cuteness met de schoolse boekentaslook helemaal top! Wel niet supergroot vanbinnen, maar dat is niet zo erg. Dan zeul ik minder overbodige ditjes en datjes mee.
Dana
&nbsp|&nbsp
2016-01-23 15:47:55
---
kan er prima bij ...
Nina
&nbsp|&nbsp
2015-10-10 12:50:34
---
prachtig tasje,helemaal wat ik wou!
claudine
&nbsp|&nbsp
2015-08-27 18:24:13
---
Top Vintage medewerkers: allereerst hartelijk dank voor de supersnelle toezending: 3 april besteld en 4 april afgeleverd. Wat een service!
Toen ik de tas had uitgepakt wist ik het zeker: deze schoonheid is van mij en ik neem hem vanavond al mee naar een dinertje. Ben benieuwd wat de vrienden zeggen.
Dit is een echte aanrader en dat voor die prijs!
Maria
&nbsp|&nbsp
2015-04-04 13:12:55
---
nl
Niets dan lof en complimenten...
... voor deze heerlijke tassen aan een heerlijke prijs! Ik ben fan!
Vanessa
&nbsp|&nbsp
2015-03-16 10:34:51
---
De 3 stuks zijn supermooi, de short en broek zitten fantastisch.
Zeker nu hij in solden is (bij mij was dit net niet) is deze short een musthave!!!
Natasja
&nbsp|&nbsp
2015-01-21 09:30:36
---
onweerstaanbaar & zo makkelijk om te dragen, ze zijn niet te groot, dus wat erin moet kan erin!! geweldig
Sandra
&nbsp|&nbsp
2015-01-10 02:20:11
---
Tolle Kleider, leider wie überall nur für Superschlanke. Gab es in den 50ern keine Frauen mit etwas mehr Figur. Mehr in Größe 48/50 wäre toll, z.B. schicke Kostümchen.
Ansonsten finde ich die Schuhe sowie Schmuck&Accessoires besonders toll. Alles sehr liebevoll verpackt. Macht weiter so!
Sabine
&nbsp|&nbsp
2014-12-09 10:20:57
---
Gisteren mijn bestelling ontvangen maar nu net pas open durven te maken,was zo bang dat het tegen zou vallen maar hij is in een woord superrrrr mooi,ben er helemaal happy mee en wel met de Banned 50s Antique Handbag in Pink OS. Hoop dat er snel 'n bijpassende portemonnee bijkomt.
En natuurlijk weer 'n leuk presentje erbij.
Ellie Bruens
&nbsp|&nbsp
2014-09-12 22:46:31
---
De Banned 50s Antique Handbag in Pink : in één woord gewoonweg PRACHTIG.
Super snelle en goede service zoals gewoonlijk!
Sarah
&nbsp|&nbsp
2014-07-30 12:03:49
---
Sie ist zwar kleiner als meine sonst tägliche Handtasche ... aber seien wir mal ehrlich: welche Tasche ist gross genug
Joelle
&nbsp|&nbsp
2018-05-02 07:54:21
---
Que du bonheur, oh la la oh la la, qualité, beauté, style, j'adore j'adore....je craque à chaque fois, je suis satisfaite et toujours impatiente de recevoir le colis. Avec la petite attention, découvrir la façon dont le colis a été soigné et préparé, c'est excitant et tellement agréable, je reviendrai encore et encore sans hésitation. merci. sophie
SOPHIE
&nbsp|&nbsp
2018-03-24 00:46:30
---
Je suis satisfaite de tous ce que j'achète et chaque fois que je reçois mon colis délicatement préparé, je frétille d'impatience d'essayé et de porter. Le cadeau fait grandement plaisir, tout est fait pour donner envie de revenir et on peut quand on achète de la qualité. sur tout mes achats seuls les boucles d'oreilles et le bracelet ne m'ont pas convaincu, ils sont malheureusement tombé ( simplement) et ils se sont cassé, ils manque cruellement de solidité. pour tous le reste vêtements, accessoires et chaussures sont du pur bonheur. à très vite ;) sophie
Bonjour Sophie, je suis ravie de lire que vous êtes si satisfaite sur la plupart des articles mais quel malheur que vos bijoux sont tombés et cassés ! Je vous écris un e-mail immédiatement afin qu'on peut résoudre le problème ! 
Cordialement,
Nicole 
Service clientèle
SOPHIE.P
&nbsp|&nbsp
2018-02-23 17:02:49
---
Wat een super leuke tas en ik zo content ❤
Carine
&nbsp|&nbsp
2017-04-26 09:10:14
---
Vandaag binnengekregen en zooo superblij!
Echt een hele mooie tas!
Britt
&nbsp|&nbsp
2017-04-01 15:48:14
---
Ohhhh wie ich sie liebe. Nicht zu groß, nicht zu klein.
Normalerweise finde die die Trageriemen bei Taschen völlig unmöglich; sehen aus und fühlen sich an als würden sie nicht zur Tasche gehören.
Der Trageriemen jedoch ist farblich abgestimmt und noch dazu schön weich. Den lasse ich dran.
Anke
&nbsp|&nbsp
2017-01-06 06:39:36
---
Gisteren een beetje rondgeneusd voor mijn verjaardagscadeau,was zo enthousiast dat ik een prachtige tas alvast heb gekozen en vanmiddag al thuis gekregen heb ,ben pas over twee weken jarig ,maar ja hij is ook zo mooi ,ik kon echt niet wachten
Melanie
&nbsp|&nbsp
2016-12-28 16:58:30
---
Wie immer kam das Päckchen sehr schnell und süß verpackt bei mir an (allein das liebe ich an diesem Shop). Auf die Tasche hatte ich mich am meisten gefreut, ich war vom ersten Moment Schock verliebt
sabrina
&nbsp|&nbsp
2016-09-30 16:33:22
---
nl
Liefde op het eerste gezicht
Ik droom al een jaar van deze handtas maar de lengte deed mij twijfelen omdat ik altijd supergrote handtassen gewend ben. Nu het mijn verjaardag was heb ik mij eens goed verwend door ze dan toch aan te kopen. Toen ze hier vanmorgen aankwam heb ik daar geen spijt van gehad, zo klein was ze ook weer niet, dan neem ik gewoon wat minder spulletjes mee.
Karolien
&nbsp|&nbsp
2018-11-21 09:43:45
---
fr
magnifique trench !!!!!
Aussitôt commandé, aussitôt livré!
Magnifique imperméable vert, je suis ravie.
Les différentes ceintures sont également parfaites et le sac rose ressemble à un bonbon !!!
Encore bravo et à bientôt.
Sandrine.
Sandrine DOERLER
&nbsp|&nbsp
2018-10-12 11:10:59
---