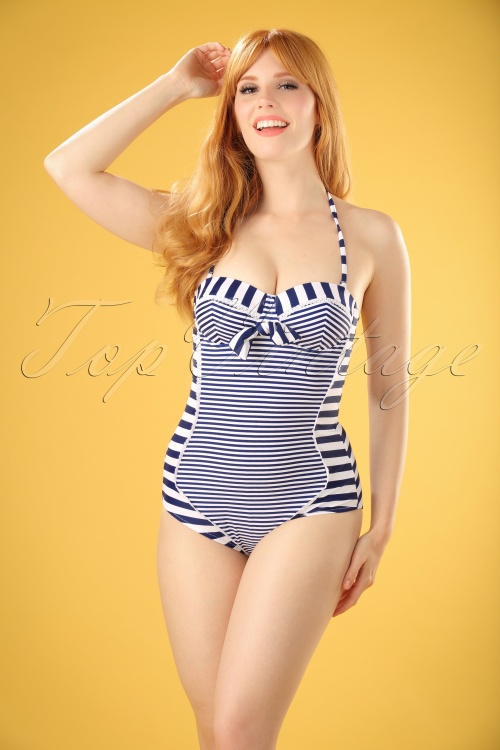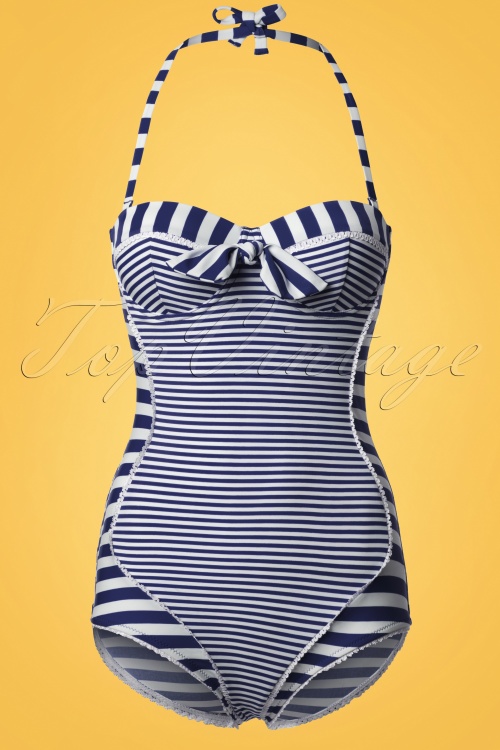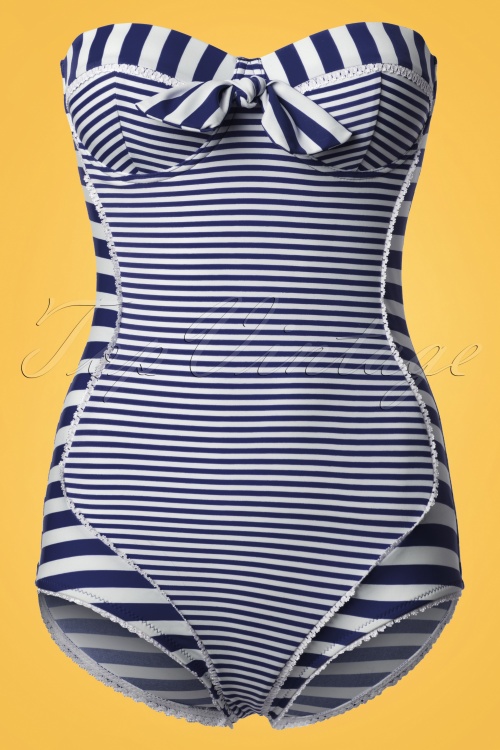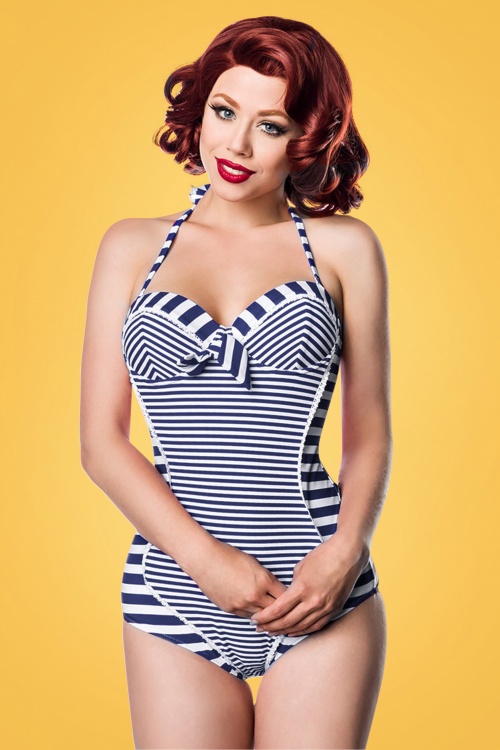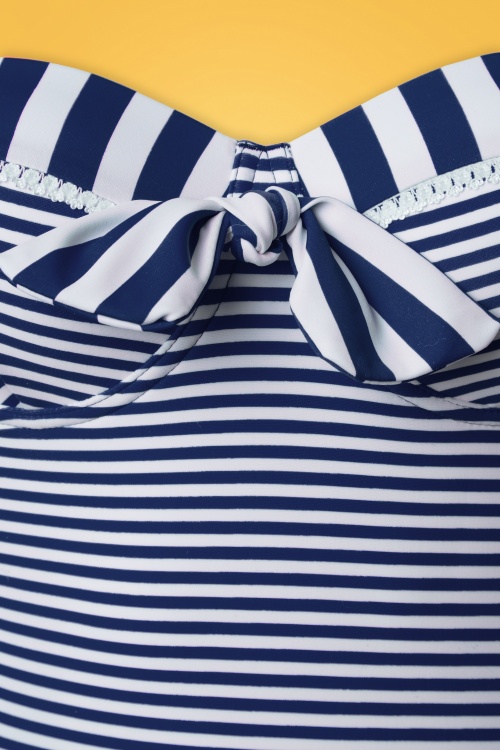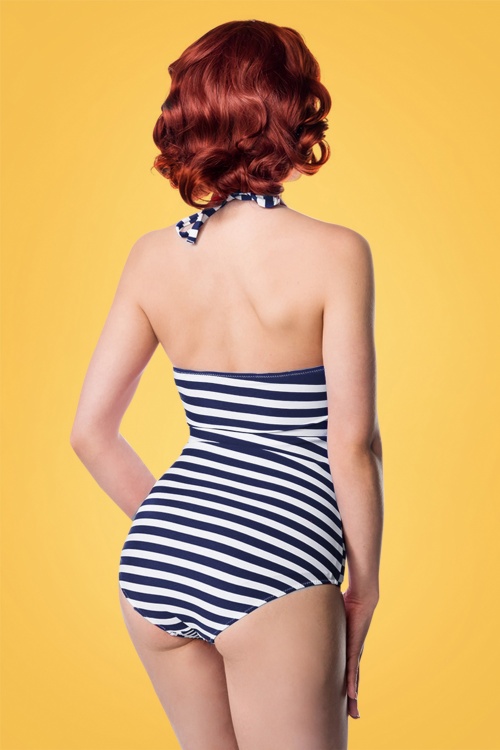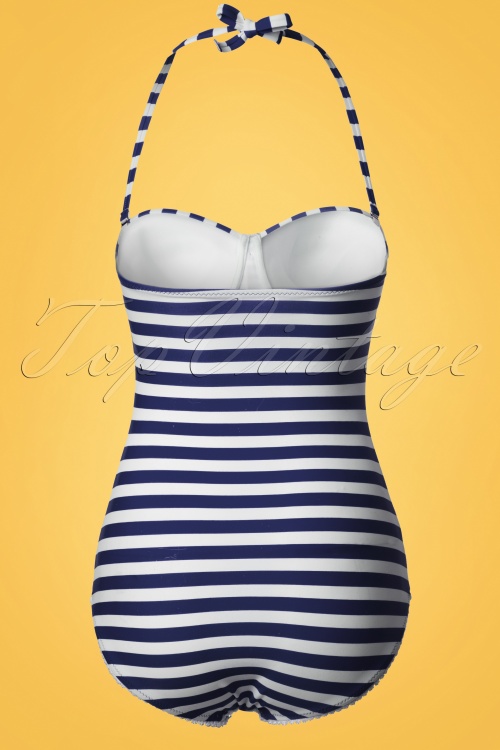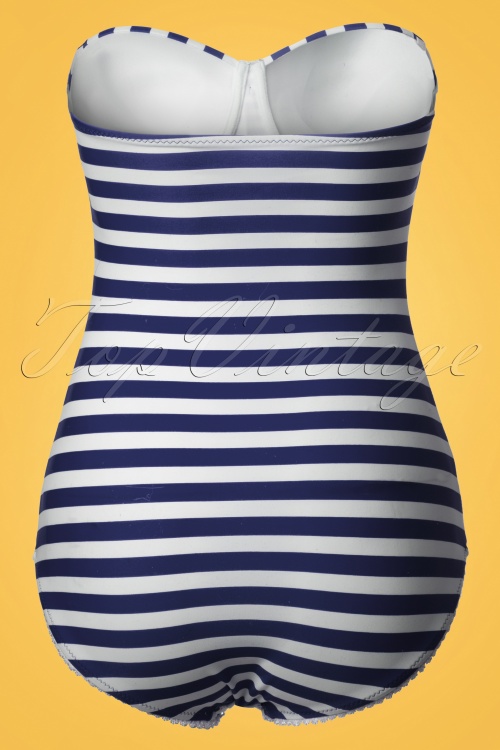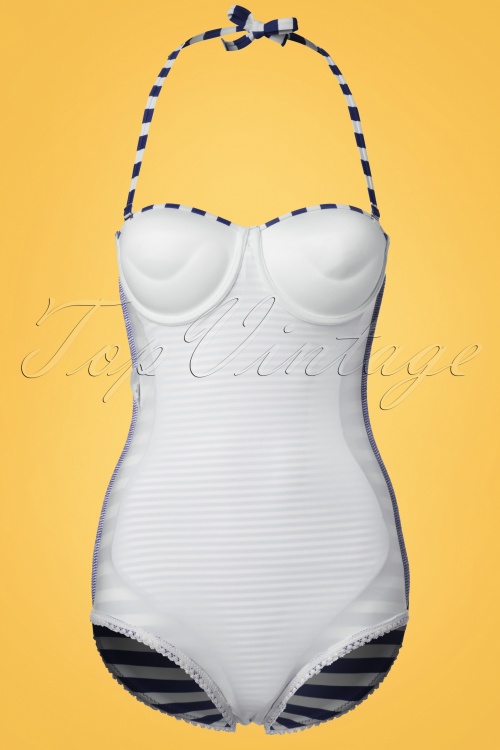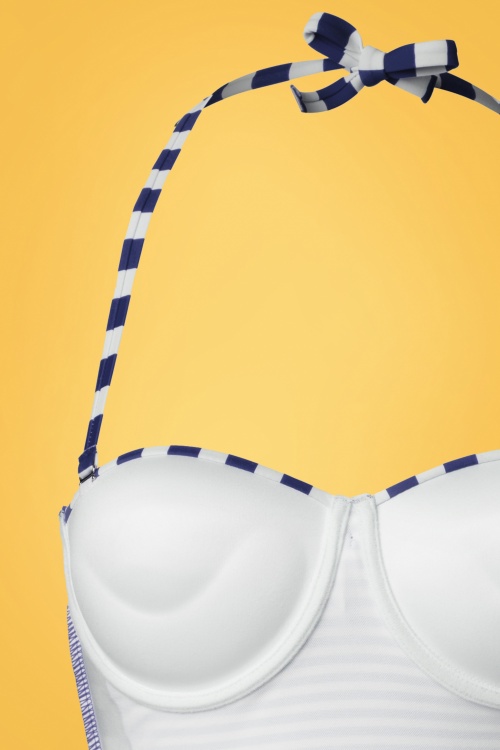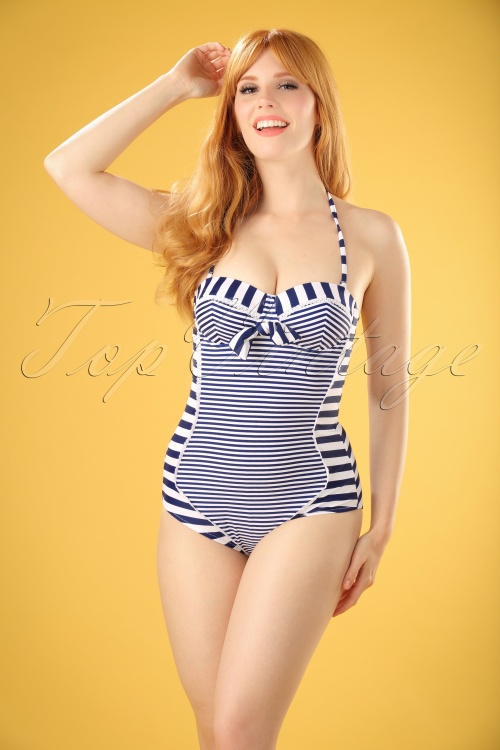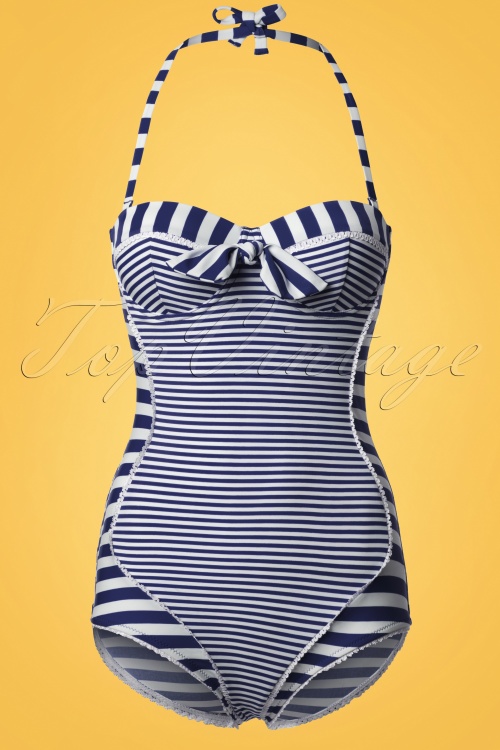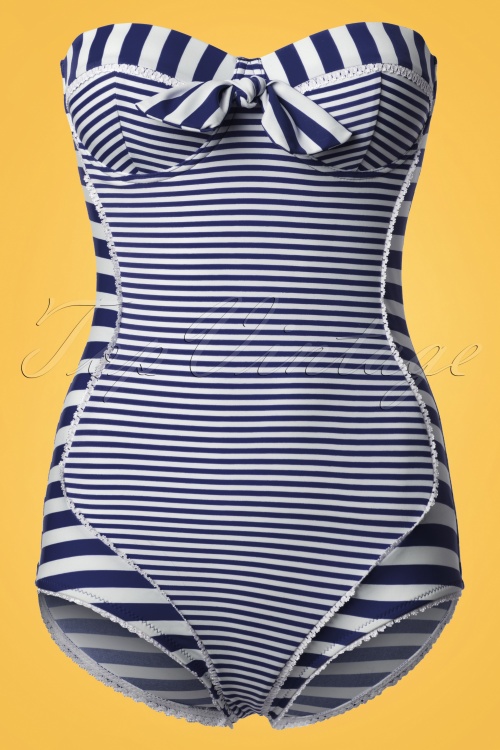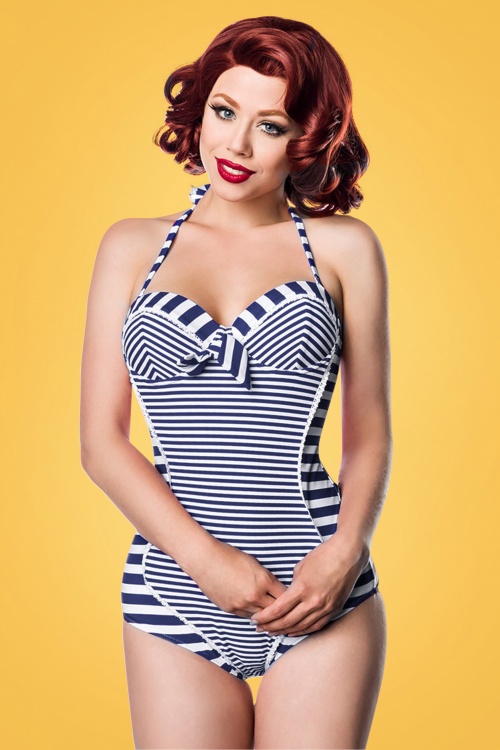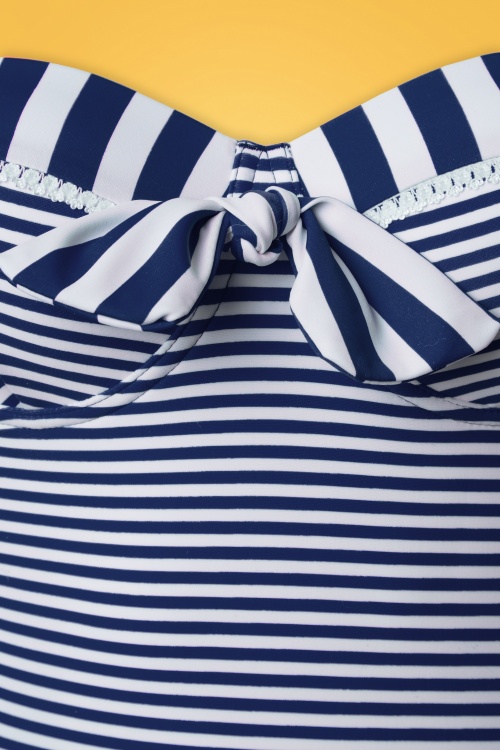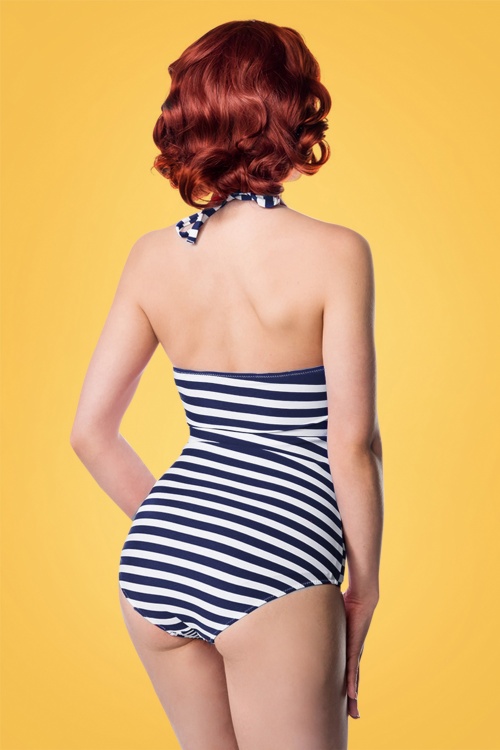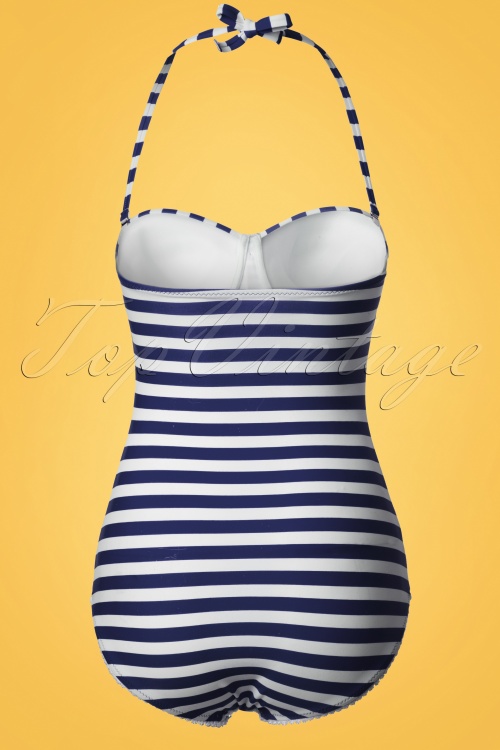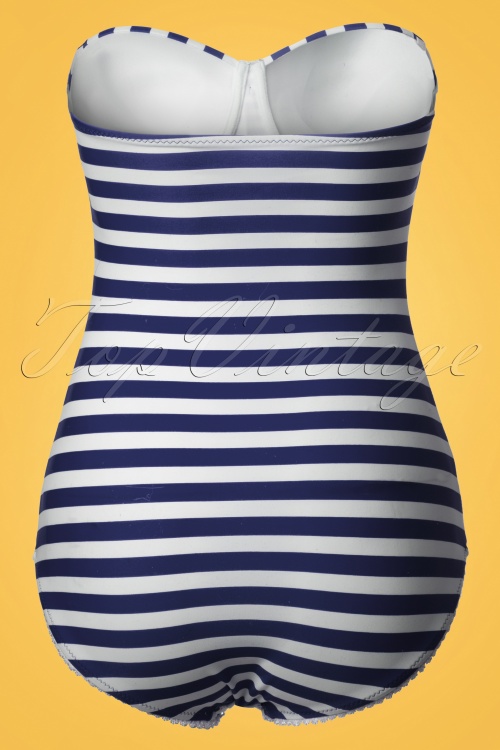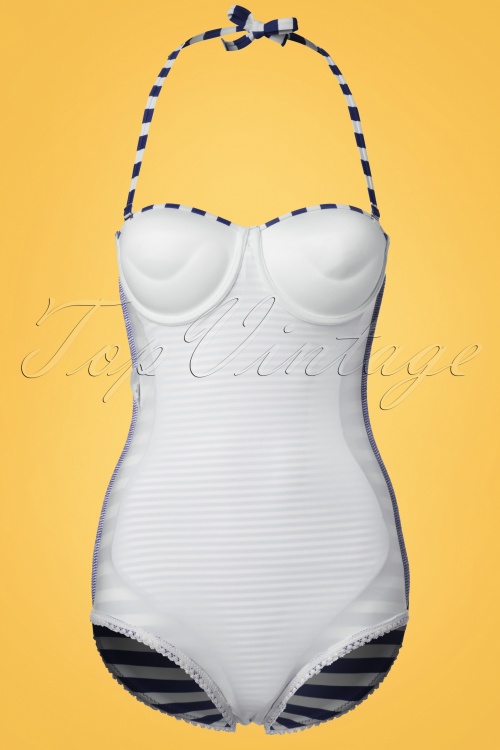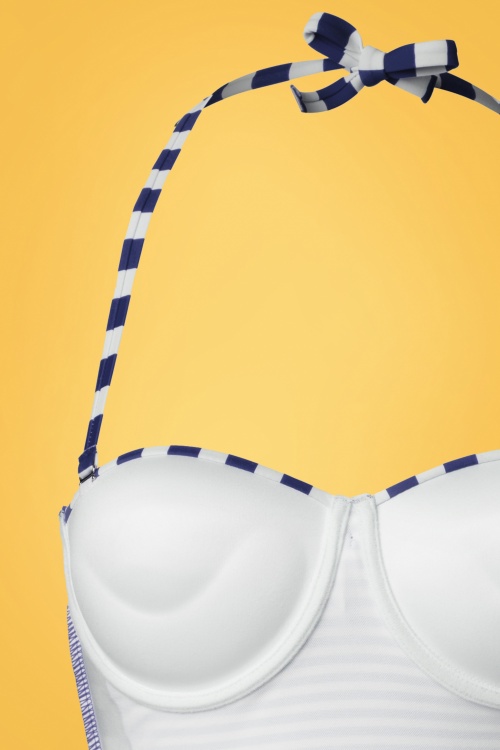 50s Nancy Stripes Halter Swimsuit in Navy and White
Many marine will twist their necks when you stroll along wearing this 50s Nancy Stripes Halter Swimsuit in Navy and White! You'll look irresistible when wearing this striped beauty! Nancy features two halterneck straps, molded push-up cups ensuring extra support and a playful tie detail at the bust. The halter straps are very handy while taking a dip but you can remove them easily when you're laying in the sun with a cocktail in your hand... we only love white stripes on our swimsuit ;-) The contrasting panels feature lovely lace trims and make her incredibly slimming, bring on that hourglass figure! Made from a comfortable, stretchy fabric with navy blue and white stripes which is a joy to wear and fits perfectly. We like sailors... but we LOVE the sailor style!
Molded cups
Extra push-up pads
Underwired
Seam across the cup
Detachable halter straps
Fixed tie detail
Lace trims
Article nr.
21894
80% Polyamid
20% Elastane
Do not wring, hang to dry
Handwash inside out (don't leave it in the water)
Wash inside out
Do not dry clean
Do not tumble dry
Do not iron
Erg mooi badpak, maar geeft bij de borsten weinig steun. Helaas retour moeten sturen.
Marieke de Weijer
&nbsp|&nbsp
2019-10-12 12:13:11
---
Dit badpak zit heerlijk, blijft bij in het water duiken ook goed zitten :) de cups zijn wel wat klein, ik heb maat L besteld en de cups passen net (cupmaat b)
Lisanne
&nbsp|&nbsp
2019-03-13 19:26:41
---
nl
Supper ! Mooi en schattig
Ik ben zo blij! met de badpak, dankzij de maattabel past het precies.
Snel gelevert, en heel leuk! ingepakt met een keinextraje.
Dankjulliewel♡
Lara Karatas
&nbsp|&nbsp
2018-01-10 14:57:35
---
nl
Super vrouwelijk badpak!
Zojuist mijn badpak ontvangen... Twijfelde enorm om dit via internet te bestellen, maar dankzij het aanhouden van de maattabel past ie perfect! Cups zijn wel heel klein en behoorlijk puntig, maar het past bij t model en t zit heerlijk! Ben er erg blij mee en t was ook mooi verpakt in de doos met een extraatje, heel attent. Dank je wel top vintage!
Hermien de Groot
&nbsp|&nbsp
2017-12-29 17:10:53
---
Dies ist bereits mein zweite Badeanzug dieses Modells, da ich ihn in rot schon super-schön und bequem fand. In blau steht er mir fast noch besser! Wirklich schönes Teil!
Ina Riesel
&nbsp|&nbsp
2017-07-27 15:31:20
---
nl
Geen cadeautje dit keer...
Ik was weer heel blij jullie pakje vandaag te mogen openen, en wat jullie voor een leuk extraatje erbij hebben gelegd....maar helaas dit keer niks.....maar goed dat kan gebeuren. Spulletjes waren zoals altijd heel leuk en behalve de Belissima 50 Badpak paste alles prima. Helaas zijn de cupjes hier idd maar cupjes, in dit geval vond ik niet gerelateerd aan de bestelde maat. Maar goed de andere Badpak was top en de Jurk super mooi, dus was ik ook weer blij. Tot de volgende bestelling dan.






Rosita Ehl
&nbsp|&nbsp
2017-07-25 16:28:20
Response from Mandy

Hallo Rosita, wat fijn dat je tot zo ver tevreden bent. Echter kan ik je teleurstelling natuurlijk begrijpen dat je er dit keer geen extraatje bij hebt ontvangen. Onze excuses hiervoor! Dit had niet mogen gebeuren! Uiteraard ga ik dit voor je oplossen! Het komt snel jouw kant op! :-)
Groetjes,
Mandy
Klantenservice
---
Supermooi, afslankend, maattabel gevolgd en M past gegoten, aangename stof. Weeral superblij met mijn aankoop.
Danielle Verhaeghe
&nbsp|&nbsp
2017-07-24 14:22:59
---
de
Proportionen passen nicht
Sehr schönes Teil, aber leider brauchen die wenigsten Frauen, die große Größen kaufen ein B-Körbchen. Schade, der Badeanzug geht leider zurück.
Petra
&nbsp|&nbsp
2017-07-13 18:37:38
---
Je cherchais un maillot de bain une pièce et celui-ci me comble, il est hyper mignon et confortable. A la lecture des autres commentaires, je n'ai pas vraiment l'impression que le guide des tailles soit trompeur (mais j'ai -bien malgré moi- une petite poitrine pour ma taille) : je l'ai pris en M, je fais environ du 90A, et en serrant bien en haut cela convient tout à fait.
Julie
&nbsp|&nbsp
2017-06-13 07:38:42
---
In het echt nog leuker !!
Ik heb maat 42 bh 85 B
Maat xl genomen ,zit prima .
Cups zijn stevig voorgevormd .
Voor mij perfect.
Voor grote boezem waarschijnlijk niet.
Heel blij mee ?
Lisanne
&nbsp|&nbsp
2022-07-21 13:45:57
---