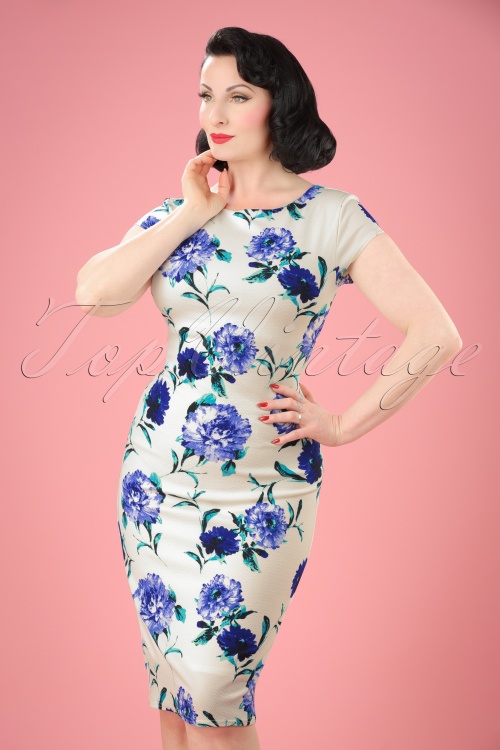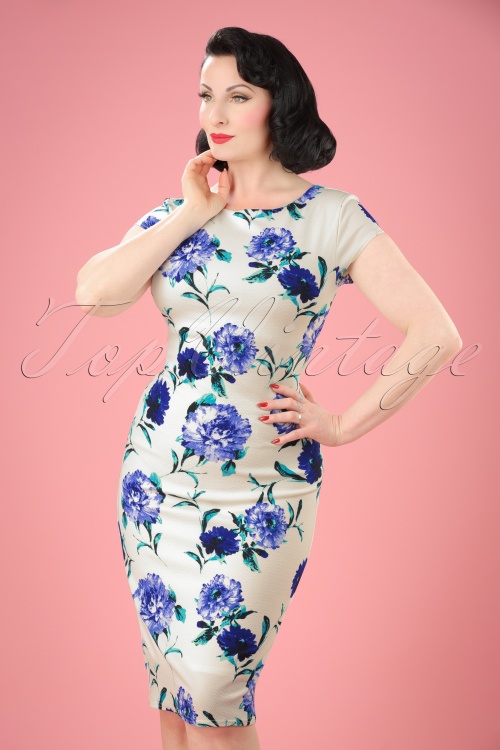 50s Marcia Floral Pencil Dress in Ivory
You'll be prettier than the prettiest flower in this 50s Marcia Floral Pencil Dress!

"After women, flowers are the most beautiful thing God has given the world"... nothing more beautiful than a lady in a floral dress ;-) Elegant high round neckline, flattering cap sleeves and a sexy cut for a super feminine silhouette; Marcia has it all! Made from an ivory coloured fabric with a light stretch and a stunning blue aquarelle like floral print which hugs your curves in all the right ways and is fully lined to ensure she won't reveal too much. Team with classy blue... Marcia we love you!
Pencil style
High round neckline
Cap sleeves
Fully lined
Hidden zipper at the back
Our black beauty Ava height: 1.69m / 5'7"
Article nr.
21984
95% Polyester
95% Polyester Lining
5% Elastane
5% Elastane lining
Handwash inside out (don't leave it in the water)
Do not dry clean
Do not tumble dry
Iron inside out on low temperature setting
Made in the UK
Dieses Kleid hat einen solchen chic. Es ist sehr elegant. Egal wann ich es trug, ich wurde bisher immer darauf angesprochen. Mir völlig fremde Frauen machten mir Komplimente auf der Straße. Ein Highlight im Schrank!


Masy
&nbsp|&nbsp
2017-06-27 17:49:41
Response from Customer service
---
Zo jammer, jurkje is te krap en te kort, 175cm mt 44. Terwijl ik deze stijl zo prachtig vind. Geldt ook voor bloeske. Maar ik ben nieuw als klant. Dus ben nog aan het zoeken welke maat bij mij past.
Rs
&nbsp|&nbsp
2017-06-14 20:18:28
---
Das Kleid ist vielseitig tragbar. Ob im Büro oder zu einer Feier. Da es gefüttert ist, sitzt es besonders gut. Ich bin begeistert. Da kann man nichts falsch machen.
ilona
&nbsp|&nbsp
2017-05-28 09:31:35
---
Jurkjes net binnen gekomen.
De wit met blauwe bloemen is geweldig. Mooie afwerking en pasvorm.
De roze gaat helaas terug. Zonder voering zie je alles en is zo echt ondraagbaar. Ik hou niet van onderjurken, die kruipen altijd omhoog.
Zo jammer!
Valeska
&nbsp|&nbsp
2017-05-24 11:45:00
---
Al jaren kijk ik op jullie website maar nooit gedurfd te bestellen. Now ik had het veel eerder moeten doen, ik ben verkocht. En wil veel meer hebben. Fantastische leuke jurk. De donker blauwe was te groot dus helaas terug. Maar ik ben al aan het kijken voor iets anders
Vanessa
&nbsp|&nbsp
2017-05-20 06:03:27
---
Pasvorm is heel mooi en de kleuren heel mooi helder. Schijnt niet door vanwege de voering en stretcht prettig. Maattabel klopt perfect.
Marjolein
&nbsp|&nbsp
2017-05-10 08:41:43
---
Gisteren besteld en vandaag in huis.
De stof ik wat dikker en steviger dan gedacht en de jurk heeft een onderjurk. Ben onder de indruk van de kwaliteit. Bij het bestellen heb ik de maattabel gebruikt, dat heeft goed uitgepakt. De jurk zit als gegoten.
Dus...... so far so good!
Esther
&nbsp|&nbsp
2017-05-09 16:23:03
---
Gisteren besteld en vandaag in huis.
De stof ik wat dikker en steviger dan gedacht en de jurk heeft een onderjurk. Ben onder de indruk van de kwaliteit. Bij het bestellen heb ik de maattabel gebruikt, dat heeft goed uitgepakt. De jurk zit als gegoten.
Dus...... so far so good!
Esther
&nbsp|&nbsp
2017-05-09 16:22:09
---
Het jurkje is erg mooi, plus het heeft een mooi prijs. Helaas gaat die retour omdat die te groot is. Ik had het advies opgevolgd 'zit je tussen 2 maten in, neem de grotere'. Voor mij was die te groot, en ik denk dat één kleiner weer te klein is. De corrigerende onderjurk gaat ook terug, omdat hij niet corrigeert. Het is gewoon een onderjurkje. Ik vond de diepe V-hals bh wel handig, maar het was nogal een opgave om de onderjurk aan en uit te krijgen. Misschien dat ik ooit wel de bh-versie van de onderjurk bestel.
Roos
&nbsp|&nbsp
2017-05-08 13:42:20
---
De jurkjes zijn mooi en zitten heerlijk, maar ze schijnen helaas wel door. Dus een onderjurkje is noodzakelijk. Pasvorm is prima. Het jukje in 'nude' neigt meer naar roze dan beige. Vestjes zitten heerlijk en hebben een prima pasvorm.
Inez
&nbsp|&nbsp
2017-05-06 15:55:15
---
Superschönes Kleid, freue mich jetzt schon auf wärme Tage. Aufgrund der genauen Maßangaben sitzt es richtig gut & schmeichelt der Figur. Der Stoff ist strukturiert, angenehm auf der Haut & leicht stretchig. Casual mit weißen Sneakern, chic mit Pumps. Und wieder ein tolles Kleid von Topvintage!!
Claudia
&nbsp|&nbsp
2017-05-05 12:51:49
---
Vorige week mijn jurk binnen gekregen en hij is beeldschoon! Zit als gegoten, materiaal is een mooie stevige stretch stof.
Gekocht voor een zomerbruiloft, met mooie pumps een prima jurk voor chique maar met bijvoorbeeld een kort jeansjasje en sneakers kan ie ook prima als casual jurk. Zeer tevreden!
Jeanette
&nbsp|&nbsp
2017-05-03 18:34:27
---
Het rode jurkje met margrietjes is echt zo schattig moet alleen op de rug 2 naadjes innemen omdat de bovenkant wat afstaat de oorzaak is waarschijnlijk dat ik niet zo n volle buste heb voor maat 18 cup c.De roze jurk zit perfect schijnt wel door maar met een onderjurk prima op te lossen.De wit blauwe jurk zit perfect is gevoerd en ziet er geweldig uit.De zonnebril heeft een geweldige vorm.Al met al dik tevreden mooi verpakt snelle levering niets dan lof voor TOP VINTAGE bedankt van mij mag de zomer beginnen :)
lidie
&nbsp|&nbsp
2017-05-02 15:33:51
---
Eerste bestelling binnen en wat een mooie jurk! Moeder vd bruidegom en getuige in dit geweldige jurkje!
Pauline
&nbsp|&nbsp
2017-04-26 15:28:42
---
Zojuist binnen gekregen en gelijk gepast. Wederom een super vrouwelijk jurkje. Leuk met witte gympen en een spijkerjasje of gewoon zonder met sandaaltjes. Maat 10 komt precies overeen met de maattabel en past dus perfect.
M.
&nbsp|&nbsp
2017-08-25 14:33:00
---
My husband called, to say it is not okay... ik geef veel teveel geld uit aan deze geweldige jurkjes, maar wat zijn ze leuk... en mijn huwelijk overleeft het wel, zolang ik er geweldig uitzie. Met deze beauty's lukt dat zeker! I'm sexy and I know it...
Claudia Zagers
&nbsp|&nbsp
2017-08-25 12:03:29
---
Heel blij met de nieuwe vrouwelijke items in mijn kledingkast. Gelukkig kan ik hier aparte kleding vinden. Kleding met een pittig ladylike tintje!
Yvonne Reinders
&nbsp|&nbsp
2017-08-23 22:19:40
---
Het zit zo goed. Sluit perfect aan , heeft een dikke stof en schijnt niet door.
Eser Melis Özmen
&nbsp|&nbsp
2017-08-22 13:47:05
---
Wauw deze is het mooist ookal zijn ze allemaal
Top haha! Kleuren zijn te gek! Deze als laatste gepast maar hier blijf ik vandaag in lopen :-) heerlijk zittende jurk ook weer. Bijna alles
Wel gevoerd en dik genoeg, charming!
Lynn
&nbsp|&nbsp
2017-08-22 11:15:25
---
Ik vond de print echt heel mooi en het feit dat de jurk helemaal gevoerd is, maar hij valt behoorlijk krap. Ik had mijn eigen maat besteld en die zat echt te strak. Daarbij vond ik de hals ook net iets te hoog sluiten. Deze gaat dus helaas retour. Hopelijk zit iemand net op maat 16 te wachten en is die er wel blij mee, want het is echt wel een mooie jurk!
Angelique de Veer
&nbsp|&nbsp
2017-08-20 12:33:51
---
Wat was ik blij om me jurkjes en bloesje te ontvangen.
Rode jurkje met ruit is te wijd van boven had maat 16 genomen omdat dit in de sale nog over was maar moest een 14 hebben. Ik stuur het niet terug heb gelukkig een handige moeder die gaat voor mij van boven achter strakker maken. Ze vond hem ook zo schattig staan en met me witte huid staat het nog heel leuk ook :-). Ik begrijp nu echt de maten en wat belangrijk is. Ik noteer alle jurkjes me maten voor borst omvang en taille dan weet ik meteen welke jurken me goed stonden in de maat.

De Wit blauwe jurk met bloemen prachtig aansluitend model, schijnt absoluut niet door en zit zo mooi strak om me lichaam buik niet te zien. Heb maat 16 in deze jurk en valt perfect. Super vrouwelijke jurk. Jammer dat ze zomer bijna voorbij is maar volgend jaar kan ik het nog dragen :-). De jurk is mooi gemaakt

Het rode carmen bloesje wat jammer dat die maten niet klopte. Ik had al de allergrootste maat genomen en volgens tabel had ik dit ruim moeten passen maar dat was echt niet zo kreeg het niet eens dicht. Terwijl ik echt niet dik ben. Dit bloesje is meer voor super slanke vrouwen. Ik stuur het bloesje niet terug zonde want is in de sale gehaald maar ik ga hem aan me nichtje kado geven die heefft de perfecte figuur ervoor. Ze is deze maand jarig wat zal ze blij zijn.

Dus top vintage ga zo door met deze geweldige kleding. Alles is zo mooi en is zo vrouwelijk. Ik wilde dat ik jullie vele jaren eerder ontdekt had.
Ik kan wel alles kopen bijna. Ik houd van de pencil jurkjes zo geweldig. Ik ben gek op de tartan stoffen en hoop dat jullie die in groen binnen gaan krijgen. Heb al een blauwzwart.



Claudine W
&nbsp|&nbsp
2017-08-19 13:30:51
---
Vandaag mijn pakketje gekregen, met grote verwachting uitgepakt en niet teleurgesteld :-), wat een prachtige jurk, zit comfortabel en staat geweldig! Bedankt weer voor de snelle levering en het kadootje, tot de volgende keer!
Petra
&nbsp|&nbsp
2017-07-19 13:10:44
---
Heb deze inmiddels al in 3 kleuren. Goede model maakt mooie pasvorm. Annrader.
Anita
&nbsp|&nbsp
2021-09-25 10:36:53
---
nl
Stunning herfst jurkje
Tja wat zal ik zeggen : Gewoon een geweldig jurkje weer. Mooie kleur, iets donkerder dan de foto maar prachtig gewoon. Heel mooi model jurk wat je lichaam er weer prachtig laat uitzien. Heb altijd maat 14 van Vintage Chic maar doordat er stond jurkje valt klein ging ik twijfelen heb even met de aardige klantenservice gebeld voor advies maar maat 14 was goed voor me en dat is het ook. Armen zitten goed niet te strak, bij borst gedeelte sluit mooi aan en bij de buik prachtig met de leuke zakken. Je figuur komt er prachtig in uit. Ga hem dragen rond herfst met leuke hoge bruine laarzen eronder en leuk kort bruin jasje. Ben er super blij mee.... alleen jammer dat stiksel iets los was gegaan bij de rug maar heb een handige moeder die dit gemaakt heeft :-).
Meiden mijn advies ga dit leuke jurkje kopen je krijgt er geen spijt van. Ik heb blond haar en staat gewoon prachtig bij me gezicht.

Top vintage bedankt weer voor mooie inpakken en leuke attenties. Spiegeltje aan me moeder gegeven voor in haar tas was ze blij mee.
Claudine
&nbsp|&nbsp
2017-08-30 11:48:28
---