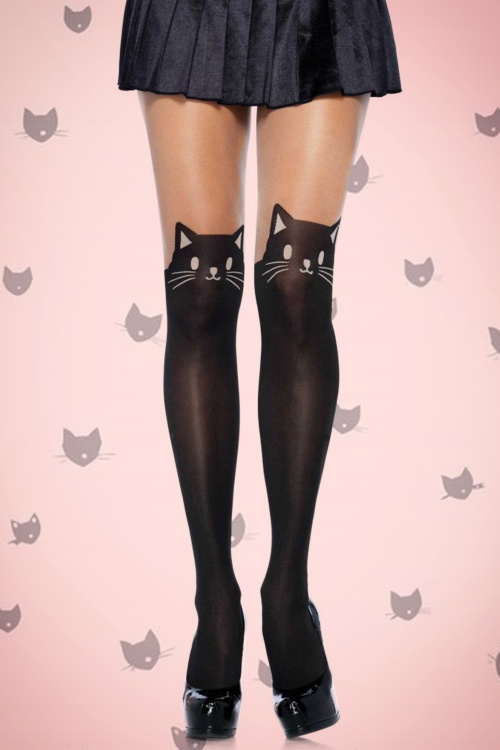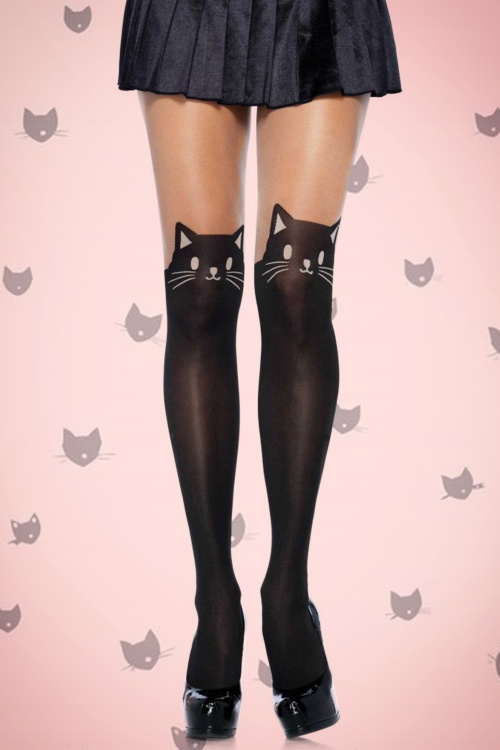 50s Kitty Cat Tights in Black
Over-the-knee look tights? Purrrfect! ;-) We simply adore these 50s Kitty Cat Tights in Black! 40 denier tights, made of a soft fabric that hugs your legs. Finished with a reinforced gusset for a comfy fit. We love these tights because... CATS!
40 denier
Over-the-knee look tights
Reinforced gusset
The featured pumps and skirt are not available in our shop
Article nr.
17398
92% Nylon
7% Elastane
1% Polyester
Made in Taiwan
Handwash cold (don't leave it in the water)
Do not dry clean
Do not tumble dry
Natural drying flat
No ironing
hab zufällig die tollen Sachen von Topvintage entdeckt und konnte mich nicht beherrschen und hab ein paar Dinge! Allein das Auspacken ist ein Genuß! Wie Weihnachten, so liebevoll und sauber. und die Ware - alles sensationell! Alles passt! Die rot-schwarzen Stiefel sind der Hammer, die Tasche ursüß, Rock und Pulli hinreißend! Werde wieder bestellen! Danke!
Elena
&nbsp|&nbsp
2015-11-24 18:23:43
---
nl
Mooi, maar van korte duur
Ik heb te lange benen voor deze panty. Van tevoren heb ik me gemeten en volgens de tabel had het moeten passen. Nu stond de panty zo strak dat er een ladder in was geschoten. De kat op mijn linkerbeen keek nogal naar buiten toe. Misschien had ik het kunnen draaien als ik meer speling had gehad in de rekbaarheid. Jammer, ik had hem graag aangetrokken bij een themafeestje wat ik binnenkort heb.

Beste Sandra, wat jammer dat de panty al meteen een ladder kreeg! Ik neem vandaag nog even contact met je op om het weer goed te maken. Onze oprechte excuses voor het ongemak!

Groetjes,
Fleur
Klantenservice
Sandra
&nbsp|&nbsp
2017-04-22 18:00:59
---
Deze voor mijn dochter gekocht. Ze is er blij mee en staan haar leuk. Wat stevigere kwaliteit, prima panty!
Sam
&nbsp|&nbsp
2017-02-12 06:22:13
---
Nog maar 2 setjes besteld want deze mini dame is erg blij met kousen die aan haar korte beentjes passen :) Toppie en de prijs is ook leuk
Daisy
&nbsp|&nbsp
2017-01-20 10:46:41
---
nl
Schitterende broeken, maar de panty valt tegen.
Eerst, het slechte nieuws. Ik had de panty gekocht omdat ik mijn oude poezenpanty gescheurd had door ergens aan te haperen. Deze was echt perfect. Ik zocht een goede vervanger, maar deze panty valt echt tegen. Er zit enkel een motiefje aan de voorkant, geen staart aan de achterkant, wat ik erg jammer vind. De overgang van het zwart naar doorzichtig vind ik ook niet echt zo netjes, er zitten losse stukjes zwart aan de binnenkant. En de panty vind ik eerlijk gezegd geen enorm goede kwaliteit, zeker niet voor die prijs. Er zat een los draadje aan toen hij aankwam.

De broeken, daarentegen, vind ik heerlijk. Ik had mijn twijfels want hoewel ik verliefd was, wist ik niet zeker of ze me zouden staan, maar ze staan me echt prachtig. De jeans is van schitterende kwaliteit, vooral voor die prijs, en sluit heerlijk aan, zonder oncomfortabel te zijn. En hij is ook lekker warm aan mijn buik. :3 De Lady Luck broek vind ik echt fantastisch. Ik heb hem naar een lindy social gedragen en heb er enorm veel complimenten mee gekregen. Hij zit ook erg lekker en de rits is bijna niet zichtbaar. Er zaten wel een paar losse draadjes aan en de rits stropt een beetje bovenaan, maar de draadjes kun je gewoon voorzichtig afknippen en de rits loopt los door het dragen. Wat wel handig zou zijn is een foto van een model met deze broek aan, niet een vintage foto, want het is moeilijk om te schatten hoe hij valt.

En de service was natuurlijk zoals altijd echt helemaal top. De doos kwam wel een dag of twee later aan, maar ik zit in het noorden van Schotland, dus had niet anders verwacht. Alles was netjes opgevouwen en ingepakt, niets was gekreukt en zoals gewoonlijk was er het leuke extraatje, deze keer een inklapbare haarborstel en snoepjes met het logo erop, wat ik echt ongelofelijk schattig vond. En de dozen vind ik ook altijd super mooi. Ik hou ze om dingen in op te bergen want ze zijn gewoon te mooi om weg te gooien.

Beste Loki Anne, wat vervelend dat de panty's je zo tegenvallen. Mijn excuses hiervoor! Ik zal vandaag nog contact met je opnemen om dit samen met je op te lossen.

Groetjes,
Auke
Klantenservice
Loki Anne
&nbsp|&nbsp
2016-11-05 16:41:11
---
Het duurde even voordat ik deze panty aan durfde maar oh wat ben ik er blij mee. Het materiaal is lekker stevig waardoor de panty niet snel kapot zal gaan.
Marjolein
&nbsp|&nbsp
2016-10-20 19:32:15
---
Superschnelle Lieferung und ganz tolle Sachen. Das Kleid mit den Waldmotiven kaschiert den Bauch und ist ideal bei kleiner Oberweite. Es ist mein Lieblingskleid.
Katja
&nbsp|&nbsp
2016-08-25 19:15:18
---
Hélemaal verslaafd aan jullie webshop ! Alleen mijn bankrekening is er niet helemaal blij mee, maar hé, je leeft maar 1 keer toch? Dan zie je er beter goed uit! Ik verzeker jullie nog vele 'selfies' op instagram ;) want ik toon graag aan heel de wereld hoe geweldig ik eruit zie in jullie kledij !
Miss.kimberly_ @instagram
&nbsp|&nbsp
2016-04-19 20:27:59
---
Aanrader weer!! Super cool kousen!
Rianne
&nbsp|&nbsp
2016-02-19 18:32:32
---
de
Leider sehr dünner Stoff
Die schöne Strumpfhose, die wirklich ein Hingucker ist, ist mir leider beim ersten Tragen gerissen. Der Stoff ist sehr viel dünner und empfindlicher als ich es bei diesem Preis erwartet hätte. Sehr schade!
Liebe Lea, es tut uns leid dass die Strümpfe so schnell kaputt gegangen sind, entschuldigen Sie bitte. Im Fall einer Reklamation wenden Sie Sich am besten sofort an unseren Kundenservice damit wir das Problem lösen können. 
Liebe Grüße,
Sylvia 
Kundenservice 
Lea
&nbsp|&nbsp
2021-11-01 11:09:38
---
Weihnachtsgeschenk für meine Tochter super süß, schönes Material!
Susanne Eggert
&nbsp|&nbsp
2017-12-15 16:07:06
---