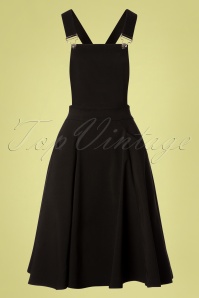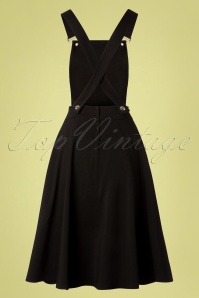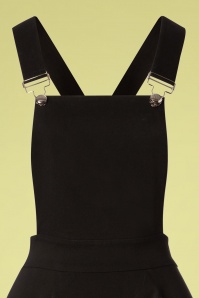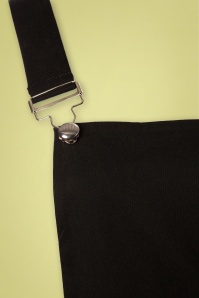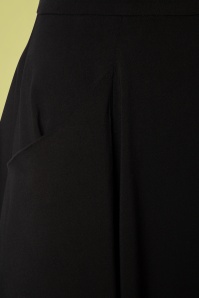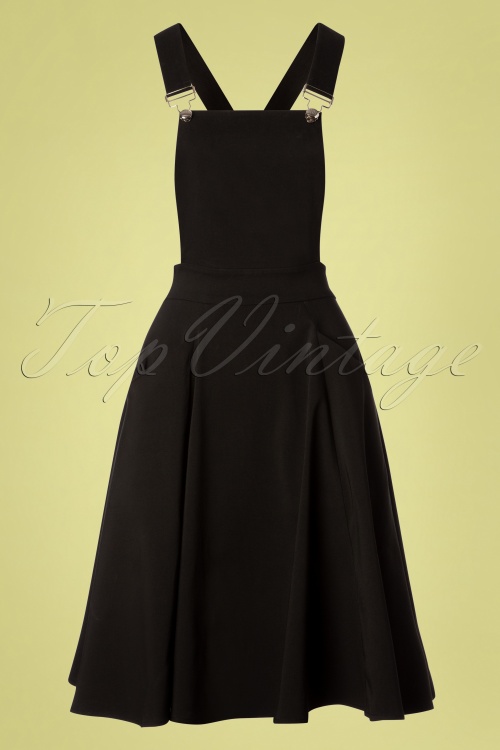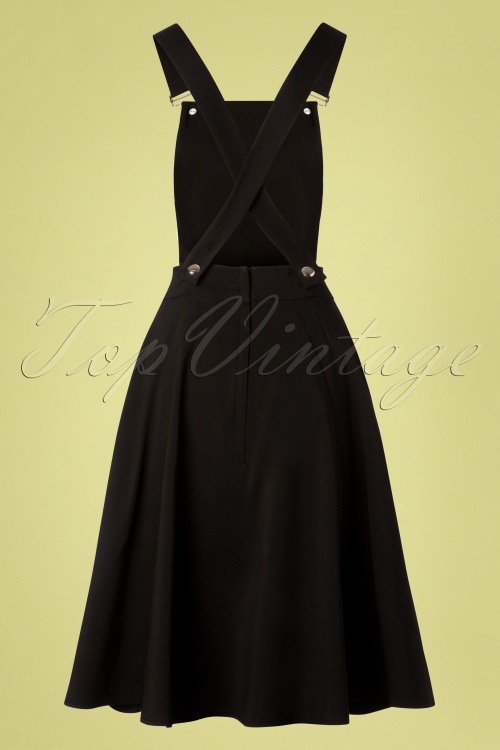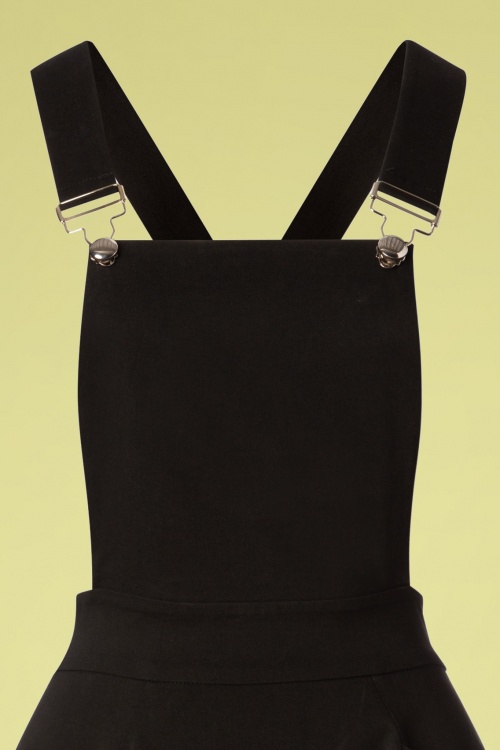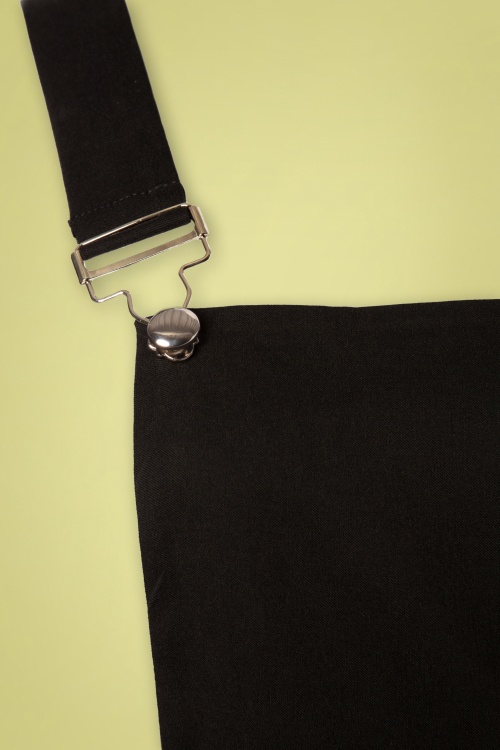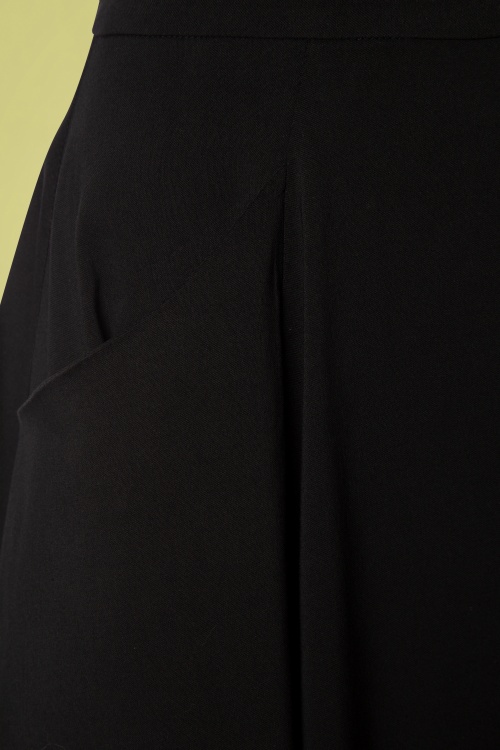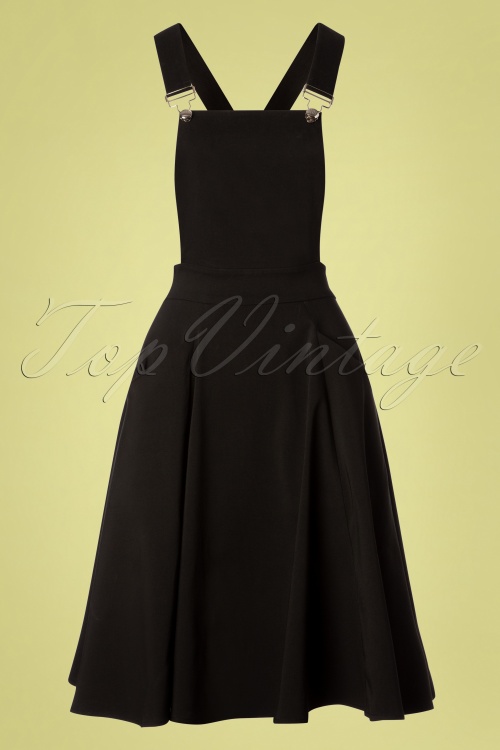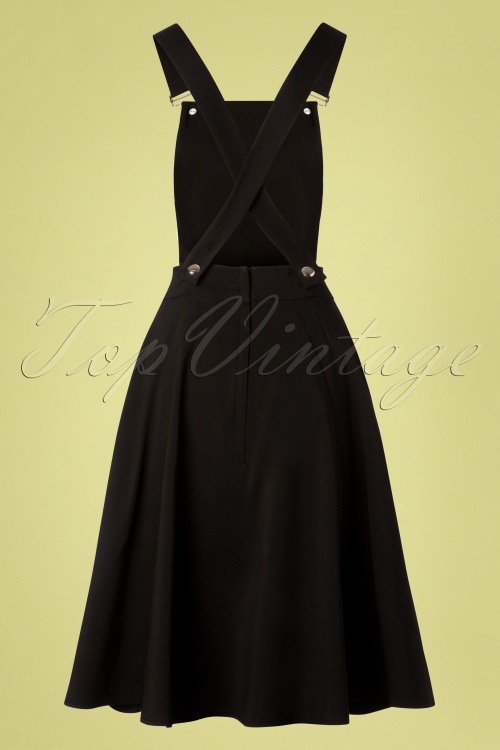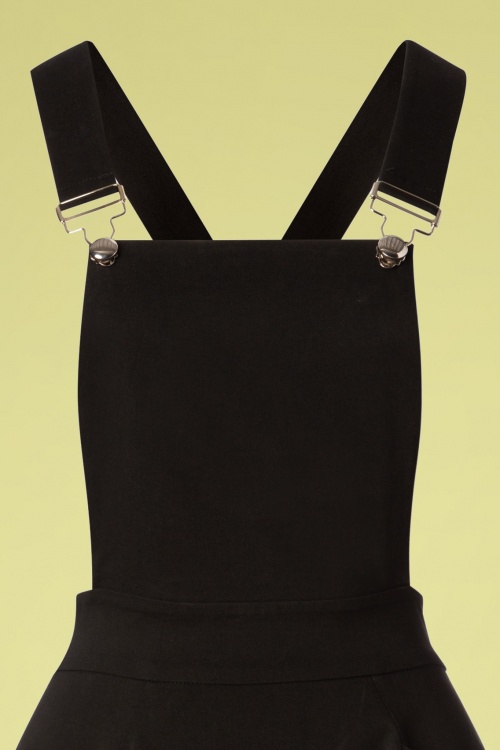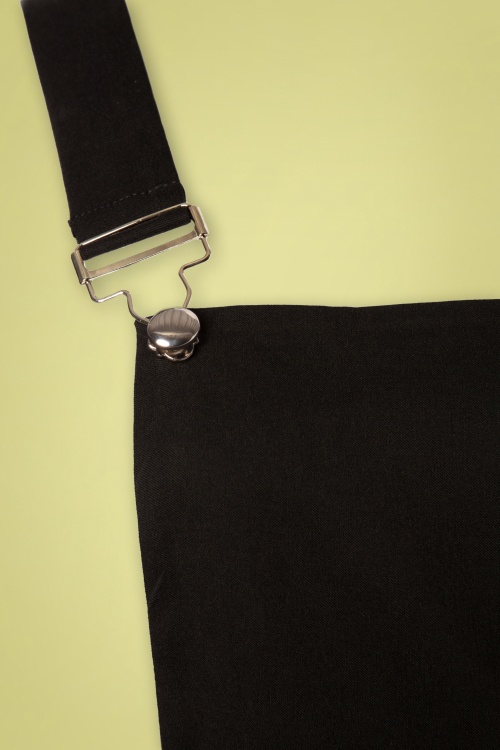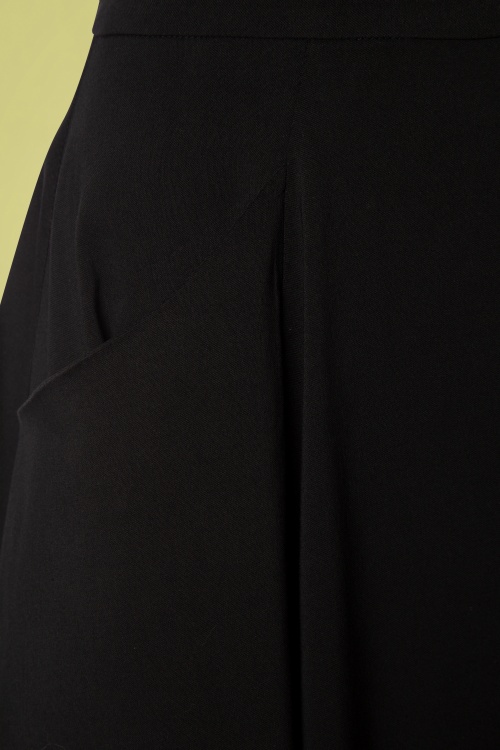 50s Kayden Overalls Swing Dress in Black
Fashion dilemmas will be a thing of the past with this 50s Kayden Overalls Swing Dress in Black hanging in your wardrobe! This short swing beauty looks like a playful pinafore and features adjustable shoulder straps. She runs from the waist down into a short swing skirt with handy pockets. Made of a firm, yet stretchy, black fabric for a lovely fit. Pair with a top or blouse and some fabulous shoes for an overall retro look!  
Swing style
Adjustable shoulder straps 
Silver toned buckles
Side pockets
Zipper at the back

Our gorgeous blonde Rachel is 1.72m / 5'8"
Article nr.
27418
60% Cotton
35% Nylon
5% Elastane
Handwash inside out (don't leave it in the water)
Wash inside out
Wash dark colors separately
Machine wash 30c delicates cycle
Do not dry clean
Do not tumble dry
Iron inside out on low temperature setting
Ich suche scho lange nach einem schlichten Latzkleid und endlich wurde ich hier fündig. Der Stoff ist toll, die Größenangaben von Top Vintage passen wie immer super, wodurch ich sofort auf XL zurückgegriffen habe und nicht auf L, so wie sonst. Das Kleid ist schön verarbeitet und hat sogar Taschen :) Bin sehr zufrieden und freue mich auf den Frühling
Julia Unger
&nbsp|&nbsp
2019-02-20 06:26:35
---
Wauw! Zoals steeds een schot in de roos! Al even op zoek naar een elegante jumpsuit, en deze was de zoektocht waard! Heerlijk licht, mooie pasvorm bovenaan (ik ben niet gezegend met een volle boezem), en mooi wijd onderaan. De verstelbare riempjes maken dat je ook een beetje kan spelen met de lengte van de broek, dus zowel een hakje als platte schoen kunnen eronder. Minpuntje is misschien dat de rits niet helemaal tot boven loopt, mijn stevige onderkant door het smalle lijfje bovenaan wurmen was even een spannend momentje en lukt maar net (dus toiletbezoeken zijn tot het minimum te beperken..). Maar eens dat punt voorbij, perfect
Anja
&nbsp|&nbsp
2020-08-04 09:52:03
---
Rok/jurk draagt lekker, is een snelle aan trekker. Er kan van alles onder, 1nadeel, de bandjes gaan snel los als je zit.
Corrie
&nbsp|&nbsp
2020-06-21 09:31:57
---
Je kijkt ernaar en hij kreukt al, heb em gestreken en op een stoel gelegd en toen zaten er alweer diepe kreuken in die je niet er zomaar uit krijgt. Absoluut niet handig voor dag-tot-dag outfits en zal niet nog es online bestellen bij topvintage want soms zijn het mooie producten, maar vaak krijg je goedkope stoffen en slechte afwerking.
Minke Reitsma
&nbsp|&nbsp
2020-05-19 11:16:35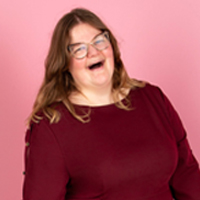 Response from Nicole

Beste Minke, wat jammer dat de stof je tegenviel! Wist je dat we de stofsamenstelling altijd vermelden onder het kopje "Care & Materiaal"? Hier zie je dat deze jurk voor 60% uit katoen bestaat. Helaas staat katoen erom bekend dat deze stof vrij makkelijk kreukt. Hopelijk kun je hiermee toekomstige teleurstellingen voorkomen!
Groetjes,
Nicole
Klantenservice
---
fr
Robe-Salopette rigolotte
L'originalité de cette petite robe noir simple, est son aspect de salopette. Je suis contente de l'avoir trouvée, moi qui rêvais de remettre des salopettes comme quand j'étais petite mais jusque là incapable de porter la version classique pantalon à cause de mes hanches trop fortes. La forme robe évasée et la couleur noir dissimule discrètement les petites rondes que je voulais cacher. Et c'est re partit pour les salopettes mais en robe!
Gwendoline Dos Santos
&nbsp|&nbsp
2019-04-05 13:29:05
---
Zit heerlijk, staat mooi en met zakken! Voor de prijs 5 sterren, maar ik heb 4 sterren gegeven,omdat de bretels niet verstelbaar zijn, waardoor ze van mijn schouders zakte. Ik heb dus zelf een extra knoopsgat erin gemaakt. Hij valt ruim dus je kunt prima en maatje kleiner bestellen.
Marlet Van Dam
&nbsp|&nbsp
2019-03-09 08:03:11
---
fr
Encore une jolie robe!!!
Un grand merci à top d'avoir proposé cette robe. Elle est adorable. Le tissu est un coton, pas doublé, le rendu est véritablement féminin. Je mesure 1m60 et la robe arrive juste sous le genou, comme j'aime.
Sandrine
Sandrine DOERLER
&nbsp|&nbsp
2019-02-23 10:29:54
---
Een superleuke jurk en ben er heel blij mee!
De maat klopt precies met de tabel.
Ook voor dames met een grotere buste geschikt!
Larissa Greve
&nbsp|&nbsp
2019-02-22 17:50:36
---
fr
De vraies poches... le rêve!
Un jolie robe avec de grandes poches pratiques est malheureusement une combinaison trop rare. Cette robe, elle, rempli ces deux critères et c'est un plaisir.
Le tissus à l'air de bonne qualité, mais c'est décevant que pour le prix, les fabricants n'aient pas pris la peine de couper tous les fils qui dépassent des coutures. De plus elle est arrivée vraiment chiffonée, ce qui est un peu dommage pour l'essayage.
Héloïse
&nbsp|&nbsp
2019-02-20 07:48:03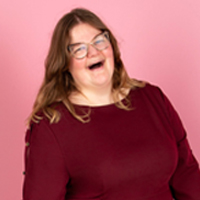 Response from Nicole

Bonjour Héloïse, je regrette de lire que votre robe a quelques défauts ! Je viens de vous écrire un e-mail ! 
Cordialement,
Nicole
Service clientèle
---
nl
Hele fijne overgooier!
Deze overgooier voldoet zeker aan mijn verwachtingen! Ik denk niet dat ik ooit zo'n comfortabel zittende jurk (of kledingstuk in het algemeen!) heb gehad. De jurk zit ook nog eens erg flatteus, en is een mooie lengte (bij mijn lengte van 1.68 valt het op de knie). Het is een leuke basic die met veel te combineren is, maar de jurk is door de metalen gespen en vrouwelijke vintage pasvorm toch apart.
Bloempje
&nbsp|&nbsp
2021-04-27 15:19:11
---
de
Schöner Schnitt, schwieriges Material
Latzkleider sind eine tolle Alternative zu den üblichen Swing-Schnitten. Dieses hier sorgt auch für einen lässigen Look. Mir war der glatte Stoff aber einerseits zu dünn für den Winter oder die Übergangszeit, andererseits zu steif und knitteranfällig für den kommenden Sommer. Das Kleid kam schon so faltig aus der Verpackung, dass ich nicht ausprobieren wollte, wie es nach ein paar Stunden aussieht, wenn man darauf gesessen hat. Mit einem anderen Material hätte ich es gern behalten.

Tipp: Unbedingt an die Größentabelle halten - es fällt deutlich kleiner aus als sonst bei Collectif.
Anja
&nbsp|&nbsp
2021-02-04 17:54:58
---