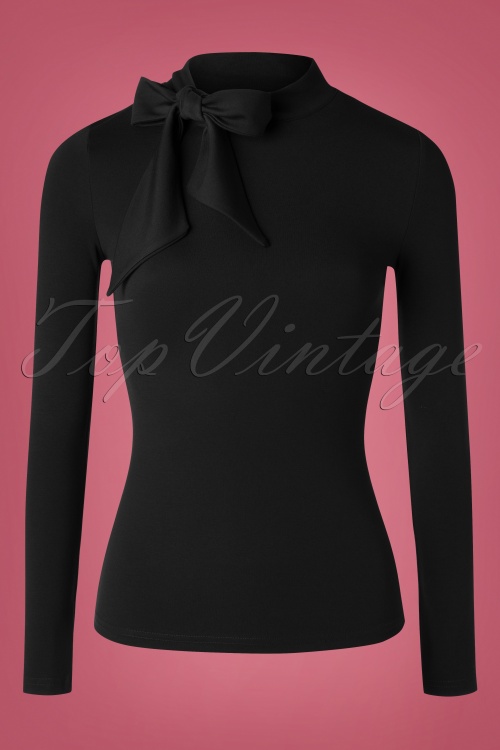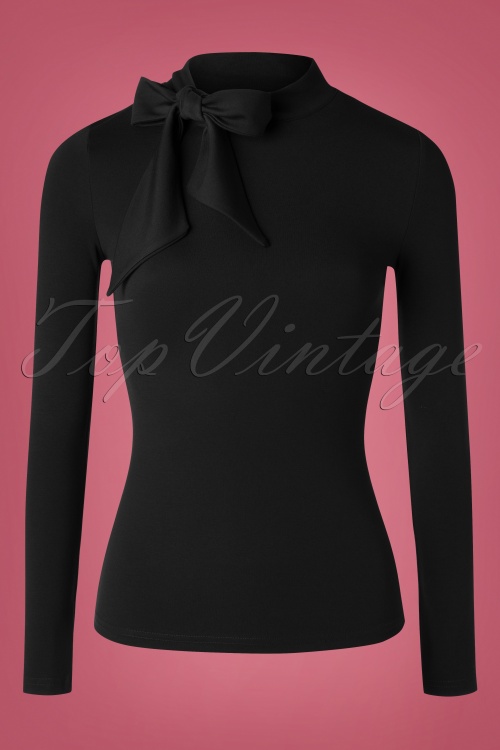 50s Josie Tie Neck Top in Black
This 50s Josie Tie Neck Top in Black is the perfect basic top in vintage style for every occasion! Beautiful feminine fitted style with a playful side sash detail at the stand-up collar, long sleeves and made of a sturdy, yet supple, stretchy, black fabric for a beautiful fit. Pair this top with elegant trousers or a sassy skirt to create a completely new look time and time again! Do we need to say more? ;-) 
Stand-up collar
Fixed tie straps
Long sleeves
Long enough to pair with regular trousers 
Article nr.
30919
60% Viscose
35% Polyester
5% Elastane
Handwash inside out (don't leave it in the water)
Wash inside out
Wash dark colors separately
Machine wash 30c delicates cycle
Do not dry clean
Do not tumble dry
Iron inside out on low temperature setting
Do not bleach
nl
Onmisbaar in je garderobe!
Dit mooi aansluitend shirt in een stevige stretchy stof past overal bij.
Ik weet het nu al, als ik in een 'ik weet niet wat aandoen' bui ben, wordt dit shirtje mijn beste compagnon.
Kan op jeans, ingestopt in een wijde pantalon, in een pencil...casual...office proof...opgekleed, dit shirt kan altijd.
Het strikdetail bovenaan maakt het geheel af en nog leuker.
Alweer blij! :-) xxx
Ilse
&nbsp|&nbsp
2019-10-03 12:23:02
---
Weeral tevreden over al mijn aankopen!
Alles zit perfect, zalige stofjes...precies zoals jullie het omschreven hebben.
De haarband blijft heel goed zitten met mijn kort haar en bril, meestal duwt mijn bril alle accessoires uit mijn haar, maar deze blijft perfect zitten.
Carla
&nbsp|&nbsp
2019-09-19 14:20:54
---
Habe mir dieses Utensil bestellt und bin begeistert! Nie war ich schneller mit dem frisieren als jetzt! Ein Muss wenn man sich Zeit und Nerven ersparen will! Habe schon ein paar mal bei Euch bestellt und werde es es jetzt noch öfter tun!Lediglich der Pullover war zu gross, werde mir diesen aber eine Nummer kleiner bestellen. Tolle Qualität und alles sehr liebevoll verpackt! Ihr seid ein tolles Team!
Tanja
&nbsp|&nbsp
2022-09-05 20:31:50
---
Dikke, elastische stof waardoor het goed aansluit zonder door te schijnen. Simpel met toch een extraatje eraan dankzij die strik. Nu nog leren een mooie strik te strikken.
F
&nbsp|&nbsp
2022-08-02 16:21:27
---
Beautiful smart top. Made of a very dense viscose that is not as stretchy as you'd expect.
Ana
&nbsp|&nbsp
2021-10-29 09:53:37
---
Oh wat fijn dat jullie alle leuke dingen alvast bij elkaar gezocht hebben.

Sjaal Smashing
Zo mooi en zacht en echt najaar en dubbel draagbaar. Deze heb ik al heel veel gedragen.

Mak kort vesten
Oke deel 4 van deze vesten maar een erg mooie kleur voor de herfst. Ik draag boven M/L en van deze vesten (in rood, zwart, zeegroen en bordeaux
Bianca Van der Maaden
&nbsp|&nbsp
2021-10-12 13:43:06
---
de
Schönes Schlrifendetail
Der Stoff ist für mich gewöhnungsbedürftig. Ich hoffe, dass ich das Top gerne tragen werde, denn es ist schön und außerdem habe ich es doppelt bestellt, haha!! Ich bin soooo froh, dass ich eine Nummer größer bestellt habe, sons hätte ich eventuell bei der Anprobe einen klaustrophobischen Anfall bekommen.
Das Top ist schön.

Obwohl das hier eigentlich eine Möglichkeit zur Produktbewertung sein soll, möchte ich dennoch ein allgemeines ernstgemeintes Kompliment hinterlassen.
Ich mag diese Versandtüten nicht, mir gefielen die Kartons besser (und die Magnete, ich liebe Magnete), ich habe immer Angst, dass die Kleidung beschädigt ankommt. Aber das ist noch nicht passiert. Toi toi toi.
Meine letzte Bestellung war riesig und teuer, und MEGA verpackt! Der Karton ist zwar ziemlich transportbeschädigt angekommen, aber der Inhalt war gut gesichert. Danke, ehrlich.
Zudem finde ich, dass der Service einfach klasse ist. Alle sind so freundlich und zuvorkommend, vor Allem Kundenfreundluch und Problemlösungsorientiert.
Ladies und Gent(s) ich finde euch toll. Ihr seid toll. Wirklich. Danke dafür, denn das ist nicht immer einfach und auch nicht so selbstverständlich. Danke!
Marianne
&nbsp|&nbsp
2021-09-04 13:43:29
---
Sehr schönes Oberteil, was sich vielseitig kombinieren lässt. Leider ist es sehr eng geschnitten. L war bei den Armen mehr als eng. Ging leider zurück.
Manuela
&nbsp|&nbsp
2020-10-27 05:35:11
---
Ohhh ben zo blij met jullie❤️
Voel me helemaal te gek in jullie kleding
Vrouwelijk en zelfverzekerd
Kom graag in de de winkel !
Maak er echt n mode middagje van
En shop graag online!!
Net wat meer keus in mijn smaak!!
Jullie kunnen niet meer ontbreken in mijn leven anders is t niet compleet!!
Blijf alsjeblieft altijd bestaan!!!
Veel liefs Kirsten

Kirsten
&nbsp|&nbsp
2020-10-14 16:24:29
---
de
Sehr schön, aber ein bisschen knapp geschnitten
Ich habe beide Farben ergattern können und bin ziemlich begeistert. Leider sind die hübschen Teilchen recht eng geschnitten, insbesondere an den Armen. Ich habe oben herum eine klassische 38, allerdings eine 75E. Um die Brust herum passt es gerade so, die Arme spannen schon. Wer dazu noch ein Bäuchlein hat, sollte lieber eine L (40) nehmen. Ich schicke die Shirts nicht zurück, bange aber ein bisschen, dass sie nicht noch einlaufen...
Katrin
&nbsp|&nbsp
2019-10-09 08:17:38
---
de
Leider schlechter Schnitt (Rock),Kleider schön
An sich ein schöner Rock aber leider unten viel zu eng geschnitten (ich bin sehr schlank und in M war er immer noch deutlich zu eng unten). Leider waren die Streifen auch nicht passend genäht,so dass es an den Seiten schief vernäht war und dann m.E. billig aussieht. Schade, hätte ihn anders gern behalten,aber so sah es nicht aus.
Habe andere Kleider und schöne Cardigans bestellt,die ich behalten habe und mir gut gefallen!


Lilli
&nbsp|&nbsp
2019-10-03 15:44:20
Response from Customer service

Hallo Laura, schade dass der Rock zu eng geschnitten war und das auch noch die Streifen schief genäht waren. Das darf nicht passieren, bitte entschuldigen Sie uns! Ich werde mich dazu schnellstmöglich bei Ihnen melden.

Liebe Grüße,
Alexandra
Kundenservice
---
de
Tolle Farben, tolle Kombinationsmöglichkeiten
Ich habe mir diese Sachen bewusst gewählt, um sie miteinander kombinieren zu können. Ich bin von den Farben und Stoffen sehr begeistert. Passt alles perfekt. Ich liebe es!
Conny
&nbsp|&nbsp
2022-09-16 13:54:45
---