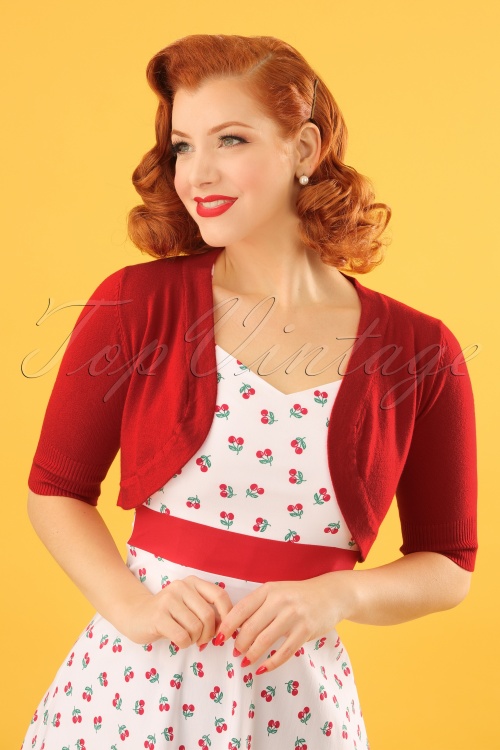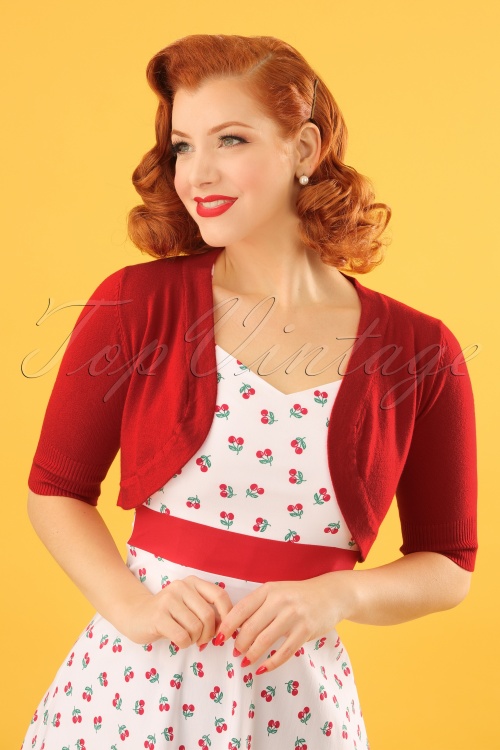 50s Hudson Bolero in Dark Red
Make sure your retro outfit stays in tact with this 50s Hudson Bolero in Dark Red! Even summer nights tend to get a bit chilly but you are wearing your prettiest summer dress and a jacket would cover it up too much, what now? Well, you should wear this classy bolero! Made from a comfy, stretchy, knitted fabric and rounded for a nice fit around your bustline. Finished off with a broad ribboard along the 1/2 sleeves to ensure it won't loose its shape. Leave your jacket on the coat rack because this bolero is warm and elegant!

Rounded board
1/2 sleeves
Elastic ribboard
Article nr.
20902
60% Rayon
20% Elastane
20% Polyamid
Handwash in lukewarm water (don't leave it in the water)
Wash dark colors separately
Machine wash 30c delicates cycle
Do not dry clean
Do not tumble dry
Iron inside out on low temperature setting
de
Jetzt habe ich sie alle!
Diese entzückenden Boleros. Kann man immer gebrauchen. Ich wünschte, es gäbe noch mehr Farben. Das Material ist blickdicht und kuschelig weich. Das Gelb ist aber schon recht grell und passt eigentlich nicht zu dem Zitronenkleid von Lady V; zu einem anderen meiner Kleider ist es allerdings perfekt.
Dorothea
&nbsp|&nbsp
2017-06-30 12:14:28
---
Jurk is prachtig! Super Zomers/Garden party. Bolero ook maar Let op! dit is Niet dezelfde kleur rood als van de jurk!
G.
&nbsp|&nbsp
2017-06-08 12:09:41
---
Ich finde die Schuhe einfach toll , das das Material nicht besonders atmungsaktiv ist , liegt doch auf der Hand , den Geruch der Schuhe finde ich aber angenehm , die Innensohle ist schön weich . Ich kann sehr gut darin laufen . Wie auch die anderen Sachen die ich hier gekauft habe finde ich einfach suuuper toll . Vielen Dank auch für die schicke Verpackung und die kleine Beigabe . Diesen Shop kann ich nur weiter empfehlen .
Monika
&nbsp|&nbsp
2017-06-04 12:24:10
---
Een jurk met een bijpassend vestje, helemaal fijn voor het mooie zomerseizoen.
Ik kreeg meteen complimentjes toen ik het setje aanhad :-)
En daar word ik altijd blij van. En mijn zoon werd blij van de snoepjes die bij de jurk zaten!
Chantal
&nbsp|&nbsp
2017-05-31 11:51:03
---
Comfy and soft bolero. Beautiful red colour. Rather short.
Jennie
&nbsp|&nbsp
2017-05-14 19:39:54
---
Nice and soft bolero. Great fit, but it is rather short.
Jennie
&nbsp|&nbsp
2017-05-14 19:39:08
---
de
Bin immer noch begeistert <3
Ich bestelle immer so gern bei euch ... Die Teile sind einfach zum Verlieben.

Der schwarze Rock mit den roten Herzknöpfen lässt jedes Vintageherz höher schlagen, und auch mein Verlobter findet ihn ganz klasse, vor allem in der Kombination mit dem Herzshirt. Das ist momentan unser Lieblingsoutfit. :-)

Den roten Bolero hatte ich bereits in der Vergangenheit gekauft, da war der Strick noch etwas dicker und griffiger. Etwas schade, dass er dünner geworden ist, aber die Farbe ist schön satt und gut sieht er immer noch aus. Mal sehen, wie viele Saisons er diesmal durchhalten wird. :-)

Die schwarzweiße Strickjacke trage ich jetzt sogar im Moment. Im Büro gab es dafür schon die ersten Komplimente. Der Sitz ist perfekt und sie lässt sich super kombinieren. :-)

Das Bikini-Oberteil zaubert ein tolles Dekolleté, und das sogar bei einer Körbchengröße B. :-)

Die 2 Rosenarmbänder habe ich für unsere Trauzeuginnen gekauft und sie sind hin und weg! Ich bin sogar ein wenig neidisch. ;-) Sie werden perfekt zum Motto "Rote Rosen/Vintage" passen. Und natürlich zu meinem roten Rosenstrauß. :-)
Margarete
&nbsp|&nbsp
2020-02-28 08:25:30
---
Prachtige jurk mooie pasvorm met het rode vesje helemaal af dank top vintage grt lucia
lucia heesters
&nbsp|&nbsp
2019-07-21 07:53:10
---
de
Super schön sehr weiblich und einzigartig
Ich liebe diese Kleider,
jedes auf sein Art und Weise toll,
mein Lieblings schop
Danke auch für die kleine prezente

Bosa Hagmann
&nbsp|&nbsp
2018-07-29 17:41:40
---
nl
Toch weer even reageren!
Opnieuw genoten van het uitpakken van mijn pakjes!
Alles zit weer als gegoten en ik ben super blij met de mooie kwaliteit en pasvorm. Eindelijk kleding die niet ingekort hoeft te worden en perfect bij mijn figuur past.
Voel me op en top vrouwelijk!
Dankjewel Topvintage voor het feit, dat het elke keer weer zo spannend is om te ervaren wat er uit het pakketje komt!!
Ik kijk zelfs al uit naar jullie nieuwe wintercollectie!
Betteke
&nbsp|&nbsp
2018-07-01 07:12:18
---
Cette robe est magnifique! Comme sur la photo. Elle est bien coupée, taille superbement et est très confortable. L'ensemble de bijoux fait son petit effet. De très bonne qualité. Le boléro est super avec une petite robe à motif cerise, bien coupé il taille comme il faut. Le sac est juste parfait! Tout mignon et pratique. Je suis très ravie de mes achats!
Sahra Nicot
&nbsp|&nbsp
2018-05-02 12:40:14
---
Dieses Kleid sitzt perfekt. Da ich nur 1,67m groß bin, geht das Kleid bei mir bis etwas über dem Knie. Der Stoff ist auch schön leicht. Zusammen mit dem Bolero einfach ein Traum!
Chantal Stewen
&nbsp|&nbsp
2018-02-07 22:16:32
---
zit leuk en comfi.
Kris
&nbsp|&nbsp
2017-07-19 09:42:51
---
nl
Heerlijk rood vestje voor de zomerjurkjes
Ik vind het altijd wat raar om een vestje met korte mouwen te hebben, dat doe je toch vooral aan als het frisser is... maar deze is heel cute en zorgt dat de echte zomerse jurken ook net wat langer/vaker gedragen kunnen worden. Mooie kleur rood en heerlijk zacht stofje.
Karin
&nbsp|&nbsp
2017-07-13 21:59:14
---
de
gute Qualität - angenehmes Tragegefühl
Banned Retro 50s Hudson Bolero in Dark Red & Ivory White. Ganz weich auf der Haut und schöne Farben. Kann man nicht genug haben.
Kerstin Gerber
&nbsp|&nbsp
2020-05-24 14:22:56
---
Jurkje in combinatie met de bolero is onwijs leuk. Ik was wat bang dat de jurk iets te lang zou zijn voor mij (1.60m), maar dat valt erg mee. De print en pasvorm is heel mooi en ik straal helemaal als ik hem aandoe. Het sjaaltje had helaas niet de kleur die ik dacht dat het zou hebben, het was naar mijn idee wat feller roze dan op de foto waardoor het niet bij mijn jurk paste. Dit sjaaltje kan ik vast nog ergens anders voor gebruiken, dus het is niet heel erg.
Janine Van de Kaa
&nbsp|&nbsp
2020-05-07 13:45:39
---