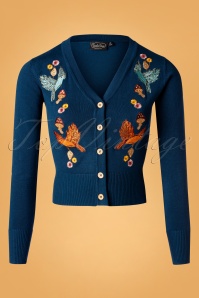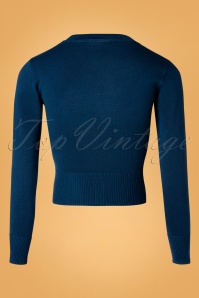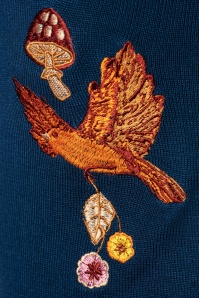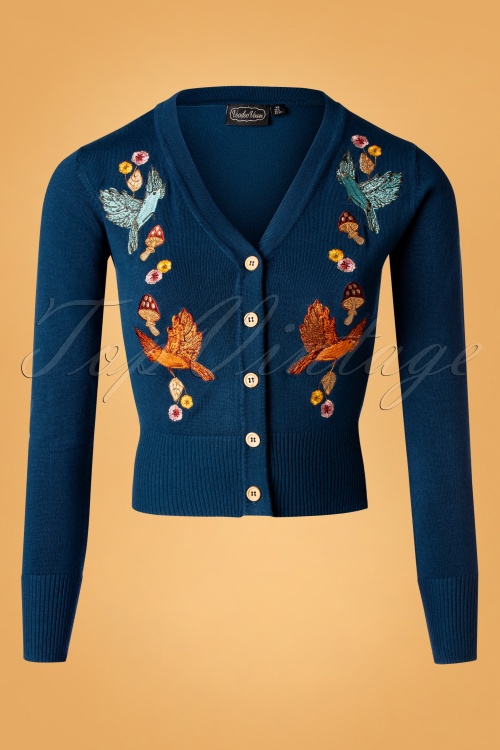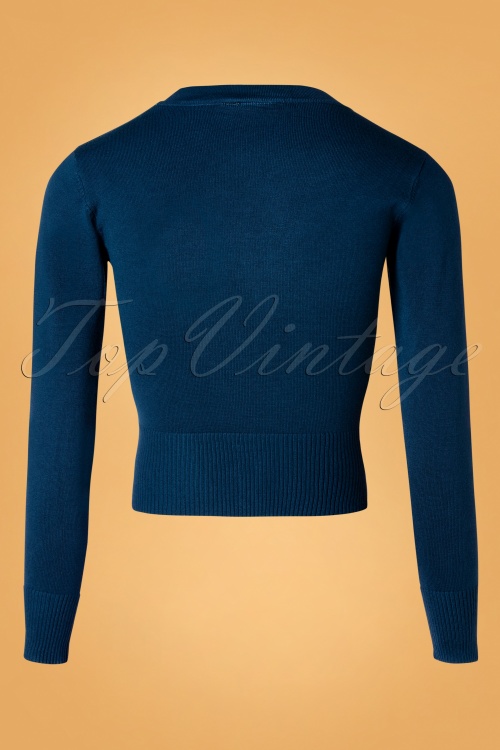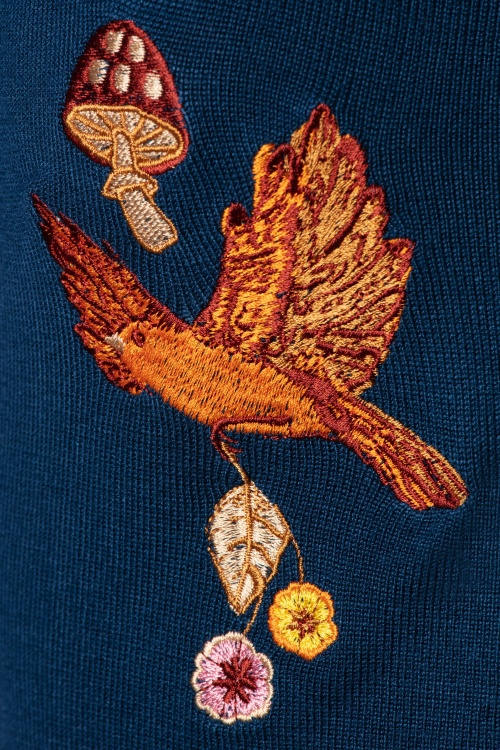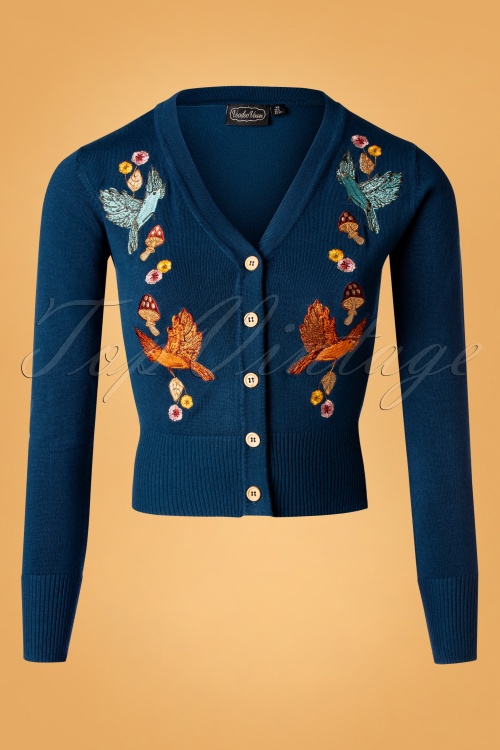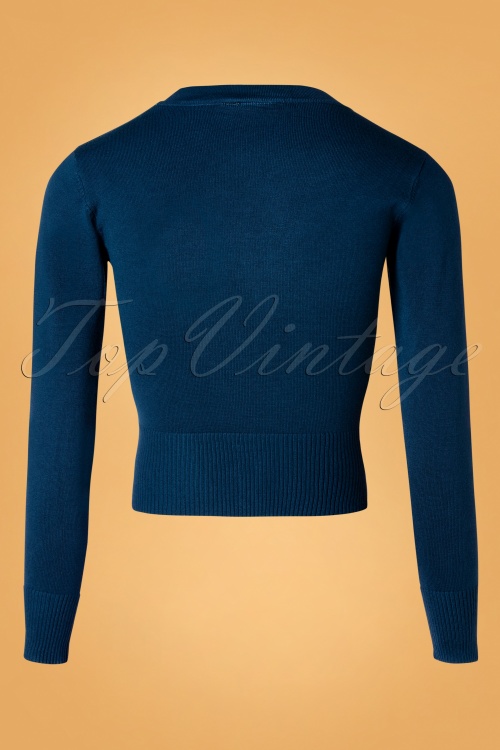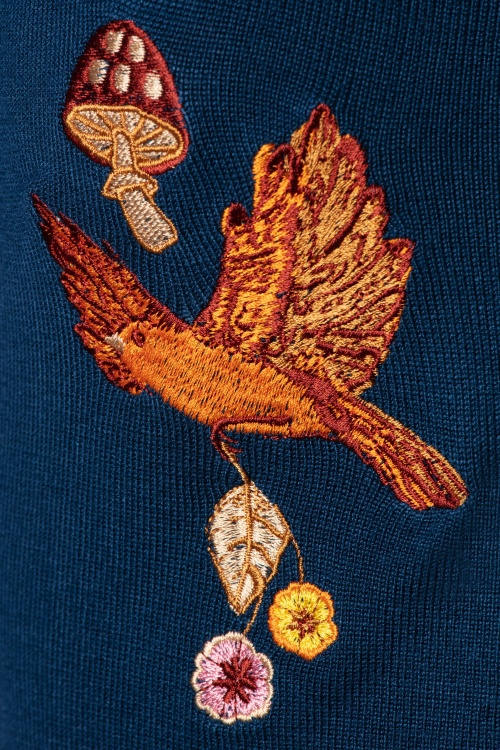 50s Ginny Woodland Cardigan in Blue
When autumn comes around, there is nothing we love more than going for a walk in the forest. Well, maybe this 50s Ginny Woodland Cardigan in Blue! She is styled with a V-neckline, a row of buttons and long sleeves. But there is more to her than just her good looks, she's also a joy to wear thanks to the stretchy, fine knit viscose blend in petrol blue. Let's take our hearts for a walk in the woods and listen to the magic whispers of old trees!
Slightly shorter style
V-neckline
Row of buttons
Long sleeves
Stretchy ribbed trim
Article nr.
30939
Handwash inside out (don't leave it in the water)
Wash inside out
Wash dark colors separately
Do not dry clean
Do not tumble dry
Iron inside out on low temperature setting
Do not bleach
Fijn vestje met mooie kleuren. Het is viscose dus niet dik, mooi shirt eronder prima!
Deze broek heb ik een aantal jaren terug ook al gekocht in meerdere kleuren. Nu maar weer nieuwe gekocht. Ze zitten zalig, niet te hoog maar hoog genoeg tegen de "Muffintop"
Maya Vlaanderen
&nbsp|&nbsp
2020-12-18 12:08:39
---
de
Weihnachten kann kommen
Mein Mann hat mir eine Auswahl an Sachen bestellt, damit ich sie anprobieren und er mir davon was zu Weihnachten schenken kann.
Bin aktuell Größe 36 schätze ich (viel abgenommen).

1. Herzchen Shirt - supersüß, Größe S war auch ok, aber wir haben es nochmal in DA bestellt und das passt noch besser. Weiches Material, definitve Kaufempfehlung

2. Dunkelroter Trägerrock, passt wie angegossen in S. Tolles Material.

3. Schneeflocken Brosche, richtig schön und auch recht groß. Aufgrund einer anderen Bewertung habe ich sie nun an eine Wintermütze gepinnt. Tolles Highlight.

4. Lila H&R Kleid. Habe ich einmal in S (UK 10) und XS (UK 8) probiert. S war viel zu groß und selbst XS finde ich an den Ärmeln immer noch recht groß. der Stoff ist auch eher dünn, daher ging es leider zurück

5. Voodoo Vixen blaue Strickjacke. In S bestellt und passt auch. Xs würde sicher auch gehen aber wollte das nicht auch noch umtauschen. Schöner Stoff und die Vögel und Blätter sind aufgestickt, nicht gedruckt

6. Lebkuchen Kissen - wir waren bei dem Preis sehr am hadern aber es ist so super süß. Wird ein Highlight auf der Couch in der Adventszeit

7. Schwarzer Trögerrock. Sehr stretchy Material. S passt wie angegossen. Leider konnte ich nicht alles behalten und so gehr dieser schweren Herzens zurück, obwohl er auch toll aussieht
Simon-Christian Krüger
&nbsp|&nbsp
2020-11-16 09:13:15
---
nl
Sprookjes vestje, slanke mooie rok, leuk sjaaltje.
Vestje: Zó mooi van kleur super kwaliteit en in mijn normale maat perfect aansluitend in taille.
Lieflijke borduursels, is het geld dubbel waard.
Komen binnen en meteen weer verkocht...dus:.....snel zijn dames!
Afslankende zwarte rok die ik zelf korter maak, staat mij leuker bij zwart.
Sjaaltje: wel leuk en beschaafd, met onzichtbaar doorschuif gaatje 'n apart dingetje.
Rode band voor sjaal om hals of haar, maak m smal of breed, alleskunner, handig voor erbij felle frisse kleur en stevig stof.
Dank aan T.V.
J.S.
&nbsp|&nbsp
2020-11-05 17:25:19
---
Donne du peps à vos tenus. Je l'adore
Dorianne
&nbsp|&nbsp
2020-11-04 16:10:27
---
de
Neuer Lieblings-Cardigan!
Tolle Farbe, anspruchsvolle, sehr niedliche Stickerei, perfekte Passform!
Die Knöpfe haben einen holzähnlichen Charakter, der sehr gut zum Look passt.
Maria
&nbsp|&nbsp
2020-10-31 16:04:57
---
de
Das Warten hat sich gelohnt.
Diesen wunderschönen cardigan hab ich schon im letzten Frühjahr entdeckt, natürlich restlos ausverkauft. Jetzt war er wieder da und ich hab zugeschlagen. Es hat sich gelohnt, das Material ist weich und angenehm, die Stickereien ein Traum und gut verarbeitet.
Julia
&nbsp|&nbsp
2020-10-28 09:46:17
---
Prachtige vest met mooie details helaas toch terug gestuurd want de vest is korter dan ik had verwacht. Neem een maatje groter, valt klein uit.
Stephanie Buijs
&nbsp|&nbsp
2020-10-27 19:32:29
---
nl
Want nu wordt het echt herfst!
Drie hele mooie items, die ik nog lang dragen kan en ook vaker met andere dingen combineren.
Zo fijn, dat jullie voldoende aanbod hebben waarmee je je eigen stijl samen kunt stellen.
Altijd de juiste maten, mooi verpakt en snel gestuurd met een mooi geschenkje.
Ik dank het team weer voor jullie inzet en de verzorging van het pakje, waardoor je je altijd weer zo bijzonder voelt!
B.
&nbsp|&nbsp
2019-11-05 20:26:34
---
Geweldig vestje voor de herfst! Erg mooie kleur en details. Hij valt alleen echt wel klein uit, daarom een hartje minder. Ik hou hem echter toch, want hij is echt te mooi
Marjolein
&nbsp|&nbsp
2019-10-11 21:22:10
---
It was the first time that I ordered at TopVintage and this cardigan is just so lovely. First of all the fit is perfect as described on the website and the decoration on the cardigan is stunning. It is really sewn into the fabric and not just glued on top. Definitely a must-have for the colder season and my new staple in my wardrobe.
Anne Wagner
&nbsp|&nbsp
2019-09-24 19:56:39
---
fr
Je suis très déçue de la qualité de mes deux vêtements beaucoup trop fins
Je suis très déçue de la qualité de mes vêtements .
Helene Cossu
&nbsp|&nbsp
2019-09-14 15:55:35
---
dieser Cardigan ist einfach wunderschön und super angenehm beim Tragen. Die Stickereien sind einfach bezaubernd und mit so vielen schönen Details!
Ich habe mich am Ende für den grünen entschieden, da die Farbe sehr besonders ist und ich ihn mit meinen Teilen im Kleiderschrank super kombinieren kann.
Ramona
&nbsp|&nbsp
2023-01-15 18:10:11
---
en
Adorable but a bit small
If you are looking for a nice cardi that fits tight and is long enough, this might be the right one, but SIZE UP, as these are made small. If you order your usual size, you might end up with a too short cardi, even if you wear it with high waisted bottoms. It might also be a bit tight across the chest. Size up.

It is otherwise very well made, seems to be durable.
Viktoria
&nbsp|&nbsp
2021-12-05 14:54:24
---
De kleur en details van deze vest zijn ongelooflijk mooi!
Ik denk dat ik deze elke dag van de herfst en winter ga dragen, ik heb nog nooit zo veel kleding gevonden die helemaal aansluit bij mijn stijl, kleuren en oog voor detail!
Let wel op, zoals de meesten hier al vernoemen: hij valt echt klein uit. Neem zeker een maatje (of zelfs 2) groter.
Cynthia
&nbsp|&nbsp
2021-10-06 19:35:43
---
nl
Zoveel leuks het is te erg!
Oh wauw.. ik heb me scheel gekocht de afgelopen weken! Zoveel mooie leuke geinige prachtige héérlijke items, ik draag nu mijn nieuwe vestje met die vogeltjes erop van voodoo vixen met een broek van bannen retro. Het shirtje van rumble59 is mijn nieuwe favo shirt om aan te trekken bij ach alles.. maar vooral op de bijpassende rok van hetzelfde merk. Alles is iedere keer weer even mooi en zit heerlijk! Al jaren had ik moeite met leuke kleding vinden en gelukkig maar dat ik topvintage ontdekte ergens in 2010 ofzo.. mijn kast hangt vól met jurkjes etc van jullie.
Echt zooo blij
Joyce
&nbsp|&nbsp
2021-09-25 18:55:26
---
Die Farbe der Strickjacke ist super schön.
Die Stickerei ist gut verarbeitet und wirklich hübsch. Einziger kleiner Kritikpunkt, bei mir (1,72m) ist Größe M zwar passend, aber recht kurz. Taillienhohe Hose oder Rock sind quasi Pflicht dazu. Dennoch ein Herbst-Must-Have.
Sonja
&nbsp|&nbsp
2021-09-22 05:39:40
---
Die Weste war Liebe auf den ersten Blick, ich habe sie zuerst in M bestellt (ich trage normal Gr. 36/38) aber ich habe wohl auch etwas abgenommen und M ist mir hier im Shop einfach zu groß. Ok kein Problem zurück geschickt, aber der Schock es gab kein S mehr, ohh nein. Hab mich aber dann gemeldet zur Info per email, falls der Artikel wieder da ist. Und juhu es kam wieder eine Weste in S rein, gleich gekauft. Die Farbe ist so schön, perfektes Teil für den Herbst
Trudi
&nbsp|&nbsp
2021-09-17 08:02:49
---
Ik had mij ingeschreven voor dit vestje, omdat ik al langere tijd iets zocht voor op een marineblauwe rok. Op de foto en de beschrijving wordt ook gesproken over blauw en door de belichting op de doto lijkt hij blauw. Het vestje is echter tealkleurig (meer groen) en kleurde niet bij mijn rok. Daarom retour.
Linda
&nbsp|&nbsp
2021-08-30 18:56:15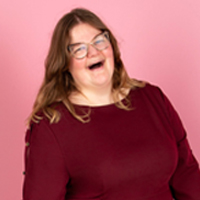 Response from Nicole

Beste Linda, wat jammer dat de kleur niet aan je verwachtingen voldeed. We proberen de kleur altijd zo realistisch mogelijk af te beelden, maar door verschillen in beeldschermhelderheid bijvoorbeeld kan het toch net anders zijn dan je verwacht. In de beschrijving wordt de kleur meestal wat gedetailleerder omschreven, in dit geval noemen we het petrolblauw.
Groetjes,
Nicole
Klantenservice
---
fr
Comme toujours, c'est parfait !
La jupe est aussi chaude visuellement que physiquement. Elle est vraiment magnifique. Le cardigan, dans un bleu canard très beau, est doux et les broderies charmantes. Les tailles ont une fois de plus été bien prises, pas de souci à l'essayage. Je suis ravie ! Merci Top Vintage de mettre du baume à mon cœur ! A bientôt pour une nouvelle commande. Vous êtes toujours mon site de vêtements préférés. LOVE YA!
Ingrid
&nbsp|&nbsp
2021-01-08 12:35:58
---
nl
(bijna) altijd een mega succes
Eerst het groene kleedje en de zwarte broek gekocht - twee toppers! - samen met de rok. Die laatste was niet helemaal wat ik zocht. De zakken (zelfs onzichtbaar) doen je heupen niet bepaald slanker lijken.
Het groene kleedje is leuk, maar zorg wel dat je er frivole laarzen onder draagt; anders zou het wat oubollig kunnen lijken.
Maar goed, terug naar de broek ... hij is echt gewéldig, en dus heb ik de blauwe ook maar gekocht. Samen met het gilletje. Twee toppers!
Het haakje op de rug (bovenaan aan de rits) van de broeken is jammer genoeg niet geweldig: of je geweven wollen trui blijft er in hangen (auwtsch), of je krijgt het niet open of toe (aan de zwarte broek is het lusje heel nauw), of er is gewoon geen lusje (aan de blauwe broek). Aan dat laatste ga ik nog wel iets moeten doen, want de rits gaat net iets te vlot open (waardoor ik net niet in mijn onderbroek op straat stond :-) ). Leve the basic naai-skills.
Het gilletje is prachtig, maar wel heel kort (past perfect op de blauwe jeans, gezien de hoge taille) - ik denk dat de onderkant zelfs boven mijn navel komt.
Al bij al een tevreden klant!
An
&nbsp|&nbsp
2020-12-23 18:38:13
---
Heel mooi vestje, zit erg comfortabel. Op aanraden van de reacties had ik een maatje groter genomen en dat was ook de goede keuze. Met mijn 1.67 valt hij precies op mijn taille. Ik wil hem nu ook in het groen!
Danielle
&nbsp|&nbsp
2023-08-26 14:16:58
---