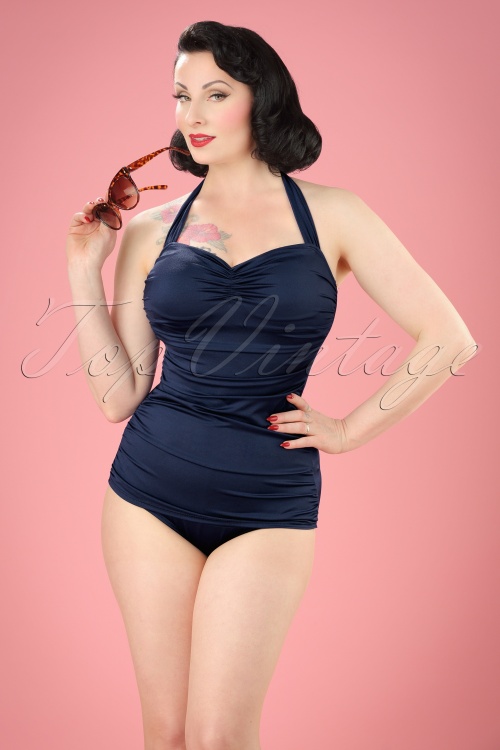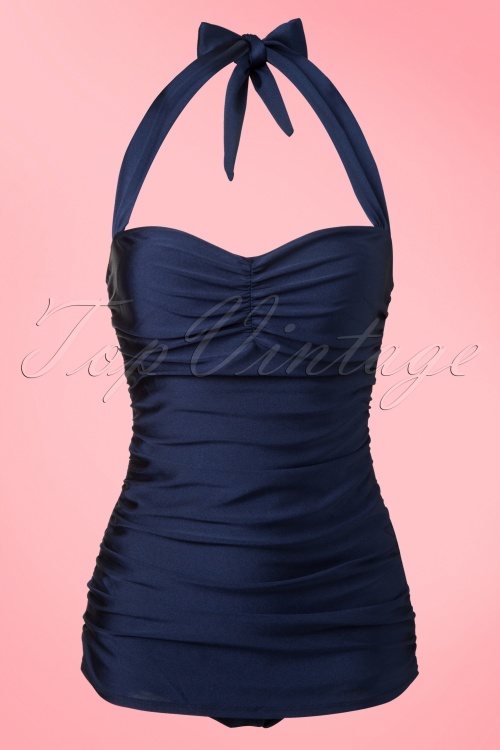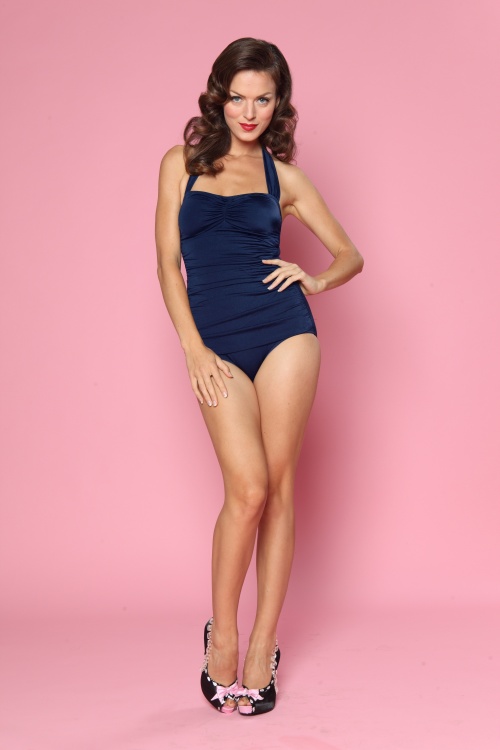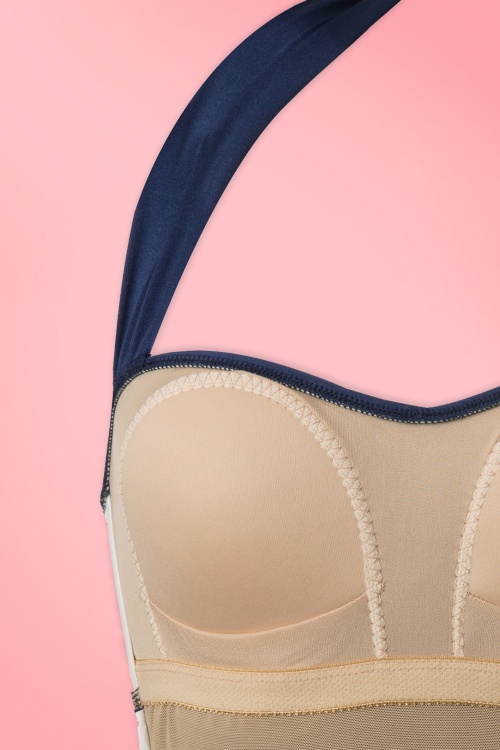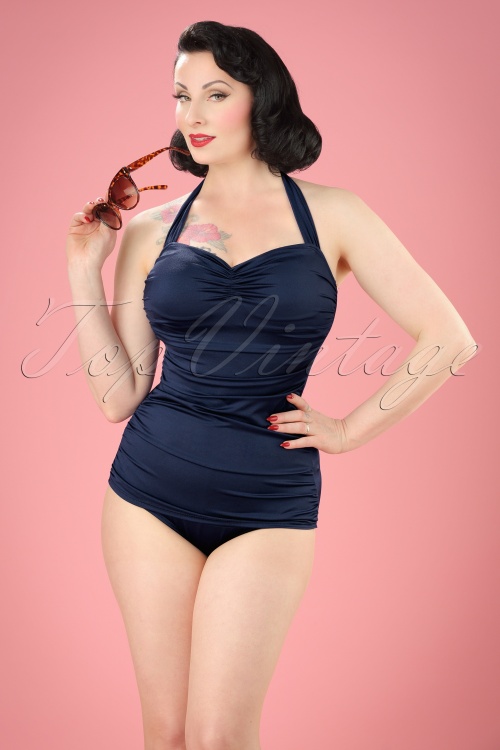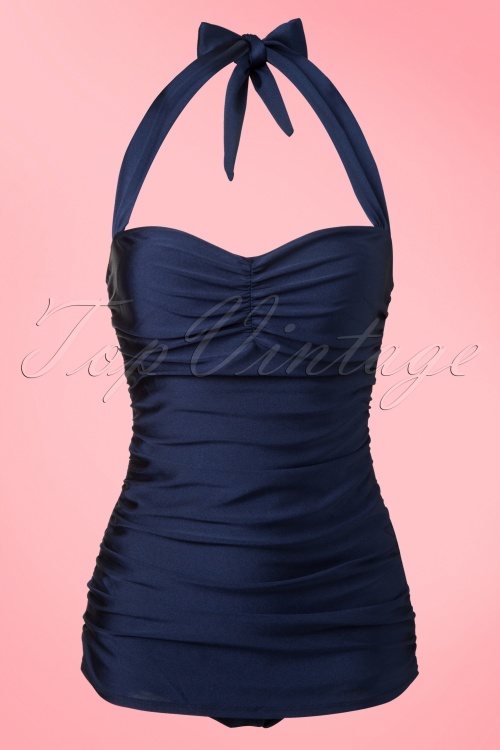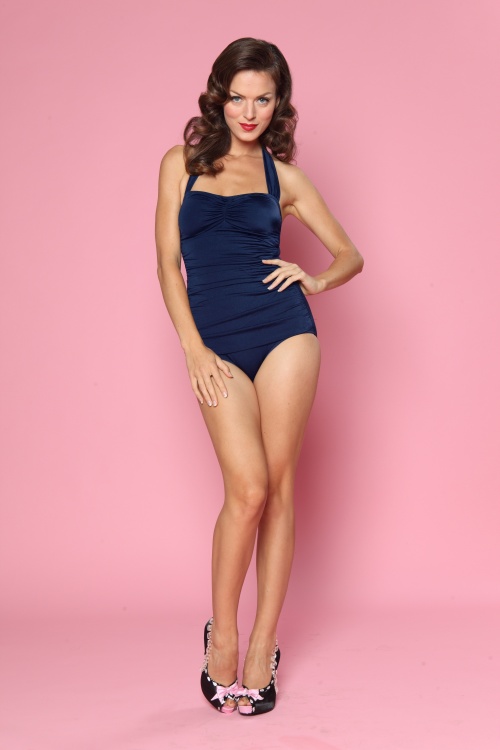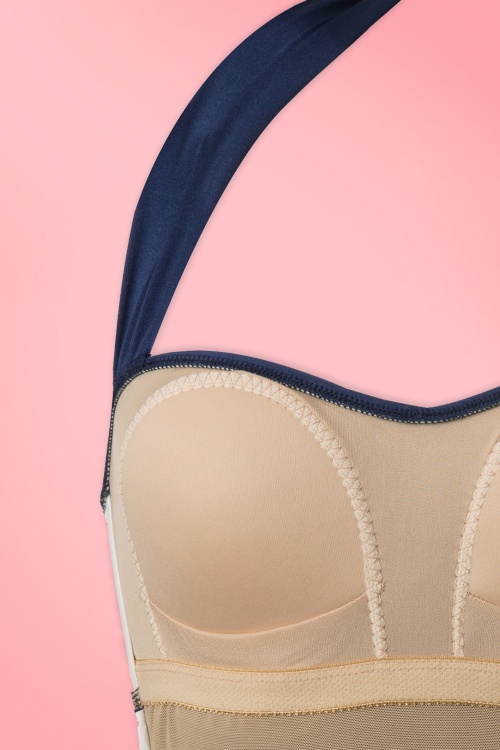 50s Classic Fifties One Piece Swimsuit in Navy
This 50s Classic Fifties One Piece Swimsuit in Navy is a stunning 50s inspired swimsuit! We love this beauty just as much as Marilyn Monroe did! Halter top with pleated sweetheart neckline, flattering gathered sides, a skirted typical fifties front and ruching over the tummy. Suits all body shapes and is incredibly slimming thanks to the composition of the fabric and the clever design. Made from a stretchy dark blue fabric and inside the swimsuit you have all the support you could possibly need; sewn soft cups with an elastic band under the bust ensure a perfect cleavage. Your vintage swimwear collection just can't do without, do it like Marilyn ;-)
Pleated sweetheart neckline
Halter tie straps
Pleated "skirt"
Sewn in soft cups
Elastic band under the bust for extra support
Low cutted legs
The featured pumps are not available in our shop

Article nr.
12101
Handwash cold (don't leave it in the water)
Made in USA

Ik heb dit badpak nu al een tijdje en ik ben er zoooooo ontzettend blij mee! De kwaliteit is fantastisch en hij kleedt heel erg mooi af. Met dit badpak durf ik me wel te vertonen!
Charlotte
&nbsp|&nbsp
2015-06-06 14:37:57
---
super mooi badpak, slankt heel mooi af.
nelleke
&nbsp|&nbsp
2015-06-04 14:24:44
---
Geweldige pasvorm! Enorm blij met mijn aankoop. Kijk er zelfs al naar uit binnenkort in zwemkledij rond te lopen! Had bijna een maat groter besteld, maar heb de maattabel bij het artikel gevolgd en past perfect!
Laura
&nbsp|&nbsp
2015-05-19 20:32:44
---
Prachtige jurk van een luchtig en bewegend materiaal zit echt mooi nauwsluitend bij bost en taille en vloeit dan van je heupen af. Zwempak O.M.G ik lijk 2 maten kleiner en heb zowaar een taille erin! met DHL verzonden naar Curaçao hij was 2 weken na bestelling aangekomen maar moest helaas invoerrechten betalen maar nog steeds 100% waard.
Anna
&nbsp|&nbsp
2014-12-03 01:57:00
---
M'n Esther Williams Classic 50-ties one piece Navy swimsuit is supersnel geleverd, mooi verpakt en staat prima, het kleedt mooi af en staat heel vrouwelijk, zo durf ik dat strand wel op. Ik ben er blij mee!
Hester
&nbsp|&nbsp
2014-06-17 10:29:11
---
Prachtig badbak. Goeie kwaliteit, erg flatterend. Denk er ook aan de bikini te kopen.
Lindsey
&nbsp|&nbsp
2014-06-06 11:57:13
---
Ik heb vorige week voor het eerst iets via Top Vintage gekocht en ik wil jullie langs deze weg even bedanken voor de super service!
Bestelling zondag geplaatst en dinsdag middag reeds ontvangen (in België)! Mijn badpak was ook zeer netjes verpakt én er zat nog een leuke attentie bij de bestelling ook! Het badpak is ook van zeer goede kwaliteit en zit perfect, net wat ik zocht! Dit zal zeker niet mijn laatste bestelling bij jullie zijn!
Petra Milants
&nbsp|&nbsp
2014-05-22 10:37:38
---
Wat een cadeautje om te ontvangen! Ik werd door vriendinnen getipt deze site eens te bekijken voor een badpak. De donkerblauwe bestelt en ben er helemaal blij mee. Ik ben benieuwd hoe het badpak zich zal houden in het water, maar geen bericht is goed bericht :) Hartstikke bedankt !!
Jacqueline Tak-Kriek
&nbsp|&nbsp
2014-04-30 07:53:55
---
High quality, super comfy and definitely vintage style shoes. True to size and fit perfectly. Truly worth every penny.

Cute meow mug packed in a box, great gift choice for cat lovers.

Trousers are way too long and big, so not a great choice for a petite person, thus we're returned. But lovely color and material for the green one. However, the grays tekstil seems a bit off quality wise.

Oven mitt is so cute and definitely high quality, wish they had them in squares.

Thank you Top Vintage for your lovely packing, quick delivery and amazing vintage items.

M.
&nbsp|&nbsp
2020-12-30 19:03:57
---
nl
Laat de zomer maar komen!
Supermooi. Heel flatteus met de plooitjes om het buikje te camoufleren.
Nancy
&nbsp|&nbsp
2020-07-07 20:41:13
---
Un sublime maillot de bain qui vous dessine une silhouette digne d'une pin-up ! Conforme à l'annonce et très confortable !
Mélanie Sabattier
&nbsp|&nbsp
2019-09-04 12:40:55
---
de
Grandios! <3 Für Mamas perfekt!
Dieser Badeanzug ist ein wahrer Hingucker!
Er sitzt perfekt, selbst wenn ich mit meinen Kindern im Wasser tolle. Der Schnitt ist klassisch und schick. Badeanzüge hatten für mich immer etwas altbackenes. Seit ich diesen hier habe fühle ich mich sexy und zugleich elegant.
Filli
&nbsp|&nbsp
2018-04-12 19:22:14
---
nl
Oe lala!!! Té leuk dit badpak!!
De prijs hield me tegen in het begin, maar ik MOEST ze toch hebben.
En oooohh wat heb ik daar GEEN spijt van!!!
Ik bleef maar draaien voor de spiegel :)
Zo mooi!! Zo sexy en toch zo degelijk.
Ik heb de maattabel aangehouden (het andere badpak gaf een andere maat aan volgens die maattabel, dus ik raakte eventjes in de war. Want het leken op het oog hetzelfde badpak. Maar toch gehouden aan de maattabel aan de zijkant bij het desbetreffende badpak) en... het past PERFECT!!!
Mascha
&nbsp|&nbsp
2017-06-24 09:04:24
---
vrijdag badpak Esther Williams besteld: zaterdag in huis; zondag het strand op: TOP!!!
Geweldige pasvorm; zó blij!
deze Aankoop=Aanwinst!
Mo
&nbsp|&nbsp
2016-07-17 23:11:35
---
One word four letters....
LOVEEEEEEE
Marylyn
&nbsp|&nbsp
2016-01-06 21:51:12
---
de
Schön in Blau.........
.......und super sexy ♥
Silke
&nbsp|&nbsp
2015-07-14 14:44:11
---
de
Schöne Kleidung aber Achtung!
Die Kleidung ist wie immer top und der blaue Badeanzug ist mein neuer Favorit! Leider sind mir die anderen zwei Artikel zu gross und müssen daher zurück. Käufer aus der Schweiz aufgepasst: Ich musste zusätzlich CHF 85 (!!) für Zollgebühren bezahlen! Das war mir in dieser Höhe nicht bewusst. Deshalb werde ich zukünftig wohl nicht mehr hier bestellen.
Seraina
&nbsp|&nbsp
2022-06-25 13:06:30
---
Love this swimsuit! It really brings out the best of you. Fun that it's blue and not black. Discrete but that little extra❤
Ann-Mari
&nbsp|&nbsp
2022-05-19 20:09:02
---