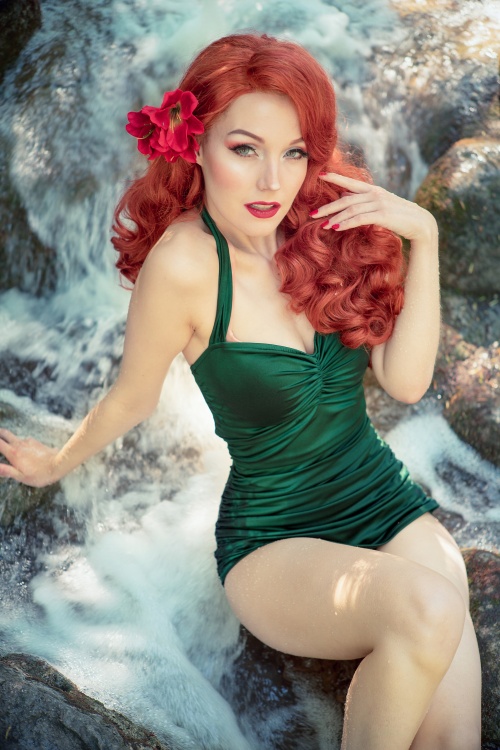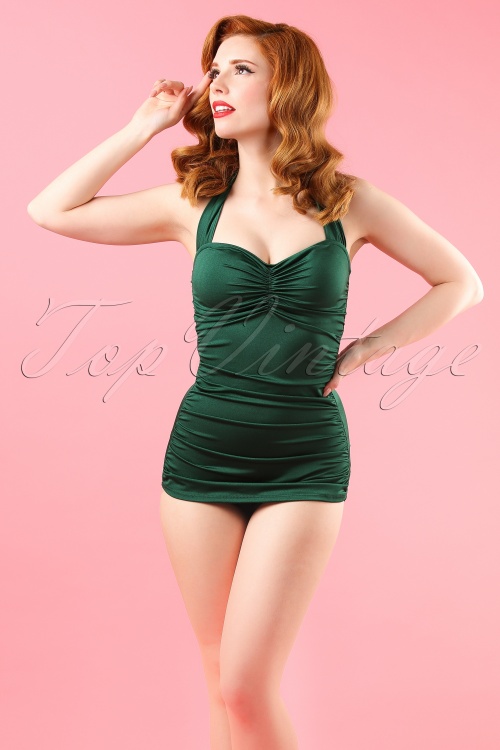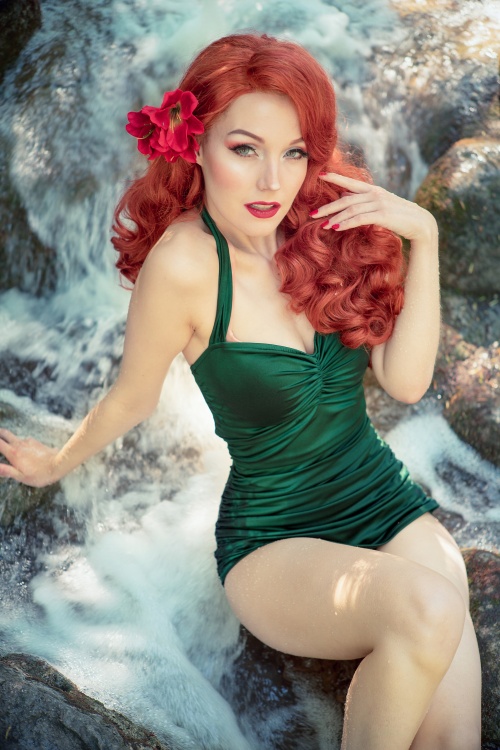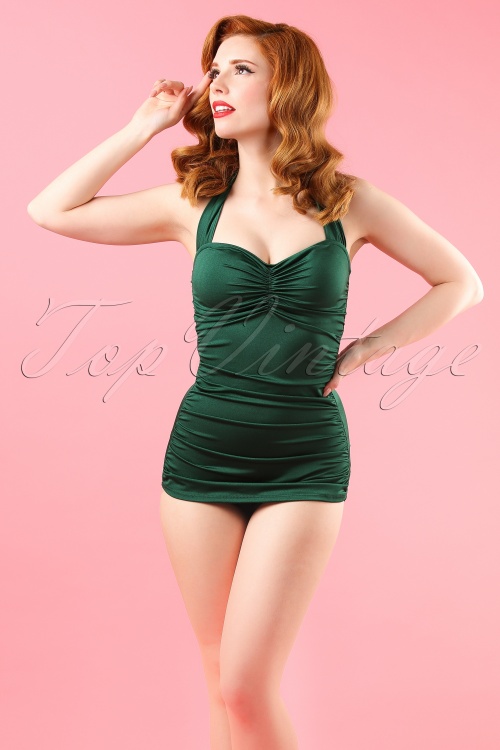 50s Classic Fifties One Piece Swimsuit in Green
This 50s Classic Fifties One Piece Swimsuit in Green is a stunning 50s inspired swimsuit! We love this beauty just as much as Marilyn Monroe did! Halter top with pleated sweetheart neckline, flattering gathered sides, a skirted typical fifties front and ruching over the tummy. Suits all body shapes and is incredibly slimming thanks to the composition of the fabric and the clever design. Made from a stretchy dark green fabric and inside the swimsuit you have all the support you could possibly need; sewn soft cups with an elastic band under the bust ensure a perfect cleavage. Your vintage swimwear collection just can't do without, do it like Marilyn ;-)
Pleated sweetheart neckline
Halter tie straps
Pleated "skirt"
Sewn in soft cups
Elastic band under the bust for extra support
Low cutted legs
Our stunning redhead Vanessa height: 1.67m / 5'5''
The featured pumps and accessories are not available in our shop

Article nr.
12102
Handwash cold (don't leave it in the water)
Made in USA
nl
De overtreffende trap, WAUW
Zó blij met mijn nieuwe badpak van Esther Williams (groen) de kleur, pasvorm en het zit super fijn!! Ik heb maat 14 gekozen vanwege grote cupmaat. Meestal is een badpak dan veel te ruim bij taille en billen. Deze sluit overal mooi aan, echt een aanrader! Mooi afgewerkt en ook decolleté zit erg mooi, past perfect. Hulde aan Top Vintage!!!
Nienke
&nbsp|&nbsp
2019-07-03 16:50:59
---
Heel mooi kleedje , zit super! slankt af. Er zat wel één draadje los bij ontvangst.
Badpak zit super! Kan ook met een grotere cup en heb dan ook zoals aanbevolen bij de maattabel een maatje groter genomen.
Haarspeld is minder 'fancy' in het echt.
Schoenen heb ik retour gestuurd. Er was een fabrieksfout aan en ze jeukten enorm!
Nina
&nbsp|&nbsp
2016-07-31 07:08:24
---
nl
Eerst helemaal blij maar nu toch 'n beetje droevig...
Supersnel geleverd in een prachtige doos en verpakking, echt een cadeautje, super! Badpak prachtig en zit en staat perfect, Mod shake dress ook helemaal leuk! Maar dan, mijn favoriet de Ella Marie checked dress, zo leuk en maat ook perfect maar er zit iets in stof van de achterzijde in het donkerblauw :( ik dacht eerst dat is wat stof of vuile veeg die poets ik er wel uit met wat water maar dat ging dus niet. Het lijkt (onder loep gelegd want was laatste exemplaar geloof ik en vind 'm zo leuk) iets in stof te zijn. Dus met pijn in mijn hart stuur ik deze morgen retour.

Beste Evelien, wat vervelend dat het jurkje waar je je zo op had verheugd een foutje in de stof bleek te hebben! Natuurlijk kun je hem retour sturen en ik neem vandaag nog even contact met je op!

Groetjes,
Fleur
Klantenservice
Evelien
&nbsp|&nbsp
2016-06-20 20:48:44
---
nl
Mooie kleding voor 40-up
Voor zowel de kledingmaat als de leeftijd prachtige kleding met de accenten op de juiste plaats! Eindelijk iets dat past en ruimte heeft voor extra vrouwelijkheid! Daarnaast is de service superB! Vriendelijk, correct en snel. Ga zo door, ik ben fan.
Sanne
&nbsp|&nbsp
2016-06-10 09:19:40
---
Der Badeanzug sitzt perfekt und macht eine spitzen Figur. Der erste Badeanzug, den ich wirklich sehr an mir mag. Perfekte Farbe. Innen verstärkt.
sabrina
&nbsp|&nbsp
2016-05-18 15:57:15
---
Na lang dubben eindelijk deze fantastische jas en het badpak besteld. Het badpak is fantastisch, ik heb de matentabel braaf aangehouden en hij zit perfect. Bij andere badkleding met halter krijg ik altijd last van mijn nek, maar met deze brede linten en verstevigd borstgedeelte is dat niet meer!
De jas is qua kleur fantastisch, boven mijn verwachting! Ook de taille die je figuur optimaal uit laat komen, oh lala! Helaas toch met pijn in mijn hart terug moeten sturen. Helaas ben ik niet gezegend met lange benen (1.61m) en de jas viel bij mij tot op mijn enkels, net even 10 cm te lang. Ook had ik een gladde stof verwacht, dit is meer viltige (maar dit is absoluut geen nadeel!). Tot slot was het kraagje voor mij te groot en paste het 'brave' niet echt bij mij. Hij is wel heerlijk warm! Met heel veel pijn in mijn hart dus alsnog retour gestuurd :(.
Gwen
&nbsp|&nbsp
2015-09-15 11:55:39
---
Alles past weer goed , zeer tevreden .
Helaas nooit de beloofde riem ontvangen
Hallo mevrouw van de Putte, het spijt ons dat wij een eerdere belofte blijkbaar niet zijn nagekomen. Ik zal vanavon nog contact met u opnemen om dit probleem alsnog te gaan oplossen. Onze excuses!

Met vriendelijke groeten
Marie-Louise Kern
Klantenservice
sjl
&nbsp|&nbsp
2015-07-09 14:14:56
---
Ik had dit voor mijn 20ste verjaardag gekregen (en heel snel, ik was zo blij) en wow, ik heb mij nog nooit zo vrouwelijk gevoeld! Ik kreeg heel de dag complimentjes en voelde mijn zelfvertrouwen versterken. Echt een aanrader voor alle dames, het zit goed, de kleur is een prachtig smaragd groen en is perfect voor de warme zomerdagen! Een echte confidence booster!
Cindy
&nbsp|&nbsp
2015-07-04 20:31:26
---
hele mooie rok maar valt klein.
Anja
&nbsp|&nbsp
2015-06-17 10:03:33
---
Ik heb mijn jurkje en badpak ontvangen.
Weer de zoveelste zonnetjes waar je blij van wordt.
Over 14 dagen heerlijk met vakantie.
Genieten in bad pak en s avonds flaneren in mn jurkje.
Heb inmiddels de polkadot haltertjes ook besteld.
Addict to topvi nage!
Dank voor de paashaas !
Ingrid
&nbsp|&nbsp
2015-04-03 12:58:17
---
nl
Esther williams swimwear
Hij is fantastisch.
anja
&nbsp|&nbsp
2015-03-31 12:15:37
---
het badpak is prachtig. De kleur is smaragdgroen en heeft een fantastische pasvorm. Ik kijk ernaar uit om hierin aan het zwembad te liggen. Geweldig snelle levering. Om 20.45 uur besteld en de volgende dag in huis. Ik ben fan van Topvintage!!
Vijaya
&nbsp|&nbsp
2015-03-29 17:24:57
---
Wat een heerlijk zwempak! Staat prachtig, zit prettig en goede kwaliteit. Kom maar op met de zomer :)
Marjolijn
&nbsp|&nbsp
2015-03-18 20:29:14
---
Bin sehr sehr glücklich mit meinen neuen Errungenschaften! Tolle Qualität! Vielen Dank :)
Katja
&nbsp|&nbsp
2014-03-04 19:45:26
---
Ik vond het wat spannend om een bikini en badpak te bestellen zonder eerst te passen, maar de maat label klopte precies. Ze zitten heerlijk en ze staan allebei prachtig, omdat ik niet wist welke ik terug moest sturen, hou ik ze gewoon allebei! :)
Sarah
&nbsp|&nbsp
2022-07-08 09:47:50
---
de
Nicht restlos begeistert
Ich habe den Retro-Badeanzug von Esther Williams in Rot mit weißen Polka-Dots und in Einfarbig-Grün bestellt. In beiden Versionen sieht er von vorne gut aus. ABER: Es gibt Passformprobleme, und zwar unterschiedliche beim gemusterten und einfarbigen Modell. Den roten Badeanzug mit den Polka-Dots habe ich zurückgeschickt, weil er in Größe 8 zu stramm saß. Ich kam kaum hinein; noch schwieriger war es, ihn wieder auszuziehen. Er sah zwar atemberaubend an mir aus, war aber zu unkomfortabel. Das grüne Modell, ebenfalls Größe 8, ließ sich leichter an- und ausziehen und schien gut zu sitzen. SCHIEN. Erst im Schwimmbad merkte ich, dass der Badeanzug am hinteren Beinausschnitt beim Gehen beutelt! Dabei habe ich keineswegs ein besonders flaches Hinterteil. Der Passformmangel stört mich ungemein, aber jetzt kann ich den Badeanzug natürlich nicht mehr zurückgeben. Wer ihn bestellen möchte: Vorsicht! Unbedingt die Passform gründlich prüfen, am besten von einer zweiten Person begutachten lassen, auch von hinten und auch in der Bewegung.

Hallo Petra,
Es tut uns sehr leid das Sie so enttäuscht von dem tollen Badeanzug sind!
Ich habe Ihnen gerade eine E-Mail geschickt und bin überzeugt das wir Ihnen eine passende Lösung anbieten können ;-)

Liebe Grüße,
Karin
Kundenservice


Gaidetzka
&nbsp|&nbsp
2022-01-10 15:53:25
---
Die Pumps, dreifarbig, sehen eigentlich ganz hübsch aus, fallen aber etwas groß aus, finde ich. Liege zwischen 36 und 37, habe mich für 37 entschieden. Leider viel zu groß.
Der rote Rock passt von der Größe wie angegeben, aber der Stoff macht keinen guten Eindruck, wirkt billig, lumpig.
Die grüne Wolljacke sitzt nicht gut, der Stoff ist auch nicht schön. Hinten eine Falte quer über den Rücken, von vorne sieht man aus wie gewisse Prominenz. Geht gar nicht.
Die blaue Strickjacke fällt auch groß aus, obwohl ich schon Größe S bestellt habe. Ärmel sind sehr lang und man kann sie nicht hoch schieben. Umkrempeln sieht doof aus.
Der grüne Rock ist wirklich süß, wenn man sich erstmal an das leuchtende Grün gewöhnt hat. Leider stimmt die Größenangabe nicht. Habe M bestellt, weil Taille mit 70-76 angegeben war. Leider rutschte der Rock runter, hielt nicht in der Hüfte. Konnte den Bund noch weit vom Bauch wegziehen, kam mir eher wie L vor. Außerdem waren die Taschenbeutel vernäht, schlugen Falten. Dazu noch ein ausgebleichter Fleck. Schade.
Der schwarze Strickpullover ist diesmal viel dünner vom Stoff. Habe auch andere Farben, weshalb ich vergleichen kann. Aber hier sieht man alles durch...
Den Badeanzug hatte ich vor kurzem in rot-gepunktet probiert, der auch prima saß, aber mir von der Farbe nicht gefiel, deshalb in grün bestellt. Das Grün ist toll, aber der Badeanzug fällt ganz anders aus, saß jetzt gar nicht gut.
Schade. Vielleicht beim nächsten Mal wieder.
Sibylle
&nbsp|&nbsp
2021-12-01 23:16:14
---
J'ai acheté plusieurs articles sur Top Vintage, j'étais très contente pour les premiers articles achetés, très jolies robes, on m'offrait même un petit cadeau. Plus rien de tout ça, la qualité de la jupe bleue à fleurs rouges que j'ai reçu aujourd'hui est basique, pas de doublure, coutures et finitions mal faîtes surtout au niveau de la fermeture éclair. Ils ont même pas pris le soin d'aligner les fleurs sur les coutures arrières, devant la jupe ainsi qu'au niveau de la ceinture. Même en soldes, c'est trop onéreux pour le résultat final. Quand au maillot de bain Vert, très beau et bonne taille mais écrase la poitrine. C'est dommage, je peux pas vous mettre les photos. Très déçue, Top Vintage, c'est plus ce que c'était...
Bonjour Dunaire, je regrette d'entendre que vous n'êtes pas satisfaite de vos achats. Nous essayons toujours de vous donner au plus informations que possible concernant la doublure et la matière dans la description. Je vous envoie un e-mail aujourd'hui encore ! 
Cordialement,
Nicole
Service clientèle
Dunaire
&nbsp|&nbsp
2021-07-23 09:55:25
---
Ik blijf een groot fan van de badpakken van Esther Williams Swimwear. Zo'n mooi model, heel flatterend! En de groene kleur is mooi en diep.
Dana
&nbsp|&nbsp
2021-02-23 19:59:57
---
nl
Mooi maar kwaliteit niet zo goed.
De kleur is fantastisch als ook de pasvorm. Helaas laat het badpak al na een paar keer dragen wat slijtage plekken zien en de naad die over de rug loopt is ook minder mooi. Voor de prijs die ik ervoor betaald heb, vind ik het wat teleurstellend.
Beste Aziza, wat spijtig te horen dat je Swimsuit al snel slijtage op het zitvlak vertoond. We hebben inmiddels contact met elkaar en we zullen het naar tevredenheid met je oplossen.
Groetjes,
Sylvia
Klantenservice
Aziza
&nbsp|&nbsp
2020-08-05 11:56:50
---
Le produit tient ses promesses, comme toujours lorsqu'il s'agit d'un achat sur TopVintage :
une couleur riche et profonde; une matière à la fois solide et délicate; des finitions de qualités (coutures, doublure, renforts); une coupe avantageuse. Je n'ai pas encore eu l'occasion de le porter, mais j'ai hâte :)
Stéphanie
&nbsp|&nbsp
2020-07-26 07:34:11
---
Didn't expect this swimming suit to have "bones" sewn in, but it keeps shape sooooo nicely, so I guess it's worth it. Fits according to size description (use tips provided).
Lina Staponaite
&nbsp|&nbsp
2019-12-07 22:00:43
---
Prachtig chic badpak, voor een vriendin gekocht met heupen maat 42, wespentaille 36 en topmaat 38. Ik dacht, ik kan het badpak altijd nog innemen rond de borst en taille, dus de maat op haar heupen gekozen. Verstellen bleek niet nodig, past als gegoten!

Kleed mooi af met een sarong.
M
&nbsp|&nbsp
2019-07-06 16:08:10
---
Wat een ontzettend mooi badpak is dit. Hierin kun je lekker shinen op het strand of in het zwembad. Vanwege mijn lengte heb ik een maat groter besteld dan normaal. Zo komt de mooie voorkant van het badpak het best tot z'n recht.
Catharina
&nbsp|&nbsp
2022-08-27 21:28:30
---