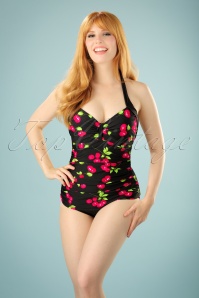 50s Cherry Swimsuit in Black
''Oui, oui ma chérie!''... take a stroll along the waterside and show off this 50s Cherry Swimsuit! You'll look delightful when wearing this fruity beauty! Cherry features molded cups ensuring extra support and a playful pleated detail between the cups to create a gorgeous cleavage. The fixed halter straps can be tied in the neck with a playful bow. The waist features flattering gathered sides that make her incredibly slimming and give you that sexy hourglass figure! Made from a comfortable, stretchy black fabric with a typical delicious retro cherry print which is a joy to wear and fits perfectly. Take a fresh dip, or parade along the boulevard... this swimsuit will be the cherry on top of your pie this summer ;-)
Molded cups
Underwired
Gathered sides
Fixed halter straps with tie closure
The featured accessories are not available in our shop
Article nr.
21173
82% Polyamid
18% Elastane
Handwash inside out (don't leave it in the water)
Do not dry clean
Do not tumble dry
Do not iron
nl
Minder geschikt voor peervorm
Helaas moet ik dit badpak terugsturen. Hij was veel te ruim bij de borst terwijl hij om mijn heupen goed zat. Ik heb cup 75E en broek maat 42. Als je een peervorm hebt en volle cup is dit model dus minder geschikt. Ook zit er geen elastische band onder de cups waardoor het weinig steun geeft.
Mariette van Waard
&nbsp|&nbsp
2019-06-13 14:24:49
---
Een prachtig badpak. Het staat geweldig. Echter na 1 keer gedragen te hebben kwamen de beugels al door de top heen. Ook kruipt het lijfje (wat van onder niet vast gestikt is voor het rimpel-effect) steeds omhoog. Geen aanrader dus...


Angelique
&nbsp|&nbsp
2019-06-03 17:08:42
Response from Customer service

Beste Angelique, wat ontzettend balen dat het badpak deze gebreken vertoont, mijn excuses hiervoor! Ik zal meteen contact met je opnemen om dit samen op te lossen. Tot zo!

Groetjes,
Auke
Klantenservice
---
Helemaal verliefd op deze badpak, past perfect en zo mooi...en dat voor een spotprijsje. Top !
gabriella musolino
&nbsp|&nbsp
2019-05-23 13:08:50
---
fr
Du style au bord de la piscine
Maillot de bain rétro, élégant et qui donne du style au bord de la piscine. Il taille très bien et permet de masquer son ventre si on a un ventre un peu rebondi ;-) J'ai adopté ce maillot de bain l'année dernière et j'ai hâte de le ressortir cet été. Les cerises sont à croquer !
Laetitia
&nbsp|&nbsp
2018-05-19 17:20:10
---
Na lang aarzelen eindelijk toch maar eens iets besteld. Heb het me nog geen moment beklaagd. Alleen voor de portemonnee misschien
Kim
&nbsp|&nbsp
2017-07-20 20:55:52
---
steht mir aber irgendwie leider nicht, darum zurück
Evi
&nbsp|&nbsp
2017-07-04 10:24:51
---
Prachtig badpak. Zit mooi, slankt mooi af, met een 2XL past mijn flinke voorgevel (80E/F) netjes in het badpak. De uitstraling is super playful maar ook erg sexy. Loving it! Bedankt TopVintage voor het feit dat jullie bestaan, haha. :)
Janna
&nbsp|&nbsp
2017-06-25 19:20:38
---
de
Schnell geliefert, sitzt klasse - aber leider defekt
Die Ware war super schnell bei uns, aber leider ist der Badeanzug defekt - eine ganze Naht ist offen.






Andreas
&nbsp|&nbsp
2017-06-25 18:58:09
Response from Mandy

Hallo Andreas, es tut uns sehr Leid dass Sie den Badeanzug Defekt erhalten haben. Das darf nicht passieren! Entschuldigen Sie uns bitte! Ich habe gesehen dass Sie schon Kontakt hatten mit meiner Kollegin. Selbstverständlich werden wir das Problem für Sie perfekt lösen! :-)
Liebe Grüße,
Mandy
Kundenservice
---
Wat een mooi badpak,
alles is gewoon geweldig aan dit badpak, de stof, de prachtige kersen en de kleur
mijn taille en decolleté flatteren gewoon in dit wondermooi badpak.
we gaan dit jaar stralen op het strand in Italië.
I love it
Marlene
&nbsp|&nbsp
2017-06-10 12:07:14
---
nl
Prachtig badpak maar....
Ik heb toch liever een bikini. Maar wie op zoek is naar een mooi badpak, die kan ik het van harte aanbevelen.
Nella
&nbsp|&nbsp
2017-06-06 19:55:08
---
Es ist ein wirklich toller Badeanzug, doch schon beim Anprobieren kamen die Bügel aus dem BH gekrochen. Das ärgert mich schon bei meinen herkömmlichen BH`s,daher habe ich den Badeanzug zurück geschickt.






Anke
&nbsp|&nbsp
2017-06-02 16:31:29
Response from Customer service

Hallo Anke, es tut uns Leid dass Sie einen Badeanzug erhalten haben der mangelhaft verarbeitet wurde. Das darf nicht passieren, bitte entschuldigen Sie uns! Ich werde mich heute noch kurz bei Ihnen melden dann lässt sich bestimmt eine Lösung finden.
Liebe Grüße,
Desiree
Kundenservice
---
Wauw.... met cup 75E/80D en ronde heupen past dit badpak in maat L perfect! En in de taille maakt dit badpak slank en de plooitjes verzachten buikje beetje. De cups zijn echt van stijf materiaal waardoor je strik in hals los kunt maken (streeploos bruin) zonder dat het aan de voorkant openvalt.

Eén nadeel... de kersen zijn echt fuchsia-roze; op website leken ze veel roder. Ik hou helemaal NIET van roze, maar de pasvorm maakt dat goed.
Nt
&nbsp|&nbsp
2017-06-02 14:37:59
---
Summertime

mir fehlen die Worte (wieder einmal). Der Badeanzug kam, saß und siegte :D
Man fühlt sich richtig sexy und weiblich.
Jetzt kann die Badesaison losgehen.
Franziska
&nbsp|&nbsp
2017-05-30 12:32:17
---
nl
Super vrouwelijk en klassevol!
Elke keer een plezier om mijn pakket te ontvangen!
Topvintage is mijn kledingszaak geworden en past precies bij mijn persoonlijkheid!
Zalig weer vrouwelijk te zijn!
Nathalie
&nbsp|&nbsp
2017-05-30 12:16:08
---
mir fehlen die Worte (wieder einmal). Der Badeanzug kam, saß und siegte :D
Man fühlt sich richtig sexy und weiblich.
Jetzt kann die Badesaison losgehen.
Franziska
&nbsp|&nbsp
2017-05-30 12:14:59
---
Hoy me ha llegado el bañador. Estoy deseando que llegue el buen tiempo para poder estrenarlo:
Cecilia Braos
&nbsp|&nbsp
2022-05-23 11:42:35
---
en
Is it beach weather already?? ?⛱️?
It fits like a glove ❤️??
I'm 168 cm, 65kg, usually a size 38/M, B cup boobies.
Beautifully made, great quality, nice materials and the packaging is just too cute ?
Can't wait to turn some heads with it ??
Thanks, Top Vintage ?
Dinka
&nbsp|&nbsp
2022-04-07 10:40:36
---
In het badpak zie ik er echt fantastisch uit. De cups zijn voorgevormd, wat ik echt een groot voordeel vind en dan ook nog een mooi lijntje. De broek zit heerlijk zacht en past precies goed. De rok is super vrouwelijk en sierlijk. Fijne stof. De schoenen moest ik even inlopen, maar zitten nu echt lekker. Prima hakhoogte voor de "bijkomdag".
Anouk
&nbsp|&nbsp
2020-08-19 18:51:50
---
Heel mooi badpak, kleedt goed af en zit lekker.
Ilse Cornelissen
&nbsp|&nbsp
2020-08-18 07:30:58
---
de
Hübsch, nur die Bügel.....
Ich hatte auch diesen Badeanzug mangels Telefonkontakt (den ich nicht zustande bekommen habe) in 2 Größen bestellt. Ich brauche sowieso mehrere Badeanzüge, was sich bei meiner, eigentlich normalen Körperform, als überraschend schwierig erweist. Unten 38, oben 80 D /40. Leider stellte sich dann bei beiden Größen heraus, dass der untere Teil zwar perfekt passt und süß aussieht, dass die Körbchen aber unvorteilhaft wie ein Trichter geformt sind. Sie gehen also zum Bügel hin so auseinander, dass der Bügel an seiner Unterseite hilflos nach vorne ragt und unschön kantig vorsteht und die Unterseite meiner - durchaus noch ziemlich straffen - Brüste an der Körbcheninnenseite keinen Halt finden, hilf- und haltlos abrutschen und versuchen, sich unter dem vorstehenden Bügel ein Stück durchzumogeln. Vielleicht ist das ja nur bei mir so, aber das passt mir gar nicht.
Außerdem stand seitlich unter den Armen die Naht irgendwie seltsam ab, und die Brüste wurden zu einer Art Gesäßfalte mitten oben auf der Brust zusammengeschoben. Das gefällt mir nun weniger gut. Sehr schade, denn ansonsten sähe er wirklich süß aus. Nur nicht an mir. Tja - leider muss ich ihn zurück schicken
Marion Reuther-Deichl
&nbsp|&nbsp
2020-04-24 14:36:35
---
nl
Mooi badpak maar niet geschikt voor kleine cup
Prachtig badpak maar de cups zijn helaas te ruim voor mij. Niet geschikt voor brede heupen icm bescheiden borst.
Bregtje van der Meulen
&nbsp|&nbsp
2020-01-22 07:19:54
---
nl
Prachtig badpak maar helaas niet geschikt voor kleine cup
Prachtig badpak maar helaas niet geschikt voor een kleine cupmaat. Ik hou teveel ruimte over in de voorgevormde cups, helaas... Had 2 maten besteld om te kunnen vergelijken. Beide helaas te ruim bij de borst.
Als je wat meer vulling hebt dan is het een prachtig badpak om aan te schaffen!
Bregtje
&nbsp|&nbsp
2020-01-21 19:41:53
---
Vandaag heb ik mijn badpak ontvangen. Het is een heel leuk badpak en kleedt mooi af.
Marieke Brons
&nbsp|&nbsp
2019-08-27 13:24:04
---
Helaas echt een tegenvaller.
De onderste laag is wit met als broekje het badpakstof met kersen. Dat broekgedeelte is veel tè moet, waardoor je snel het witte gedeelte er onderuit ziet steken. Helemaal omdat het gerimpelde lijf wat erover heen zit heel erg snel omhoog glijdt.
De beugels van de bh priemde bij de eerste keer dragen al meteen door de stof heen.
Voor mij vielen de cups ook laag uit, waardoor ik de neklinten flink moest aantrekken wat niet lekker zit in mijn nek en waardoor de stof van de linten uitrekt en wit uitslaan.
Het badpak is ook moeilijk aan te krijgen als je goeie ronde billen hebt;) Ik kreeg hem met veel moeite aan. Terwijl het echt de goede maat is.
Zo jammer….supermooi badpak maar ik doe hem nooit meer aan. Weg 50,-
Lieke Bruggenwirth
&nbsp|&nbsp
2022-09-08 19:51:08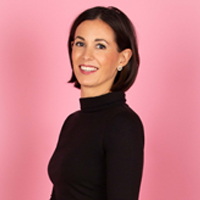 Response from Sylvia

Beste Lieke, jammer dat we je niet blij konden maken met dit badpak. Sorry hiervoor! Uiteraard mag je een Item dat niet bevalt binnen 30 dagen retourneren.
Mocht er in de toekomst iets mis zijn, aarzel dan niet om onze klantenservice in te schakelen, zodat we de kans krijgen een probleem naar tevredenheid voor je op te lossen.
Groetjes,
Sylvia
Klantenservice
---
nl
Zo'n teleurstelling ☹️
Ik heb dit badpak gekocht laatst maar het is drama. Het is een dubbele laag. De onderste laag is witte binnenstof van een badpak/voering en de onderkant, dus het broekje zeg maar, is badpakstof met print.. Maar die is veel te kort. De bovenste laag is lang en gerimpeld maar kruipt supersnel omhoog waardoor je heel snel in het witte onderstuk staat.
De beugels priemen meteen bij eerste gebruik door de stof heen. Ik heb er ook een uit de wasmachine moeten vissen. Zat klem achter de trommel! Waszakje was blijkbaar niet helemaal dicht…
Ik krijg hem met veel moeite over mijn billen en op de een of andere manier zijn de cups heel laag zodat ik pijn krijg in mijn nek van de halterstrik. De stof van de bandjes rekt uit waardoor je een witte ondergrond er doorheen ziet komen. De cups zelf zijn wel redelijk op maat.
Weg 50,-….wat voor mij best een uitgave is geweest. Zo jammer!!
Ik heb kledingmaat 42 en kocht een XL van dit badpak.


Lieke van Gorp
&nbsp|&nbsp
2022-08-30 20:58:19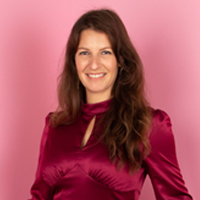 Response from Alexandra

Hoi Lieke, wat jammer om te lezen dat je zo een pech hebt gehad met deze Swimsuit en ik kan me goed voorstellen dat je hier niet blij van wordt, en dat willen we natuurlijk niet! Je kan het beste de klantenservice hierover contacteren zodat ze jou verder kunnen helpen. Excuses voor het ongemak!

Groetjes,
Alexandra
Klantenservice
---