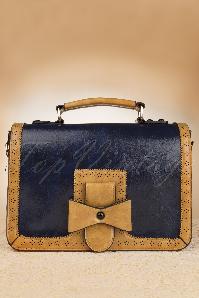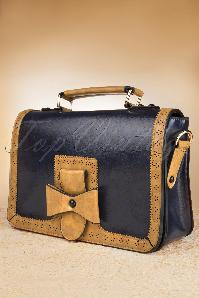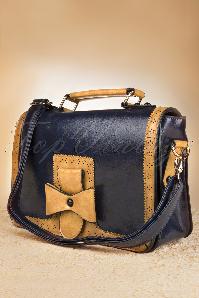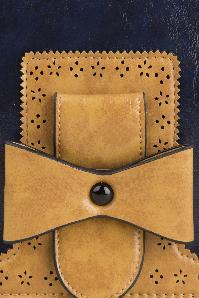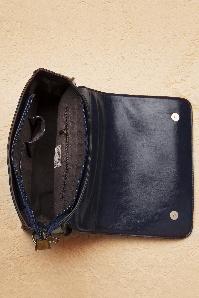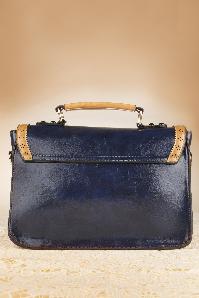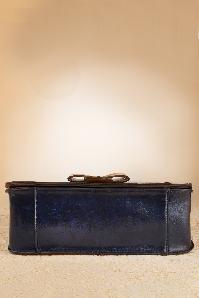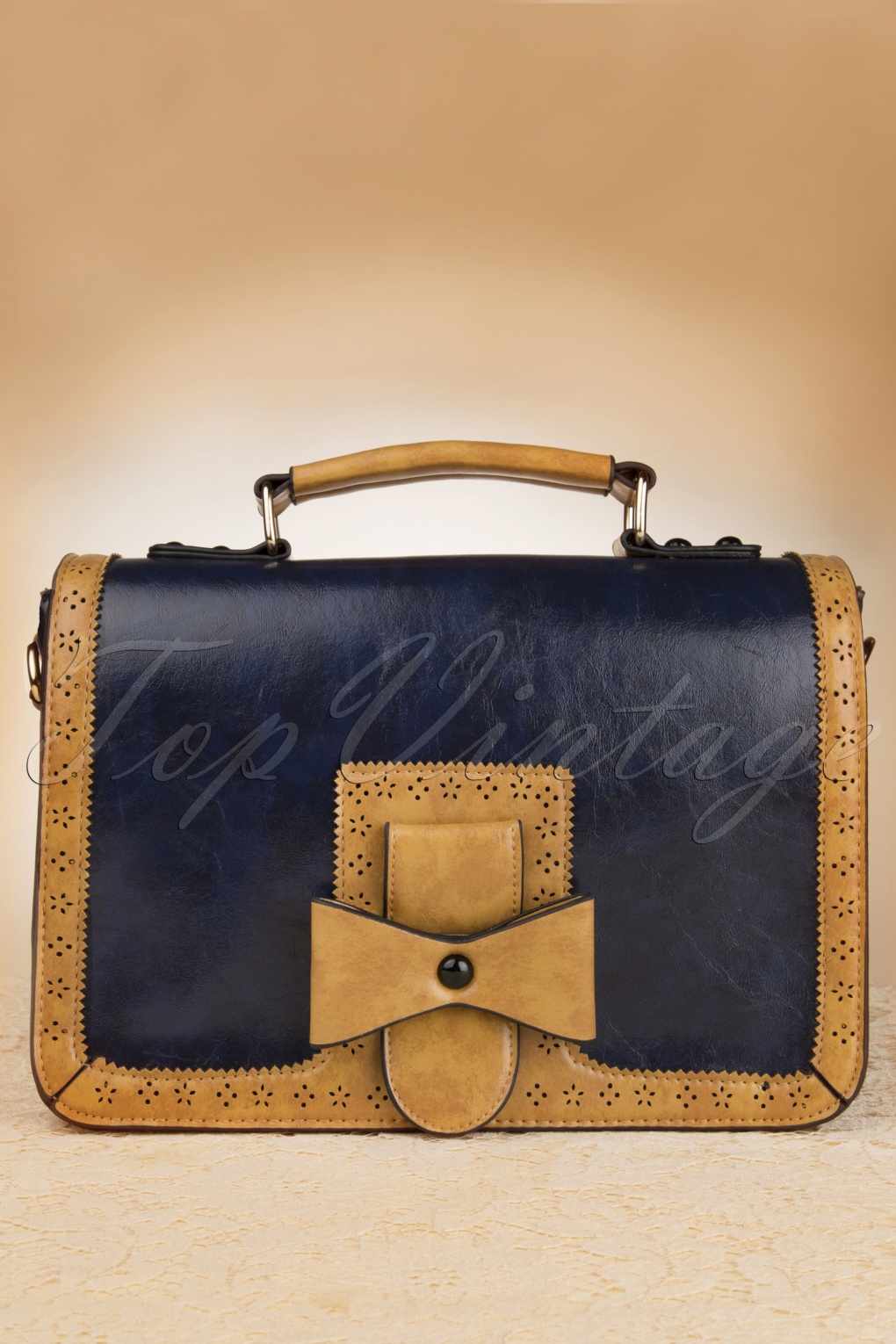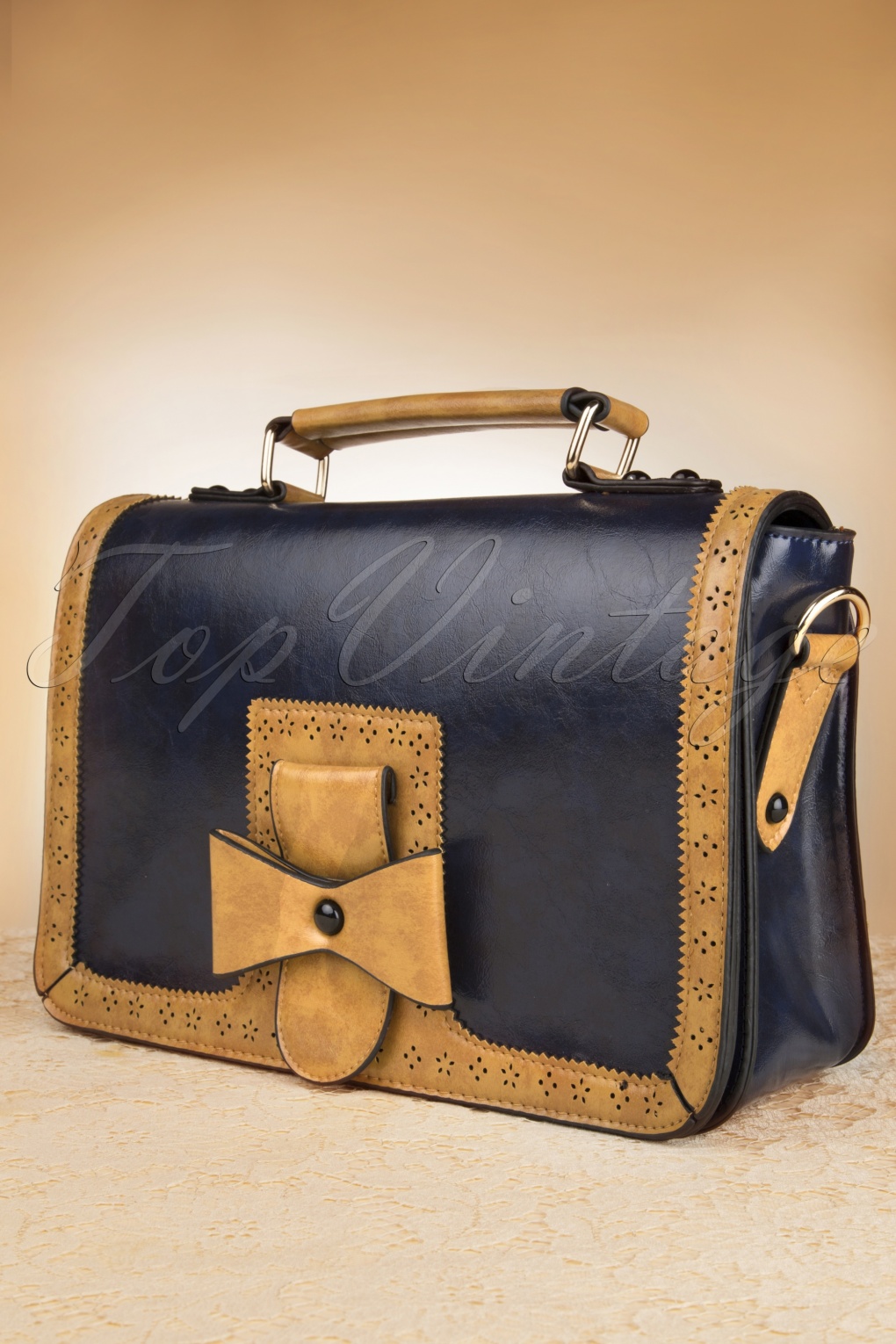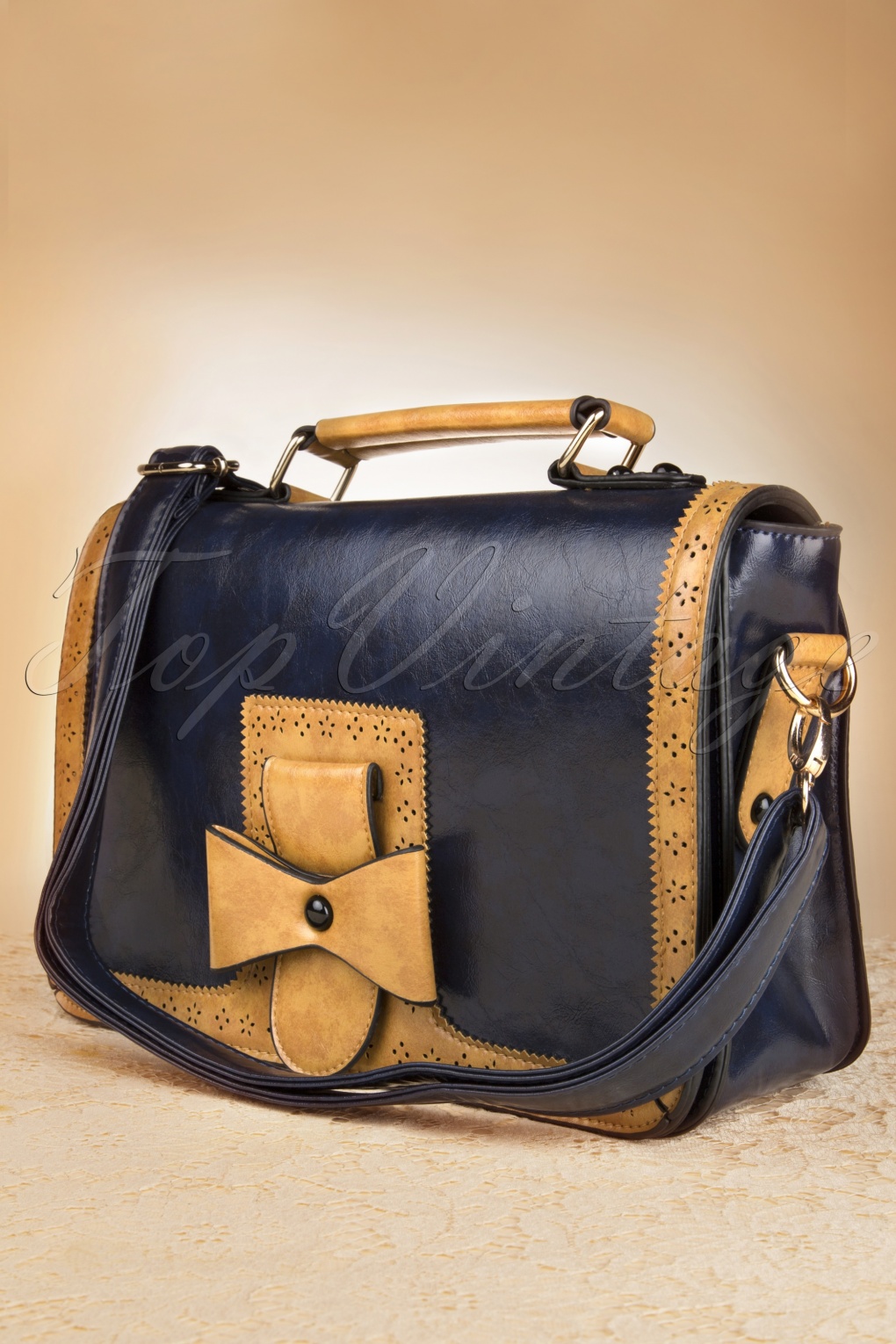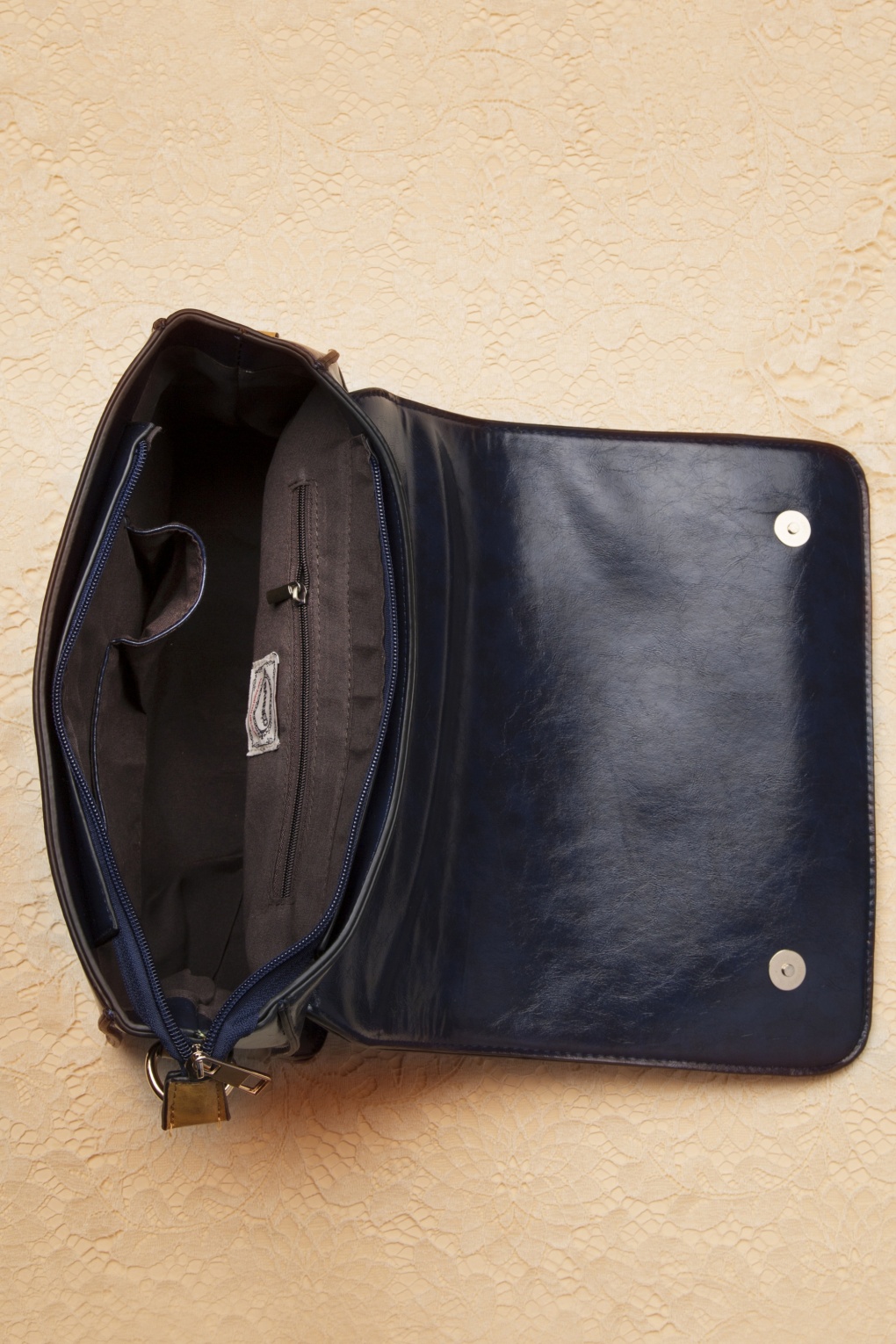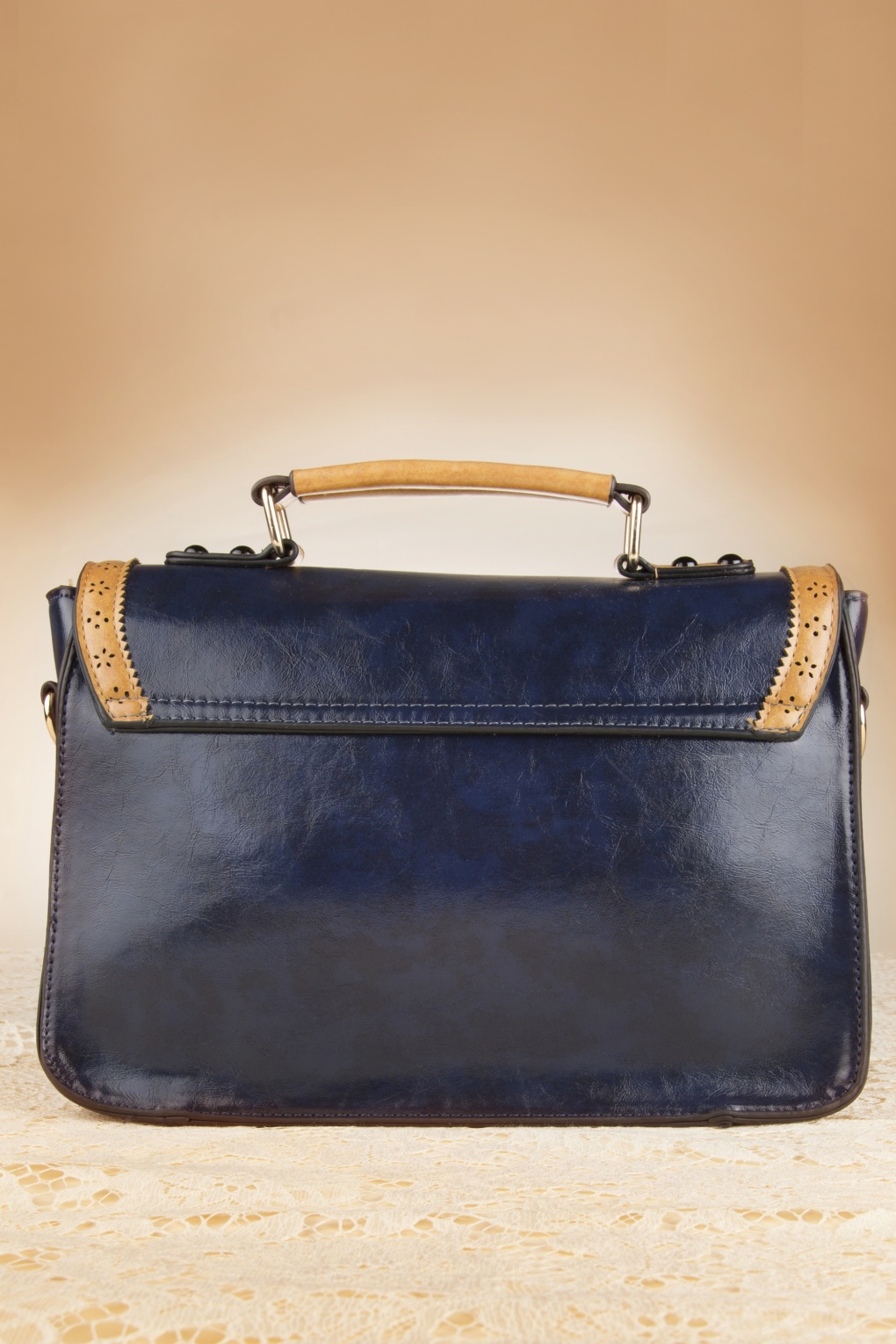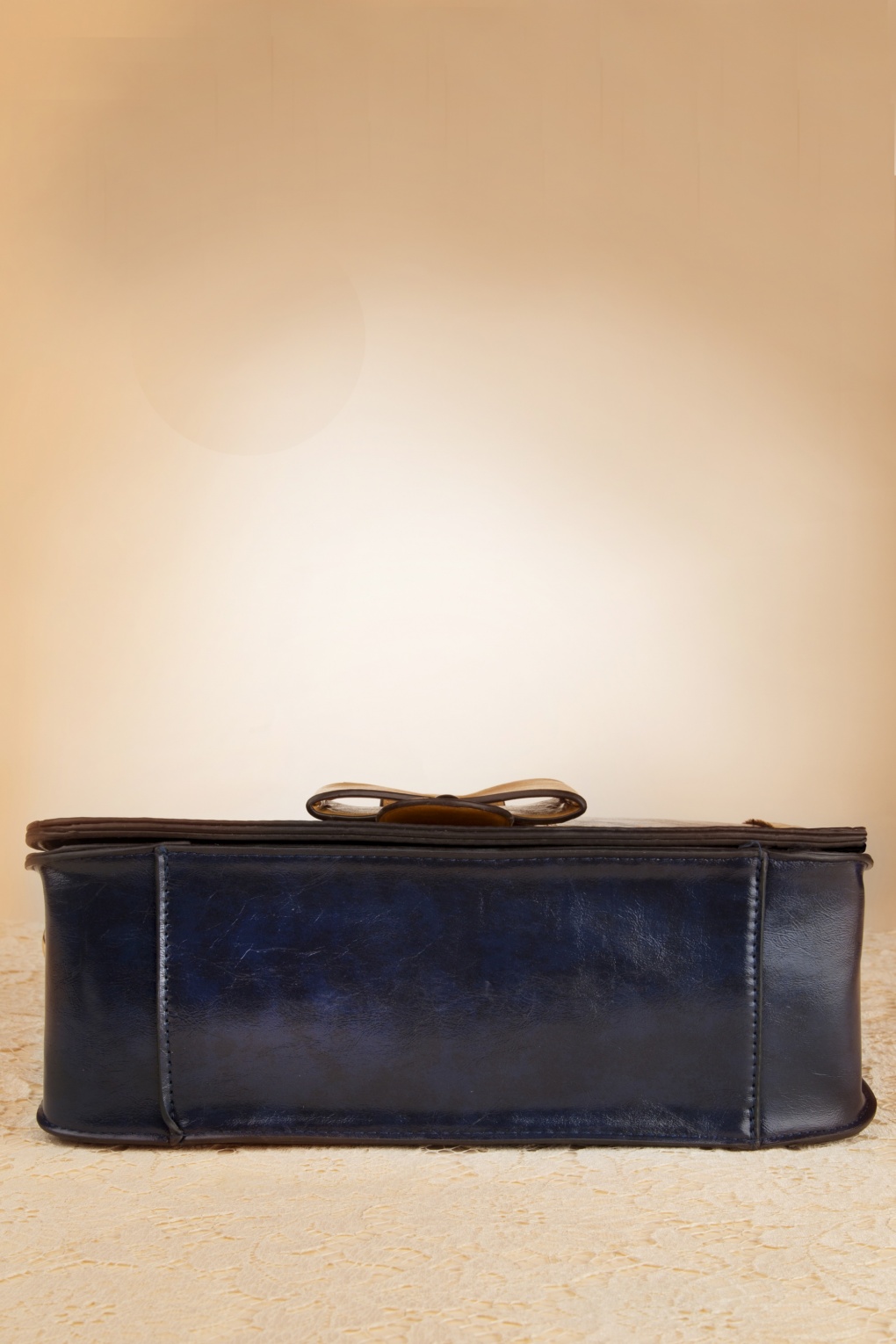 15% birthday discount!
15% OFF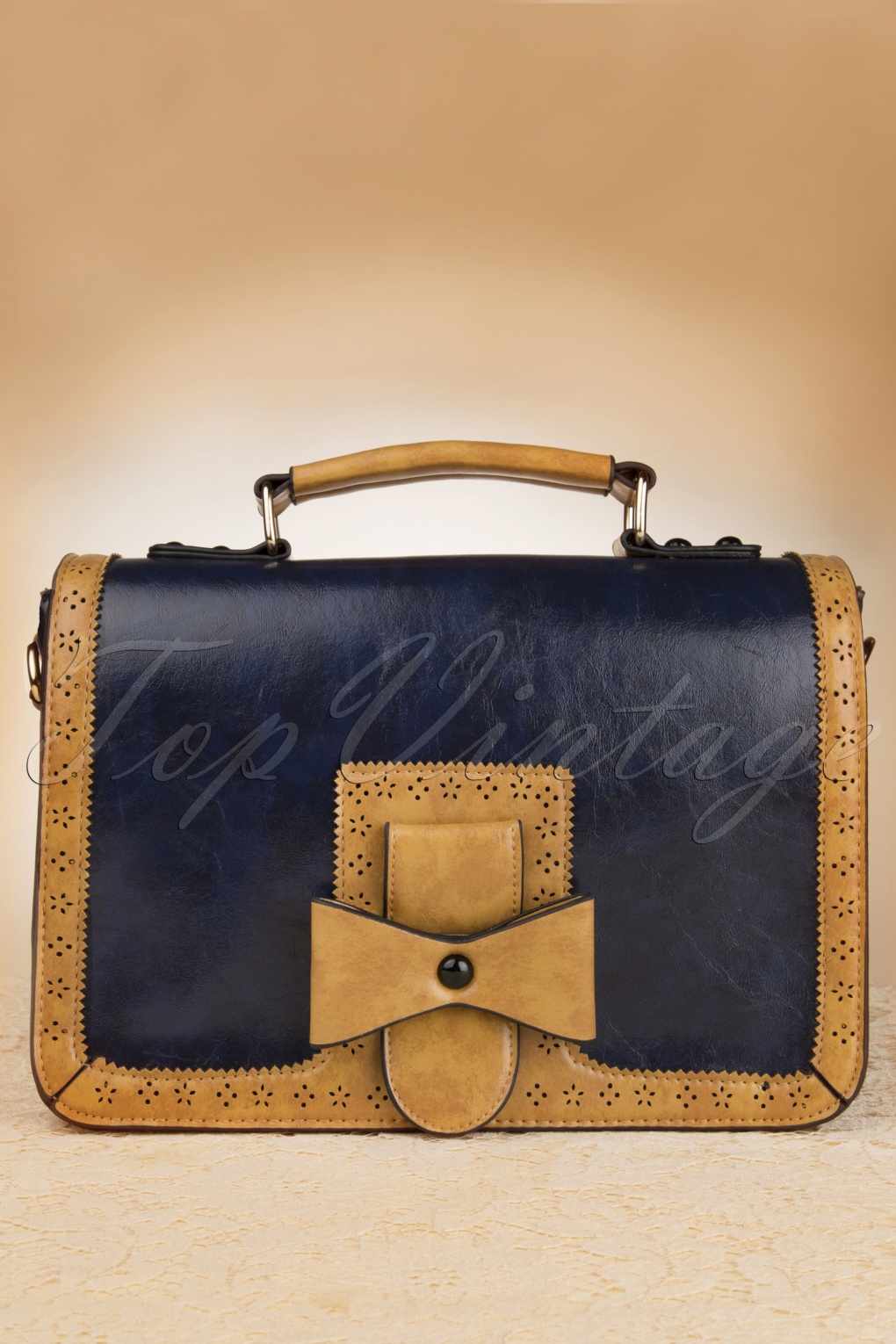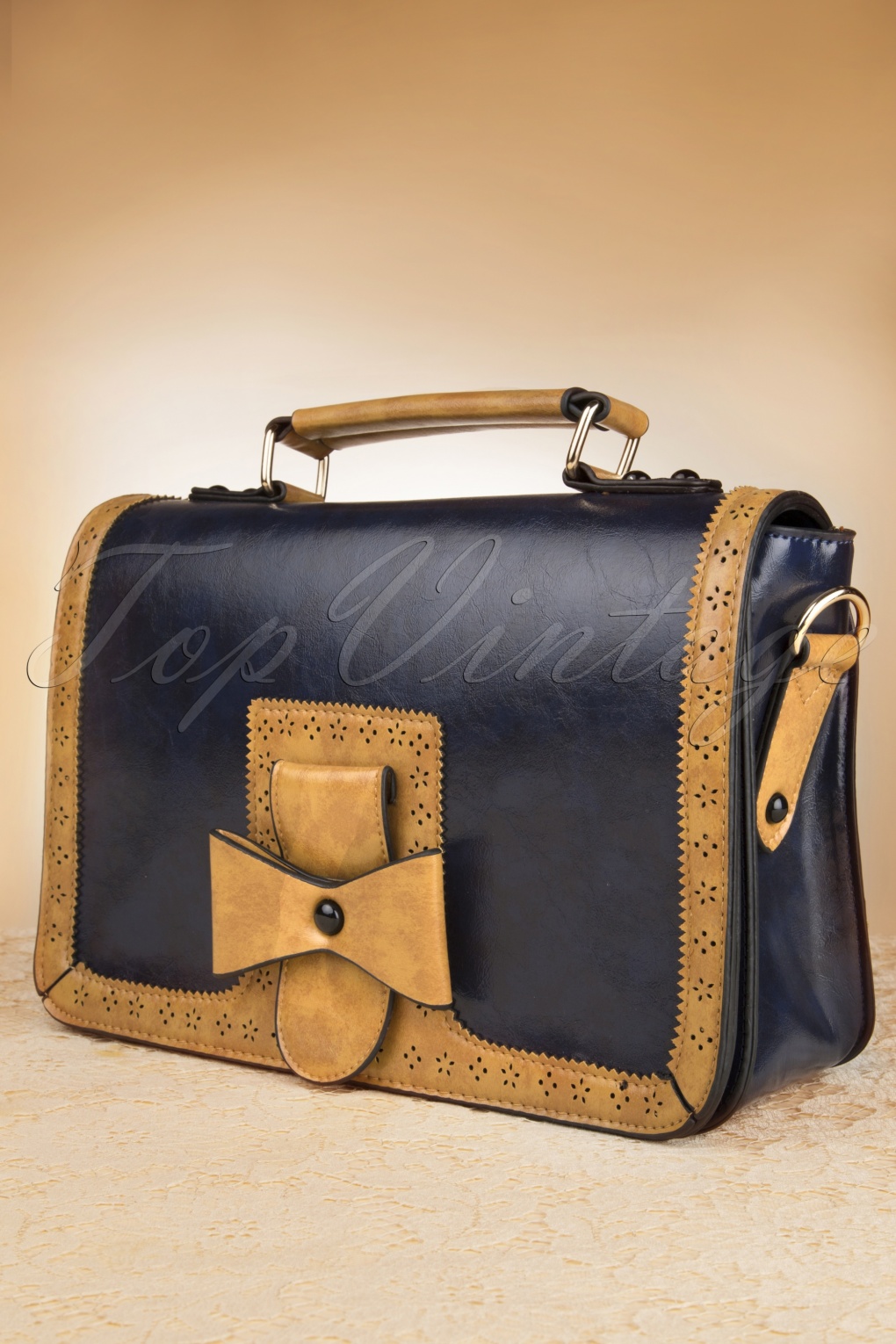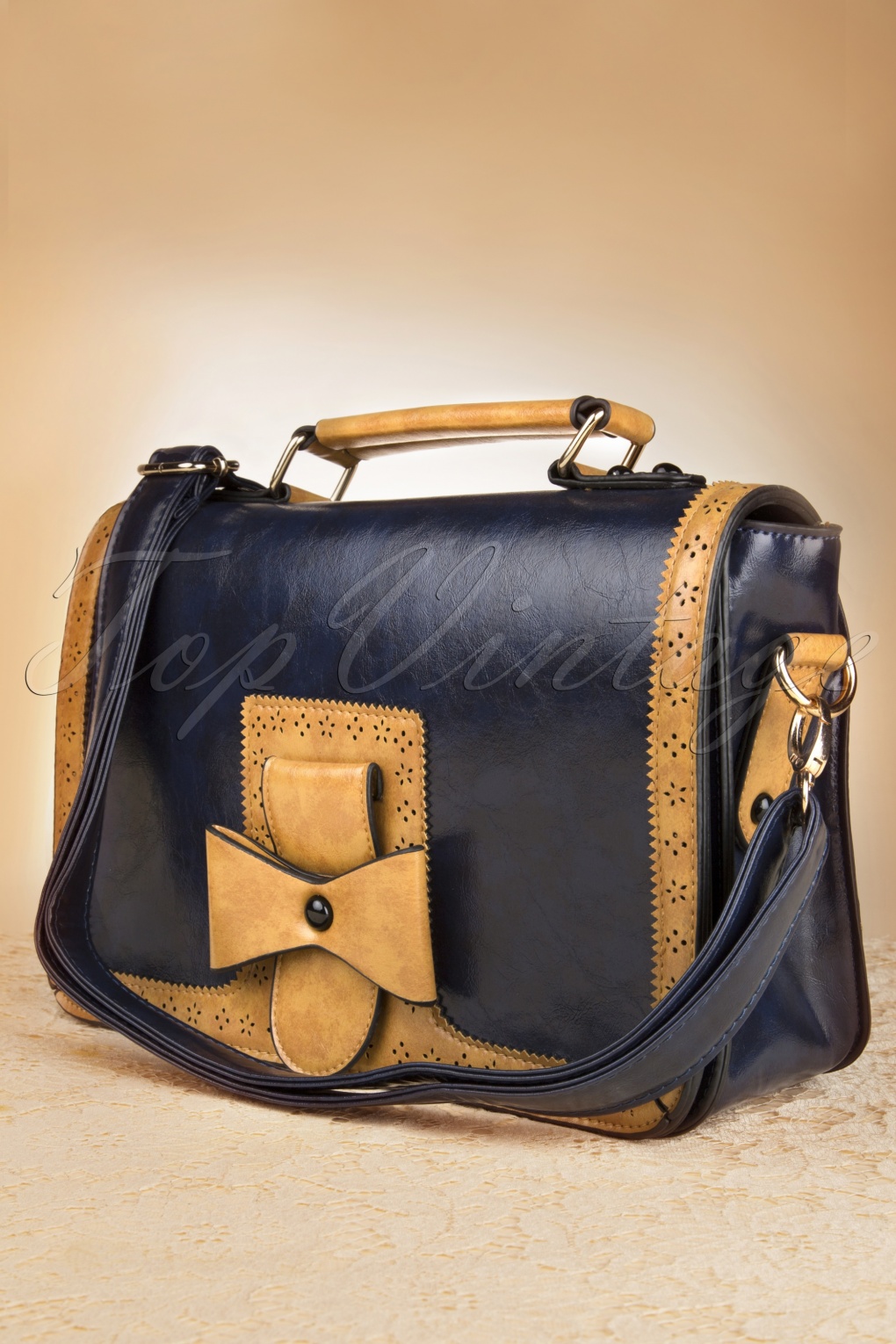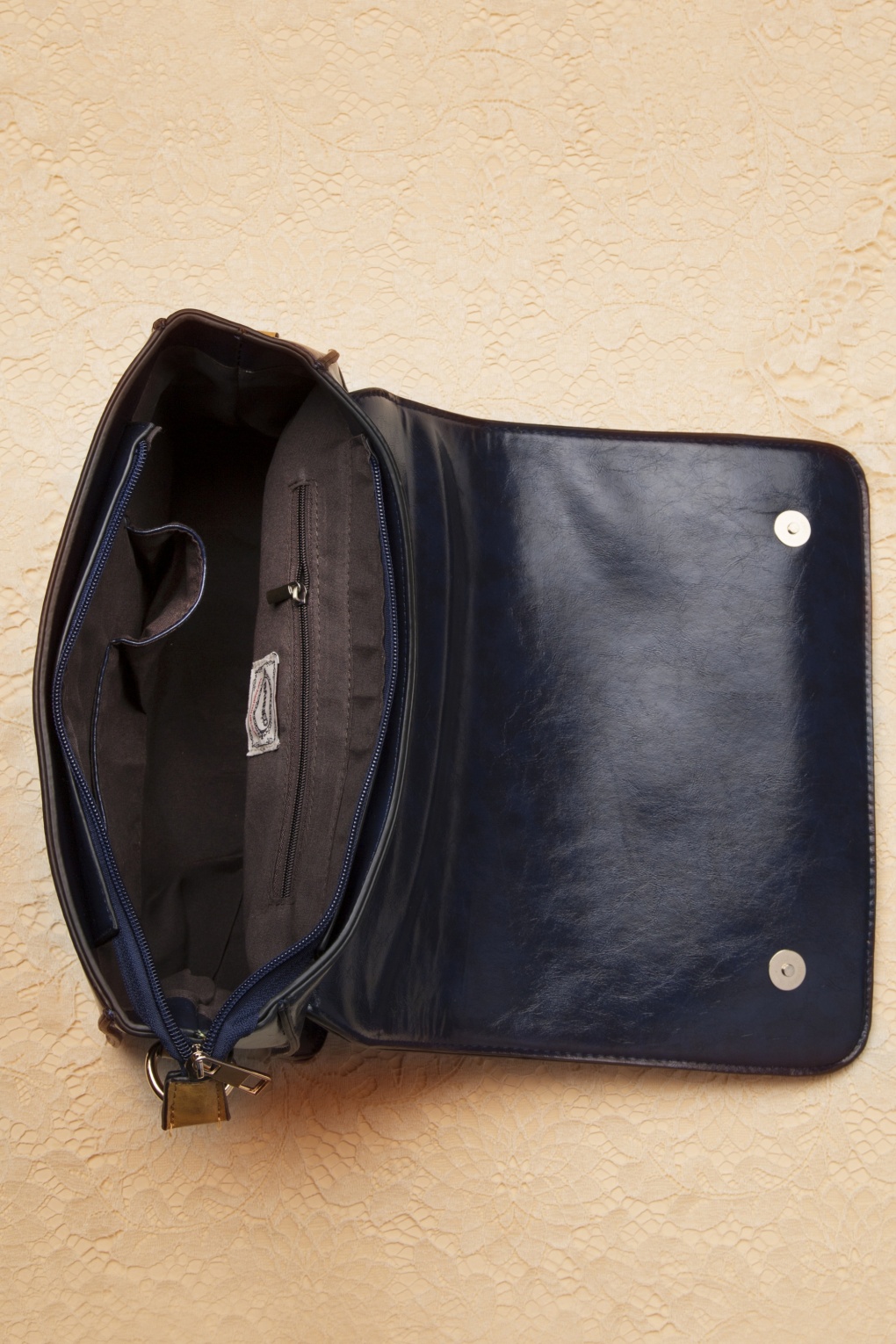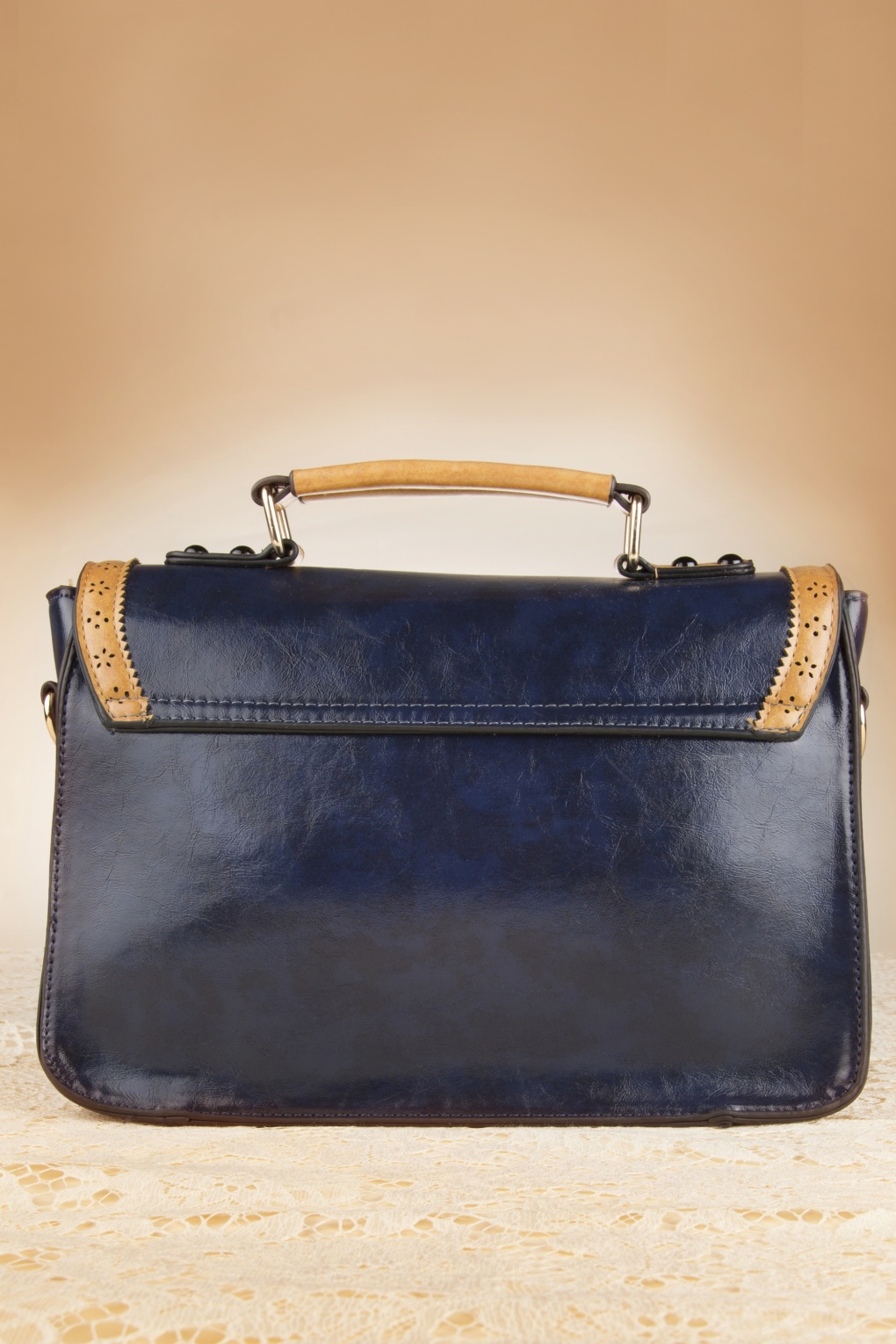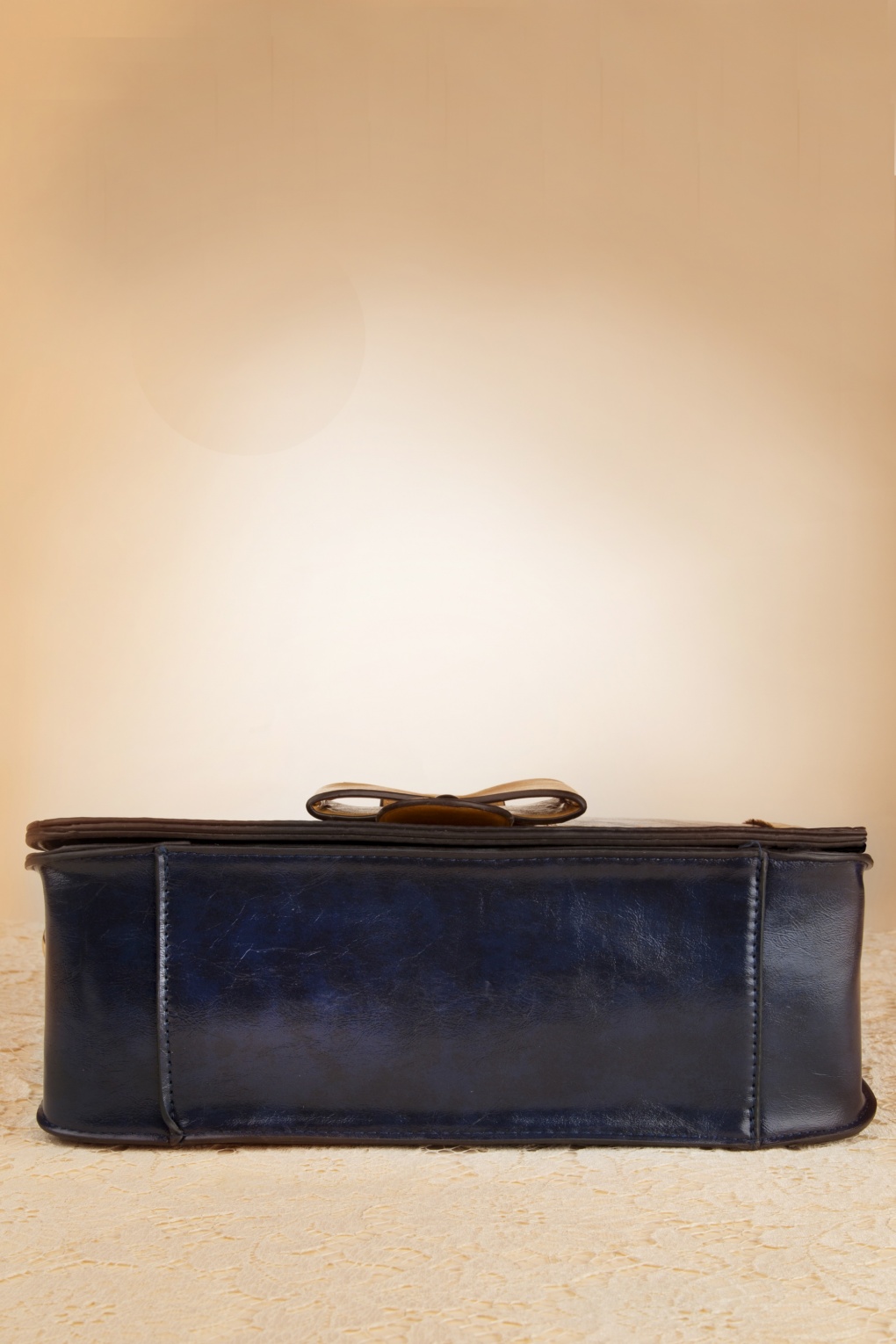 15% birthday discount!
15% OFF
50s Antique Messenger Bag in Blue
This 50s Antique Messenger Bag in Blue by Banned will make up for all the fashion flaws you've ever had in the past, because this one is just too good to be true! A faux leather, medium sized bag with fabulous brown detailing around the edges with flower shaped cutouts and a bow-shaped appliqué at the front. Closes with two (hidden) magnets and a zipper and comes with a removable, adjustable shoulder strap. Lined with a brown fabric and finished off with handy inside pockets and an extra zipper compartment. An A4 format doesn't fit, but your iPad and all your other important gear, like your wallet and mobile phone, definitely do
Goldtone base metal
Vegan leather
Lining polyester
Avoid contact with water/parfum/cleaning agent
You've done it again Top Vintage! ♡ my latest purchases! Especially the red heels. Perfect heel height for workwear and just oooh so pretty. The bag feels good quality and just the right size. The leopard necklace will smarten up even a plain white top and again... delivered to my door in <24hrs! ♥♥♥
Cheryl | 2014-10-02 15:34:28
---
Helemaal in de wolken met mijn recentste aankopen!
Schoentjes lopen heerlijk, broek zit geweldig en de handtas... whaw! Wat een pareltje en blikvanger!
Dank u Topvintage! En tot gauw.. ;-)
Vanessa Schroven | 2014-07-28 05:37:51
---
Ik was meteen verkocht aan deze mooie handtas, supervrouwelijk en het strikje maakt het voor mij af! Happy!
Wendy Maes | 2014-07-18 10:36:35
---
Ik ben heel tevreden met mijn aankopen. Ik krijg er heel wat complimentjes over!
De tas is de gepaste grootte, niet te groot en niet te klein. Ze is heel stevig. In het begin moet ze nog wat soepel worden.
De oorringen zijn super. Ze zijn opvallend, maar niet te. Leuk detail voor een avondje uit.
Vlotte service en leuk verpakt! Een aanrader.
Katrijn | 2016-03-02 18:44:54
---
Wat een mooie tas! Mooi formaat, niet te groot, niet te klein.
De bruine details maken het helemaal af.
Heleen | 2016-02-04 08:33:12
---
Ben ontzettend blij met deze shape body. Heb maat M besteld en past perfect. Het verhult de rolletjes aan de zijkant. Nu nog een strak jurkje!!
P. | 2015-12-03 19:25:48
---
Die Tasche sieht live noch viel schöner aus als auf der Abbildung! Lediglich der abnehmbare Schulterriemen sieht ziemlichnach Plastik aus, so dass ich ihn eigentlich nicht benutze. Da die Tasche so schön ist, stört mich das allerdings kein bisschen!
Ramona | 2015-10-31 10:59:03
---
Helemaal blij met mijn aankopen.. Mijn kast hangt bijna helemaal vol met top vintage.. Nog niets moeten terug sturen.
Deborah | 2015-05-03 20:01:20
---
nl
Niets dan lof en complimenten...
... voor deze heerlijke tassen aan een heerlijke prijs! Ik ben fan!
Vanessa | 2015-03-16 10:34:51
---
Bijna nooit iets retour moeten sturen.
Mooie, kwaliteitsvolle, vrouwelijke kledij.
Peacock dress met bray Cardigan fever blijft mijn favoriete outfit.
Veerle | 2015-02-08 20:09:44
---
Ik heb net al mijn collega's jaloers gemaakt met mijn nieuwe handtas! I love it.
En het King Louie-jurkje zit zoals steeds gegoten.
Griet | 2015-01-12 15:23:05
---
De groene 'korte' jurk zit helemaal geweldig, valt erg mooi.

Ik vind de bovenkant van de lange groene jurk prachtig. Deze zat ook geweldig. Helaas tekende hij wel wat rond mijn buik. Heel erg jammer, maar ik ken mezelf. Toch maar retour gedaan dus.

De witte jurk valt ook helemaal super, vind het niet de meest prettige stof voor de zomer, daar is hij net wat te dik / zeterig voor. Maar omdat hij zo mooi zit, toch gehouden.

Ik vond het kersttruitje geweldig, super fijne stof maar hij viel veeeeel te groot. Ook deze helaas retour moeten doen.

De zwarte rok was qua maat helemaal goed, maar ik vond dat het model er juist voor zorgde dat ik geen middel meer had, dat vond ik erg jammer. Ook waren de schouderbanden best lang, je kon het wel verstellen maar vond ze minder mooi zitten. Deze moest dus ook retour.

De tas, helemaal geweldig, al wat complimentjes over ontvangen. De riem..... hoe moet die blijven zitten, ik was opzoek naar een mooie taille riem maar in deze mag je niet ademen of zitten, want hij kan niet echt vast. Heeel jammer ook.
Natasja | 2020-10-13 19:00:48
---
Unfortunatly the bag seemed bigger from the outside than it was on the inside. This is particulaly sad to me because I really liked it's design, and the fact that it was rather light for it's size. I hat to send it back. Too bad.
Maike | 2016-04-12 13:25:36
---
Mijn eerste aankoop bij Top Vintage smaakt naar meer. De blauwe tas van Banned is iets donkerder dan op de foto, maar is daardoor mooier. Hopelijk komt de bordeaux kleurige vlug terug binnen. De Leopard bag van Milan is groter dan ik verwacht had. Kortom, ik heb twee fantastische handtassen erbij en kom zeker nog terug.
HEIDI DELANNOYE | 2014-10-09 19:15:12
---
Heel mooi en vooral veel ruimer dan ik me had voorgesteld
Sara Van Caneghem | 2014-08-06 10:29:53
---
Vandaag was er terug een klein feestje hier. Een nieuwe lading mooie spullen van TopVintage! De cardigan van King Loui was qua pasvorm al goedgekeurd, maar nu heb ik de gele en groene. De groene heeft de Perfecte kleur. De broek van Collectif zit geweldig, maar dat wist ook al, omdat Collectif altijd goed zit :) De handtas van Banned is een echt plaatje, I'm in love! Daarnaast kocht ik nog Secretary Mary Janes in blauw van Pin up Couture. Ze zijn fantastisch! En het sjaaltje met de flamingo's is een mooi hebbedingetje. Kortom, grote bestelling, grote tevredenheid. Jullie ruïneren me nog TopVintage met al jullie mooie kledij en accessoires!
Ruth Lambert | 2014-07-24 12:07:35
---
Whow.. wat een zalige jurk.
Eerst zitten twijfelen of ik mijn normale maat of een maatje groter zou nemen, aangezien de afmetingen vrij nipt waren. Maar met de vele stretch erin zit mijn normale maat perfect.
Door de stretch zit de jurk super comfortabel. Een toppertje!
En de handtas is gewoon prachtig! En groot genoeg om al mijn spullen in kwijt te kunnen.
Alweer super tevreden over de top-sevice en de top-kwaliteit!
Bedankt top-vintage.
kathy claus | 2014-07-15 17:41:51
---