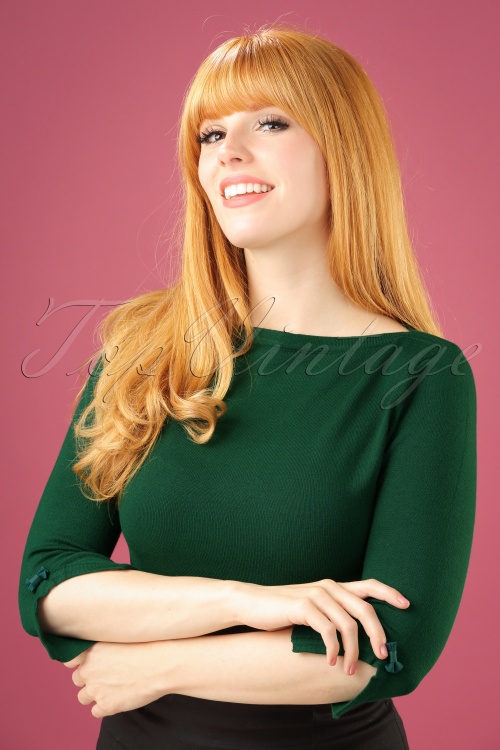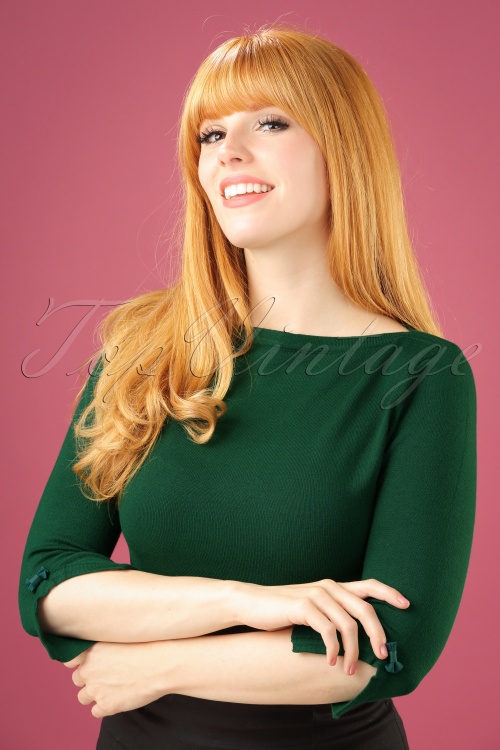 50s Addicted Sweater in Forest Green
Elegant and cute this 50s Addicted Sweater in Forest Green! Simple and yet so elegant due to the adorable detailing! The top features a beautiful slash neckline and flattering 3/4 sleeves finished off with slits and little fixed bows, só cute! Made from a lovely supple, stretchy dark green viscose blend that will keep its shape, even after a few washes. A versatile classy top which can't be missed in every vintage lady's wardrobe, the name says it all; we're addicted!
''Slash'' hals
3/4 sleeves with bows
Long enough to pair with regular trousers
Article nr.
22284
Handwash inside out (don't leave it in the water)
Wash dark colors separately
Machine wash 30c delicates cycle
Do not dry clean
Do not tumble dry
Iron inside out on low temperature setting
Wat een fijne truitjes! Hadden voor mij iets langer gemogen, maar dat ligt misschien aan mijn lengte (175 cm)

De kleuren zijn iig prachtig en ze zien heerlijk!
M. Warmenhoven
&nbsp|&nbsp
2017-07-24 19:28:09
---
Het zijn heerlijke truitjes met een super schattig strikje. De kleur van de groene is echt geweldig!
Anke van der Wielen
&nbsp|&nbsp
2019-09-21 18:34:12
---
fr
Pas du tout la bonne couleur!
J'aime beaucoup ce pull, que j'ai en plusieurs couleurs, et comme j'adore ce vert, j'étais impatiente de le recevoir. Mais celui que j'ai reçu était vert kaki, pas du tout vert forêt! Dommage...
Marie Sara DUMAS
&nbsp|&nbsp
2018-11-10 09:27:05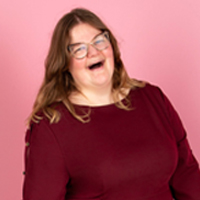 Response from Nicole

Bonjour Marie Sara, je suis désolée que la couleur ne correspond pas à la couleur décrite sur notre site Internet ! Je viens de vous écrire un e-mail !
Cordialement,
Nicole
Service Clientèle
---
nl
Deze keer helaas een beetje teleurgesteld
Heb al vaker mooie outfits bij TopVintage besteld en ben groot fan maar helaas was deze bestelling een beetje teleurstellend.
Was helemaal verkocht van de Lilly Swing Dress in wine red. Maar de pasvorm was voor mij niet helemaal geschikt en ondanks dat ik de maattabel en tip opgevolgd had was de riem te klein. Het bovenstuk van de jurk zat erg mooi maar hij moet helaas toch retour. De zwarte rok was qua stof een beetje teleurstellend en stond mij echt niet. De groene sweater van Bannend is erg mooi qua kleur en materiaal maar er zaten wat haakjes in het stof en een vreemd wit draadje in de naad, dus ook retour gedaan.
Was verrast door de Dragonfly Broche. Die is erg mooi en staat super op de groene trui van Banned. Hij kan ook als haarclip gebruikt worden wat een groot pluspunt is.

Ik wacht nog af op een winterjurk die wel de juiste pasvorm voor mij heeft.


Stephanie Vissers
&nbsp|&nbsp
2018-09-28 12:43:41
Response from Customer service

Beste Stephanie, wat jammer dat het deze keer niet helemaal naar wens is, mijn excuses hiervoor! Ik heb je zojuist een mailtje gestuurd, hopelijk is het zo goed opgelost :-)

Groetjes,
Auke
Klantenservice
---
Wat een top combi dit truitje en deze rok! Ik voel me helemaal klaar voor de herfst. Ik twijfelde of ik de rok in een L of XL zou bestellen, omdat ik bang was dat de L toch te strak zou zijn als ik een beetje poofy ben. Met mijn taille van 82 cm zit de rok in een L toch echt perfect, totaal niet te strak. De stof is echt prachtig en super zacht, het is net een dekentje! Hij valt met mijn 1.63 een stukje onder mijn knie, maar dat is precies wat ik mooi vind. Het truitje is ook heerlijk, heel mooi model en goede stof. Kleur is ook fantastisch, mooi diep groen, maar iets meer olijf dan de foto.
All in all, weer een top aankoop!
Emma S.
&nbsp|&nbsp
2018-09-15 11:01:56
---
Sowohl die Qualität, als auch der Schnitt und die wundervollen Farben überzeugen. Der Herbst kann kommen!
Annika Bautsch
&nbsp|&nbsp
2018-09-04 16:49:29
---
Die Farben und der Schnitt sind einfach super. Ich werde mir noch weitere Farben kaufen!
Sandra
&nbsp|&nbsp
2017-11-23 20:01:33
---
I just received the order and I´m very happy with all items.
Pants are exactly how I had imagined, the size is perfect, the fabric is strong and they have a wonderful fall.
Sweater is so beatiful and it adapt very well, and the shirt have an amazing color and it adapt perfectly too.
Thank you TopVintage!
Macarena Cuenca
&nbsp|&nbsp
2017-09-05 17:40:13
---
Just love it. Want it in more colors
Pia Ellegaard
&nbsp|&nbsp
2017-08-19 16:50:37
---
Een grote bestelling... Positief en helaas ook teleurstelling.
- De witte/mintgroene/roze/rode shirtjes zijn heerlijk zacht, zijn simpel maar toch staan ze leuk. Ze zitten lekker.
- De 2 wikkelrokken zijn goed! Vooral met de bloemen is echt fantastisch! De zwarte is basic en schijnt ietsje door (onderaan bij je benen) maar niet storend. Hij is wel heel strechy/flexibel.
- De zwierige rok: hier keek ik eigenlijk het meest naar uit en dit is het gewoon niet. Ik vond de stof ook wat tegenvallen; had het dikker verwacht. Is echt een dunne stof. Wel mooie print, precies als op de afbeelding. Deze was wat te groot voor mij, een maat kleiner zou te strak zijn. Dus retour.
- Beide groene shirts gaan retour; beiden zijn ze korter dan ik dacht dat ze zouden vallen, waardoor het model bij mij niet mooi is. Die met de gaatjes erin is wel echt een prachtshirt, dus als je het figuur ervoor hebt: zeker nemen!
- Zwartwitte top: heel mooi! Maakt ook echt heel slank, blij mee!
- Zwarte gedraaide top: prima basic, zit mooi. Had voor mij ietsje langer gemogen, want ik ben wel bang dat hij wat gaat krimpen in de was.
- Korte broek: paste niet helaas. Wel erg mooi model. Bij de taille precies goed, maar ik heb ronde naar achterstekende billen, waardoor de achterzijde niet passend was.
- pump: prachtige schoen, goed op maat. Helaas 'floept' mijn hiel eruit, dus ook retour.
Naomi
&nbsp|&nbsp
2023-03-08 12:36:17
---
de
ich wusste es er ist perfekt
habe ihn schon in schwarz und wollweiß, sie sind spitze , passen immer eine schöne Länge, mit fsst 60 mochte ich es nicht mehr ganz so kurz, tolles Material, und die Farbe ist , .. sehr schön
Cornelia
&nbsp|&nbsp
2020-11-28 15:04:07
---