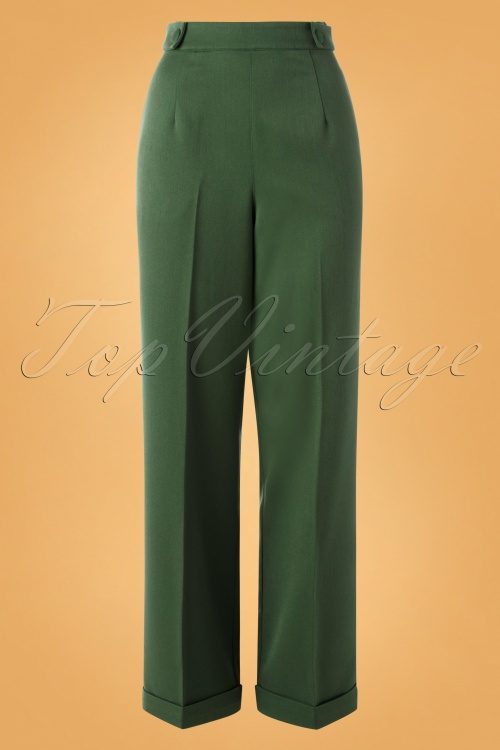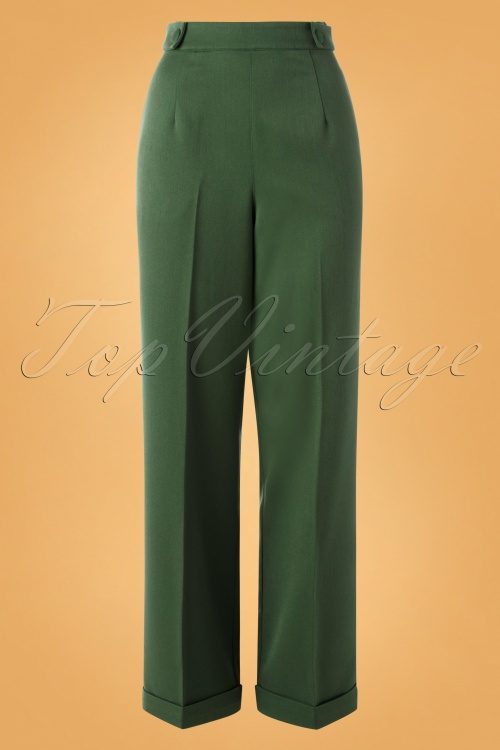 40s Party On Classy Trousers in Dark Green
The 40s Party On Classy Trousers in Dark Green are inspired by the trousers that those progressive women wore in the 1940s & 1950s! The feminine high waist contrasts beautifully with the wide leg and is very flattering, especially with fuller hips/buttocks. The button detailing at the side adds the perfect finishing touch. Made of a supple, dark-green fabric with a light stretch and finished off with classy cuffed legs. Pair with a white blouse and pumps for a perfect business look in retro style!
Wide legs
Hidden zipper and hook closure at the side 
The legs can easily be shortened
Article nr.
30676
65% Polyester
32% Viscose
3% Elastane
Handwash inside out (don't leave it in the water)
Wash inside out
Wash dark colors separately
Machine wash 30c delicates cycle
Do not dry clean
Do not tumble dry
Iron inside out on low temperature setting
Do not bleach
had deze al een paar jaar in bordeaux en nu dus in dit mooie groen ...moet hem enkel nog innemen .
Fanny
&nbsp|&nbsp
2019-09-02 10:45:03
---
De gele en rode broek. Fijne stof en rits aan achterzijde. De lengte was perfect omdat ik een 1m76 ben. Maar veel te groot met de M.

De andere 2 broeken waren dan weer een S. Deze zaten perfect maar waren te kort.

Enigste wat ik overhou zijn de kousen en die zijn perfect
Nele
&nbsp|&nbsp
2021-02-21 08:10:56
---
Rok met bloemen helaas synthetisch(niet gezien) en valt heel klein..dus retour.. groene ruit rok superleuk! Love it! Stoer met kistjes eronder. Groene broek wat lang maar zit perfect verder,dunne stof dus meer voor de zomer. Poezen blouse is zo cute kan niet wachten tot het warmer weer is en ik hem vaak kan dragen❤️
mirjam
&nbsp|&nbsp
2021-02-20 18:57:39
---
nl
geen pakje onder kerstboom
met veel spijt moet ik alle 5 terug sturen en keek zo naar uit ..echt veel te breed aan de benen..siert me niet ..en de eerste drie veeeeeeeeel te breed in taille terwijl de maattabel volgde ..de kleinere maat nog steeds niet flaterend bij me door veeeeel te wijde pijpen...jammer ...dus allemaal moeten ze retour
anja
&nbsp|&nbsp
2020-12-11 18:11:20
---
Ik had dringend nieuwe broeken nodig dus heb er 3 besteld. De groene en Bordeaux had ik eerst besteld a.d.h.v de maattabel maar na het lezen van de reacties toch beide in een kleinere maat besteld en dat bleek de goede keuze te zijn. Deze zitten als gegoten. De bruine broek is ook heel mooi. Heel goed stof, perfect voor de herfst en winter. Ze is alleen te lang maar dat is niet moeilijk met mijn 1m66. Deze ga ik dus zeker laten inkorten. Aan de taille zit deze broek perfect maar ze zit wel losser aan de bovenbenen dan de andere 2. Dat vind ik niet zo erg want verstopt mijn probleemzone. Het enige waar ik wat schrik voor heb is de rits. Deze gaat nogal stroef en heb schrik dat ik deze kapot ga trekken. Maar omdat ik dus dringend broeken nodig had ga ik ze wel houden.
Ellen
&nbsp|&nbsp
2020-09-02 15:59:47
---
Ich bestellte mir eine Auswahl an Farben von dieser schönen Hose, im Grauton behielt ich sie, beim Bordeauxton war ich mir nicht sicher genug, ob er zu mir passt. Vielleicht später einmal, denn gefallen haben mir alle Farben. Der Schnitt ist wunderbar ebenso der weiche Stoff.
Susanne
&nbsp|&nbsp
2020-08-02 17:56:34
---
Kurz: Sitzt, wackelt und hat Luft! Ich habe sie schon in Rot und die grüne trage ich gennauso gern.
Sil
&nbsp|&nbsp
2020-02-01 20:55:51
---
Deze broeken zijn licht en luchtig, helaas zijn ze te lang. Deze zal ik nog moeten innemen. Voor de rest passen ze heel goed.
Susan Bauwens
&nbsp|&nbsp
2020-01-28 09:54:27
---
Ik heb de broek in groen besteld, en dat is een bijzonder mooie kleur. Ik moet de broek wel door een naaister laten innaaien. Ik had maat XS besteld, maar die valt reuzegroot uit. Tip: bestel je broek gerust 1 of 2 maten kleiner.
Janny Sloot
&nbsp|&nbsp
2019-09-25 09:29:05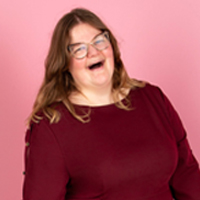 Response from Nicole

Beste Janny, wat balen dat de broek zo groot viel bij je! Ik kan me wel voorstellen dat je deze beauty toch wilt houden, dus ik hoop dat je er toch nog heel veel draagplezier van kunt hebben!
Groetjes,
Nicole
Klantenservice
---
Mooie stof, mooie kleur(en), dit soort broeken zijn nieuw voor mij, viel niet tegen! Helaas wel iets te kort voor mijn smaak (ik ben 1.85m) en pijpen vallen net op de enkel. Dus nu laarsjes en de zomer nette schoenen. De iet wat fletse kleur van de broek leent zich uitstekend voor een lekker geprinte top of blouse... Aanrader!
Natasja
&nbsp|&nbsp
2022-02-28 15:25:47
---
en
Not great for big hips
I was hoping for a much better fit on these ones, but sadly they're not meant for my measurements. I ordered an XL and on my 45inch hips, they're too tight and the pockets bulge. I have a 35inch waist, and the waist in this size is too big for me. I'm 168cm tall and the pants are also too long. Material quality is poor, I was expecting it to be thicker.
Carlie
&nbsp|&nbsp
2021-10-16 13:39:28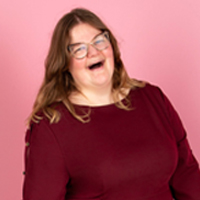 Response from Nicole

Dear Carlie, I'm sorry to hear you were disappointed in this item! I hope you'll have better luck next time; should you need more advice about the sizing or material of a certain item you can always contact us of course. We're happy to help and assist you :-)
Kindest regards,
Nicole
Customer Support
---