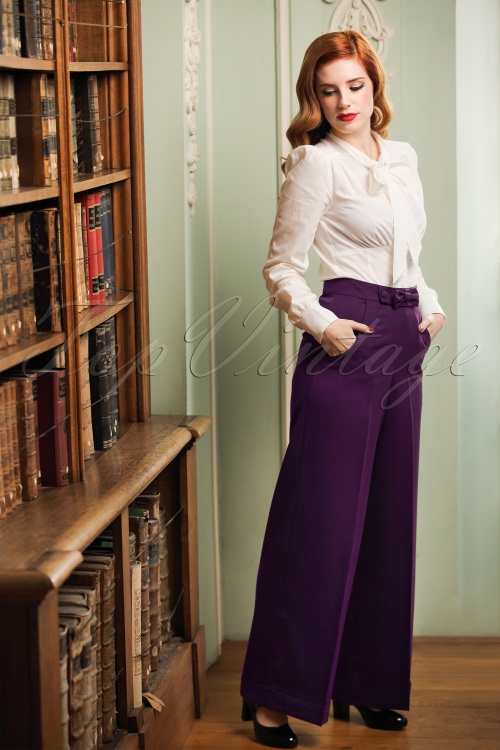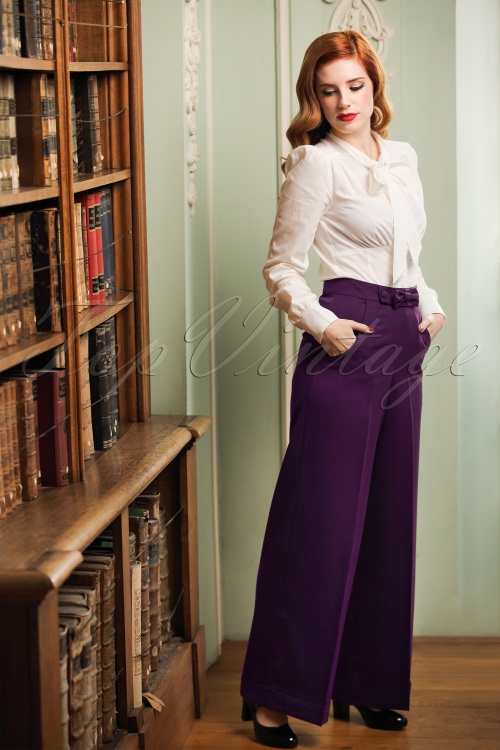 40s Hidden Away Trousers in Aubergine
These 40s Hidden Away Trousers in Aubergine are inspired on the trousers that those progressive women in the 40s / 50s wore! The high waist forms a beautiful contrast with the wide leg and is very flattering, also with fuller hips/bottom. The bow and button detail at the back finish it off perfectly. Made from a supple, aubergine purple fabric with a light stretch and finished off with a chic fold over detail at the legs. Pair with a white blouse for a classy look or with a striking top for a sassy look! Pair with a blouse and pumps for a day at the office in retro style!
Wide legs
Detachable bow at the front
Side pockets
Hidden zipper at the side
The legs can easily be shortened
Our stunning redhead Vanessa Frankenstein height: 1.67m / 5'5''
The featured blouse is not available in our shop anymore
Article nr.
22281
65% Polyester
32% Viscose
3% Elastane
Hang to dry
Handwash cold (don't leave it in the water)
Machine wash Wool cycle COLD
Do not dry clean
Do not tumble dry
Iron inside out on low temperature setting
Heb onderstaande artikelen besteld en in goede orde ontvangen.
De broeken zijn GEWELDIG! !
Ben zo blij dat ik deze site gevonden heb..
Alma Vaes
&nbsp|&nbsp
2017-10-11 09:15:09
---
de
Grundsätzlich eine schöne Hose ...
... Aber es ist seltsam: Ich habe die gleiche in Grün und die ist vom Schnitt her perfekt. Diese in Aubergine sitzt irgendwie anders und leider nicht optimal. Daher geht sie zurück, obwohl mir die Farbe unglaublich gut gefällt.
Sandra
&nbsp|&nbsp
2017-09-28 18:41:25
---
Meine neue Lieblingshose jetzt auch in neuen Farben - da musste ich direkt zuschlagen. Sitzt dank Maßtabelle wie angegossen und die Farbe, ein dunkles und leuchtendes Aubergine, gefällt mir auch sehr gut, volle Kaufempfehlung!
Christina Köhler
&nbsp|&nbsp
2017-09-13 10:16:25
---
Net te laag bij de taille, zoals wel meer pantalons hier, en moet daar ook ingenomen worden... Wel erg fijn dat het strikje er af te knopen is. Ik twijfel nog of de broek blijft. Zoveel keus is er niet mbt paars.
Myrthe
&nbsp|&nbsp
2022-01-28 13:36:30
---
Beide broeken vielen te groot uit ondanks dat ik een maatje kleiner genomen had.. Jammer . Van de paarse wist ik dat ik ze iets kleiner moest nemen, want ik heb deze in meerdere kleuren. Fijne broeken. Beiden retour




marjon
&nbsp|&nbsp
2020-11-19 17:00:26
---
Super lækre og flotte! Giver. En flot talje. Dem skal jeg helt sikkert have i flere farver!
Ivi
&nbsp|&nbsp
2020-11-12 08:48:38
---
Broek zit perfect , juiste maat. De kleur is heel mooi warm donker paars. Op de foto lijkt hij paarser.
Margret
&nbsp|&nbsp
2020-10-30 20:56:13
---
Ich liebe diese Farbe, leider war mir die L zu groß und die M an Hüfte und Oberschenkel zu eng, sodass sie unschöne Falten im Schritt geworfen hat. Die maßtabelle von topvintage hat das aber schon erahnen lassen. Einen extrapunkt würde ich gerne für die Maßtabelle geben, einen Grund mehr diese Seite zu lieben.
Julia
&nbsp|&nbsp
2020-10-28 09:59:10
---
de
Schönes Stück aber zu groß für mich
Ich habe diese Hose in Aubergine Größe S bestellt, aber leider war sie mir sowohl zu lang als auch zu weit. Die Farbe fand ich allerdings grandios!

I ordered these trousers in Aubergine size S, but unfortunately they were too long and too wide. The colour is amazing though!
Laura
&nbsp|&nbsp
2020-10-09 13:39:05
---
Deze broek staat ontzettend mooi en zit alsof je een pyjamabroek aan hebt. Hij sluit goed aan en de zakken zijn erg ruim. Ik heb de broek ook in het groen aangeschaft! Ik heb wel bij beide broeken de sierknopen al meerdere keren opnieuw moeten vastzetten en heb ze er bij de paarse maar gewoon af gehaald omdat ik bezig bleef, dit ziet er niet vreemd uit. Door vrij stevige bovenbenen schuurt de stof tegen elkaar en was deze na twee keer dragen al aan het 'pluizen'... Dat is wel erg jammer..


Quinty Hoekstra
&nbsp|&nbsp
2019-02-07 18:30:18
Response from Bernice

Hoi Quinty, wat vervelend om te horen dat je de knopen van je nieuwe broek niet zo heel erg vast zaten en dat je last hebt van pilling. Ik ga meteen even contact met je opnemen om dit met je op te lossen.


Groetjes,
Bernice
Klantenservice
---
Woensdag jl. 's avonds besteld, donderdag tussen de middag geleverd; deze prachtige broek voldoet aan alle heimelijke wensen, maat past precies, lengte is helemaal optimaal en bij een +6cm.hoge hak komt hij/zij prachtig uit bij mijn outfit voor mijn RedHatLadiesclub waarvan de enige discipline is: een rode hoed voor 50+ers en rood paarse outfit; deze broek maakt het compleet; hartelijk dank TopVintage en heb net een nieuwe bestelling de deur uitgedaan voor de wonderschone winterjas met rozenprint; afwachten dus, bedankt voor de supersnelle levering, de extra verpakte suprise, kijk nu al uit naar mijn 'dinsdag'levering voor, wederom, een droomprodukt van TopVintage; ook andere seizoenen al meermaals jullie mooie items mogen bestellen en ontvangen en de service is altijd optimaal, TopVintage, voor mij zijn jullie Top(Vintage).
Ine Vlutters-Klieverik
&nbsp|&nbsp
2018-11-17 00:33:56
---
Die Farben der Hosen sind in echt noch viel knalliger als auf den Fotos.
Zur Größe kann ich nur sagen, dass ich Sie trotz ausmessen nachher doch eine Nummer kleiner bestellen musste, sonst hätte ich Sackhüpfen spielen können :-D
Auch kleine Frauen (ich bin 1,68 m) können diese Hose perfekt tragen, der Absatz sollte min. 4cm hoch ein, damit das Hosenbein sich nicht auf dem Schuh/Fuß krempelt.

Der Stoff ist super weich und angenehm zu tragen. Der Reißverschluss ist fest vernäht.

Alles in Allem eine wirklich tolle Hose!
Christina Wolff
&nbsp|&nbsp
2017-10-19 14:08:38
---
nl
Degelijk, toch vrouwelijk!!
Wat een mooie kleur, wel iets paarser dan de foto, maar vind ik absoluut niet erg! Mooie rechte pijpen, en valt op de enkel met mijn 1.85m, aanrader!
Natasja
&nbsp|&nbsp
2022-02-28 16:04:53
---