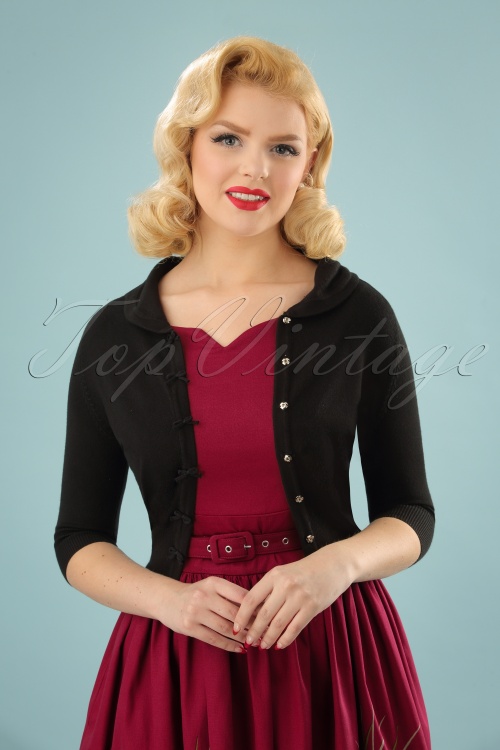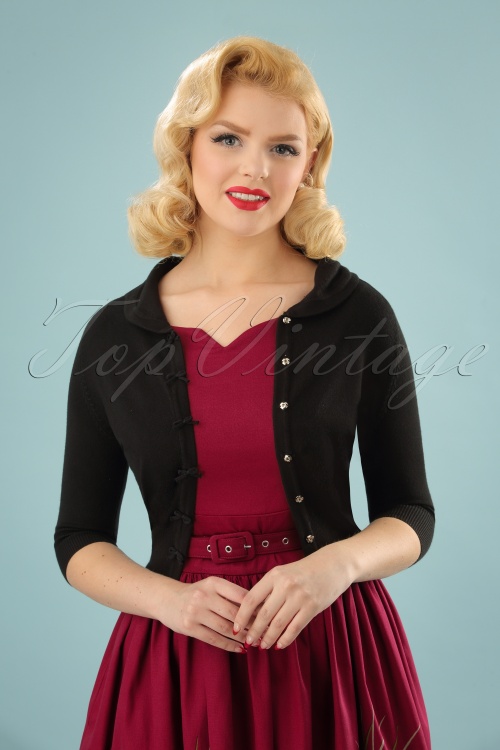 40s April Bow Cardigan in Black
This cute 40s April Bow Cardigan in Black has stolen our hearts! Classy and cute with her elegant half sleeves, playful Peter Pan collar and adorable little bows. Made from a soft, stretchy, fine knitted black viscose blend for a lovely fit. The combination possibilities are endless!
Shorter style
Row of hidden poppers
Stretchy rib board along the sleeves and bottom
Article nr.
17809
Handwash inside out
Wash inside out
Machine wash 30c delicate
Do not dry clean
Do not tumble dry
Ironing reverse cold
de
Retro-Strickjäckchen mit Filmstarfeeling
Liebe dieses Jäckchen, es paßt toll zu dem Blumenkleid, das ich gerade gekauft habe, aber auch zu vielen anderen Sachen aus meinem Kleiderschrank!
Stefanie
&nbsp|&nbsp
2016-09-17 12:21:35
---
de
Weich und super zu kombinieren
Der Cardigan ist sehr weich und kann super zu allen möglichen Röcken kombiniert werden. Wird behalten.
Sandy
&nbsp|&nbsp
2016-09-13 07:31:22
---
Drei Teile bestellt,drei mal begeistert,schön,dass es Euch gibt!
Renate
&nbsp|&nbsp
2016-09-09 08:49:19
---
Wat bestel ik graag mijn kleding op deze site. Door het maatadvies gaat het bijna nooit mis qua maat en mocht er een keer iets zijn dan wordt het keurig opgelost.
Jolanda
&nbsp|&nbsp
2016-08-07 20:51:53
---
Prachtige en aangename vestjes, zeker een aanrader! Mooi rokje zoals alles van King Louis, ben gewoon gek op dit model!
Marleen
&nbsp|&nbsp
2016-07-29 09:36:29
---
nl
Schitterend ! In een woord allemaal te vatten !!!
Wat een feestje, mijn allereerste bestelling kwam binnen en zo netjes verpakt en alle dingen echt boven verwachting, zo mooi en het past allemaal precies ! Hier ga ik zeker nog weer bestellen, geweldig mooie kleding !!!!!
Bea
&nbsp|&nbsp
2016-07-14 17:55:30
---
Really pleased with this cute cardi! Perfect for teaming with a full skirt, I have ordered one in red too as I like it that much!
Susan
&nbsp|&nbsp
2016-06-18 19:03:51
---
nl
Leuk perfect passend vestje
Ik draag dit vestje op een kokerrok en dat staat geweldig! Mooie kwaliteit en die strikjes op de knopen maken het helemaal af.
Sabrina
&nbsp|&nbsp
2016-06-11 06:04:59
---
Die beiden Jäckchen sind sehr süß und passen perfekt, ich habe mich an der Größentabelle orientiert.
Die Kleider sehen super aus. Perfekt für den Sommer!
Christin
&nbsp|&nbsp
2016-05-24 05:10:43
---
I'm in love with everything i ordered.
The dresses fit perfectly (the fit advice was really helpful).
The packaging is so beautiful. Thanks for the lovely presents.
This was my first Top Vintage purchase but definitely not my last !
Olinka
&nbsp|&nbsp
2016-05-16 14:54:35
---
de
Pleite, aber mit Stil ;-)
Dieser Shop wird mich ruinieren...gibt es schon Selbsthilfe-Gruppen? Ich habe das erste Mal bestellt...Tatsächlich passen die Sachen perfekt, sogar die Hosen...was bei mir nie so einfach ist. Die Caprihose ist tatsächlich an den Waden etwas eng, obenrum aber perfekt. Die Jacke ist bezaubernd und das Material, wie beim Ringel-Pulli, sehr schön weich und angenehm zu tragen. Nach genau dieser Brille hatte ich gesucht. Die einzelnen Teile lassen sich super miteinander kombinieren. Und da ihr ständig schöne Kombinationsmöglichkeiten zeigt, gebe ich die Hoffnung direkt auf, meine Sucht zu besiegen. Kompliment für diesen wunderschönen Online-Shop.
Andrea
&nbsp|&nbsp
2016-05-10 22:08:32
---
Ordered this in red and in mustard also, fantastic top which is perfect over a circle dress as a cover up, really nice item which would be great in green!!
Susan Pimlott
&nbsp|&nbsp
2016-05-09 15:51:44
---
Zwarte vestje met strikjes (L): Precies wat ik ervan gehoopt had. Mooi materiaal, lekker elastisch maar wel stevig en prachtige pasvorm. Cute en sexy tegelijk. Groene truitje (M) valt iets ruimer uit dan verwacht, maar zit ook erg mooi en past bij alles. Rode truitje (L) past perfect en ook mooi stevig materiaal. Alle bovenstukken staan zowel bij wijde rok, kokerrok als bij highwaisted broek erg mooi.. Groene jurk fantastisch model, stevig materiaal wat niet tekent en draagt fijn. Valt wel wat langer uit bij mij, maar ben 1,64 en heb normaliter confectiemaat 38. Per ongeluk 2x groene jurk besteld, dus er komt nog iets terug. Wat de levering betreft: helemaal happy!!!
Somrat Dijkstra
&nbsp|&nbsp
2018-11-02 08:20:22
---
nl
Zwarte bolero, met aparte leuke strikjes
Heb deze bij de Vintage Diva Cherie dress gekocht.
XL genomen, heb graag als ik hem dicht wil dragen dat het nergens "gaapt" ofzo.
Wel jammer onderaan het vestje (kant van de drukknopjes) beetje ontnaaid, probeer ik zelf wel wat bij te naaien.

Beste Anneke, onze excuses dat het vestje niet helemaal in orde is! Ik stuur je vandaag nog even een berichtje, dan kijk ik graag met je mee!
Groetjes,
Nicole
Klantenservice
Anneke Van de Ginste
&nbsp|&nbsp
2018-10-08 10:04:16
---
ich kann mich Sandra (Kommentar Sektion) nur anschließen. Ich habe wegen meiner großen Oberweite 2 Nummern größer bestellt, weil ich das Problem habe, dass sich sonst "Löcher" zwischen den Knöpfen bildet.

DIeses Mal passierte das aber nicht am Busen, sondern an der Taille, die ja eigentlich wesentlich weiter dadurch sein musste.

Geht leider zurück.

Zudem hab ich bunte Fussel am Artikel gefunden, die von keinem der mitgelieferten Artikel sind.
Liebe Yvonne, Ich kann mir vorstellen dass Sie die das Cardigan in Ihrem Fall zurückschicken möchten. Bitte entschuldigen Sie die Unannehmlichkeiten! Sobald wir Ihre Rücksendung erhalten haben, bekommen Sie selbstverständlich Ihr Geld zurück. Hoffentlich sind Sie über Ihr nächster Kauf bei uns wieder Hundert Prozent Zufrieden.
Liebe Grüße,
Sylvia
Kundenservice
Yvonne Winkler
&nbsp|&nbsp
2018-09-28 11:20:19
---
Alle Sachen passen wie immer wie angegossen. Von den Jäckchen kann man nie genug haben, und sie lassen sich toll mit den wirklich schönen Röcken kombinieren. Bisher musste ich noch kein einziges Teil zurück schicken. Daumen hoch auch immer wieder für den Blitzversand und die schöne Verpackung.
Uta
&nbsp|&nbsp
2018-04-06 15:16:01
---
Je suis tombée par hasard sur votre site. J'ai commandé un gilet pour voir la qualité de ce que vous proposez. Je n'ai qu'une seule chose à dire "SUBLIME". J'ai vite passé une deuxième commande que j'attend avec impatience. Tout est magnifique, il est difficile de se retenir de tout acheter. Continuez à nous faire rêver avec vos articles. A trés trés vite avec une nouvelle commande
Bisignani Silvia
&nbsp|&nbsp
2018-03-08 09:54:58
---
de
tolle Mode mit einzelnen Minuspunkten,
Das Shirt in Creme ist toll, sowohl qualitativ als auch vom Aussehen. Leider sitzt es bei einer Größe von 159cm und einer zierlichen Statur ziemlich tief und locker und verliert den charm
Julia Schärtl
&nbsp|&nbsp
2018-02-15 08:01:28
---
I can't believe I have never shopped on TopVintage before, but luckily this has now changed – every item in my first order is absolutely wonderful. Both cardigans and the skirt fit perfectly, I found the size charts very helpful and the sizes are indeed true. Especially the green cardigan is my personal new favourite (red hair and green clothes just work so well together!), especially because of the little details in black which form a nice contrast to the green colour. The green skirt is equally stunning – ideal length, swinginess, and the elastic waistband allows me to wear two layers underneath (cold winter in Scotland) without creating a bulge. I'm so in love with everything on TopVintage that I've already placed my second order. xx
Veronique Berg
&nbsp|&nbsp
2017-11-24 14:51:04
---
en
Could not be more pleased.
Another great hit. Great job, TopVintage!!
Ana
&nbsp|&nbsp
2017-06-07 14:34:44
---
Eerst het witte vestje besteld, en nu hetis zwarte zit perfect en je kan het op veel combineren.

Het kleedje is supermooi maar helaas niet voor mijn model, ben wat berder op mijn heupen en valt nogal redelijk wijd uit waardoor het mij wat verdikt.
Gaat dus spijtig genoeg retour moeten.
sarah
&nbsp|&nbsp
2017-05-25 18:37:39
---
en
Perfect items... Recommend them all!
Perfect items... Recommend them all!
Ana
&nbsp|&nbsp
2017-05-22 20:07:27
---
en
Cardigan juste parfait
Je cherchais un gilet qui puisse aller autant avec mes robes que mes pantalons, tout en étant féminin et agréable à porter - c'est parfait !
Audrey
&nbsp|&nbsp
2017-04-24 12:18:31
---
nl
super schattig vestje, maar het naaiwerk mag verbeterd worden.
Onlangs een flinke inkoop gedaan bij Topvintage en ik ben over alles super tevreden! (een anders vestje was net te klein, maar goed dat kan gebeuren). Het enige wat mij is opgevallen bij deze twee schattige vestjes van Banned, is dat de strikjes niet helemaal goed erop zijn genaaid. Na 1 dag dragen is er al een strikje afgevallen en vier anderen zaten los.. Nu is dit makkelijk weer zelf vast te maken, maar toch wel een beetje vervelend. Voor de rest zitten ze wel super, lekker zacht en de maat is ook prima!

Beste Shirley, onze excuses dat de strikjes zo snel loslaten. Dit is natuurlijk niet de bedoeling. Ik heb reeds contact met je opgenomen. Check je e-mail :) Nogmaals excuses voor het ongemak!
Groetjes,
Alexandra
Klantenservice
shirley
&nbsp|&nbsp
2017-03-16 17:55:29
---
Nachdem mich der andere Bolero leider etwas enttäuscht hatte, hab ichs nochmal mit dem versucht, da ich 3/4 Ärmel liebe.
Passt, hat Luft und ist total angenehm zu tragen! Liebe ihn!
Franziska
&nbsp|&nbsp
2016-11-22 18:44:39
---
Ich hatte mir vor einer Weile den Bolero in rot bestellt, da er in schwarz leider nicht verfügbar war. Direkt verliebt, nur leider eben nicht schwarz. Daher ging er zurück. Nun endlich gibt es schwarz wieder!! Direkt bestellt doch leider... der Kragen sitzt auch mit ständigem Zurechtzupfen überhaupt gar nicht :( hätte es sooo gern behalten, weil es sonst einfach nur traumhaft ist. Ging daher schweren Herzens zurück...
Franziska
&nbsp|&nbsp
2016-11-22 18:21:16
---
These tops are lovely wasn't sure about wearing yellow with my red hair but have had some really nice compliments
Thank you top vintage
Natalie Ann
&nbsp|&nbsp
2016-10-07 17:10:53
---
Eigentlich ein sehr schönes Material und hübsche Länge. Was mich aber störte war, dass sich selbst bei der richtigen Größe, und obwohl es nicht sehr eng anlag, zwischen den drei letzten Knöpfen zwei geöffnete "Spalten" gebildet haben und das Darunter zum Vorschein kam, was angezogen nicht schön aussieht. Deswegen ging das Jäckchen schweren Herzens zurück
Sandra
&nbsp|&nbsp
2016-09-27 10:25:47
---
La taille est bien marquée, ma matière est agréable et ne froisse pas, le col est le détail original et discret à la fois : j'ai pris ce gilet en plusieurs couleurs, il est parfait !
Emmanuelle
&nbsp|&nbsp
2021-02-25 14:50:10
---
fr
Parfait pour réchauffer une robe vintage
Ravie de la qualité et des jolis détails du col et des noeuds décoratifs. Ce cardigan est parfaitement versatile et sait parfaire et réchauffer une tenue 50s ou 60s.Je recommande!
Alexandra
&nbsp|&nbsp
2020-11-06 16:44:16
---
Een mooie
Naima
&nbsp|&nbsp
2020-10-25 17:45:29
---
Hi
My lovely cardi came today, beautifully wrapped in tissue paper like somebody cared which was thoughtful and boxed very nicely. It felt very special to receive this lovely item.
I thought that the quality of the material was excellent and it fitted so well. I will defiantly be ordering again in the future.
Thank you.
Jo
&nbsp|&nbsp
2020-08-07 10:52:10
---
I treat this as a top rather than a cardigan - would recommend still wearing a tank or something underneath as the buttons gape a bit no matter what. But it's cute!
Stefanie
&nbsp|&nbsp
2019-09-27 17:04:30
---
Jurkje kleed mooi af. Het enige wat ik zou weg laten zijn de zakken op de jurk, dat ziet er af en toe een beetje gek uit op heupen. Het vestje is awesome, die ga ik ook in andere kleuren bestellen.
F. Smit
&nbsp|&nbsp
2019-03-16 09:10:43
---
nl
Maatgeving is veranderd
Ik vind ze erg leuke vestjes alleen ze vallen groter dan 40s April Bow Cardigan die ik eerder bij jullie gekocht heb. Deze vallen een maat groter. Plat gemeten 3 cm. Dat vind ik jammer. Nu moet ik ze ruilen voor een maat kleiner terwijl ik de maat tabel gevolgd heb.Wie betaalt de verzendkosten


Beste Roos, wat vervelend om te horen dat de maat van de April Bow Cardigan nu anders uitvalt. Ik ga meteen even contact met je opnemen om dit met je op te lossen.
Groetjes,
Bernice
Klantenservice
Roos
&nbsp|&nbsp
2019-02-17 13:08:34
---
J' aime les cardigans. La matière est douce, les couleurs sont bien franches. Un plaisir a porter. Ne pas hésiter !
ELISE MARC
&nbsp|&nbsp
2019-02-12 23:55:31
---
de
Mein Lieblingsshop, ich kaufe nur noch hier !!!
Eigentlich wollte ich einfach nur einmal ein schönes Kleid bestellen......
Aber dann war ich soooo von den schönen Farben, Mustern, Schnitten und Schuhen begeistert.
Jetzt bestelle ich hier regelmäßig und werde immer wieder auf die schönen Kleidungsstücke angesprochen.
Die Kleider sitzen perfekt! Auch die Caprihose macht eine gute Figur. Meine Lieblinge sind zur Zeit die Sommerschuhe. Das Design ist besonders, am liebsten hätte ich beide Farben behalten, mich aber für grün entschieden, da Sie etwas kleiner ausfallen und ich rot in meiner Größe bestellt habe, grün eine Nummer Größer und die sind bequemer.
Die Ballerinas sind ganz weich, sehr bequem. Die Oberteile sind manchmal etwas kurz geraten, haben aber so verspielte Details das Sie einfach bei mir bleiben müssen.
Wenn was zurück geht, dann nur weil ich zu viel zur Auswahl bestellt habe oder etwas zu klein geraten ist.
Ein ganz großes Lob und vielen Dank! Ich hoffe die Qualität und Fülle bleibt so erhalten, da dieser Shop ja schon längst kein Geheimtipp mehr ist.
Steffie
&nbsp|&nbsp
2019-02-02 18:28:56
---
nl
In plaats van vakantie mooie kleren gekocht!
Vandaag de mooie doos met de strik ontvangen en meteen uitgepakt.
De groene jurk in L gekocht omdat M niet voorradig is. Inderdaad te groot maar door mijn grote cupmaat en de riem kan het nog net. Te mooi om terug te sturen! Ideale jurk voor een smalle taille en een grote boezem. Ik ben maar 1.62 dus de jurken zijn altijd wel wat lang. Wel vind ik het raar dat op de foto's geen inkijk te zien is terwijl het toch echt een heel lage jurk is. Er moet een shirtje onder of een vestje over.
De rode jurk (maat M) is ook al zo mooi, zit fantastisch! Denk er om dat er geen stress in zit dus bij mij is de taille ruim en bij de borsten kan het nog maar net. Jammer genoeg is de afwerking wat minder. Draadjes zitten niet goed vastgehecht, een bandje voor de riem zit al los en er hangen allerlei kleuren losse draden aan en in de jurk. Bij mij is de jurk niet doorschijnend en ziet er uit als linnen.
Het blauwe vestje is helaas niet mijn model, iets te lang en te ruim. Maar erg mooie stof en kleur.
De andere gekleurde vestjes zijn erg kort maar heel handig om te hebben. De groene vind ik een vreemde kleur en de blauwe had een paar lusjes. Die gaan dus terug.
Het zwarte vestje is eigenlijk niet mijn ding, met die kraag en strikjes. Maar het zit heel erg mooi en door de kraag luxe en netjes, voor naar het werk. Echt een aanrader! Mooie lengte mouwen.
De onderjurk is prijzig maar werkt echt. Er zitten geen vervelende naden in en het kruipt niet omhoog. Door de grote cupmaat trekken de bandjes een beetje maar dat stoort me niet.
Liep er mee door de kamer en zag pas later dat de achterkant doorschijnende stof heeft!
De rode schoenen zien er erg mooi uit maar ik weet nog niet of ik ze houd. De tip gevolgd en een maat kleiner besteld maar hopelijk lopen ze nog wel iets uit. De kanten randen in de schoen moeten ook even wennen aan je voeten. Ik vind het niet praktisch en hoop dat ze de panty's niet stuk maken.
De panty met steunbroekje zit prima en ondersteunt echt. De kleur/tint is ook mooi. Alleen is het verder gewoon een panty, die bij mij bij de eerste keer dragen altijd stuk gaan. Ben benieuwd of ik ze na morgen weg kan gooien.
Kortom, heel veel geld uitgegeven maar wel aan heel mooie kleding.
Marjolein
&nbsp|&nbsp
2021-06-10 16:46:40
---