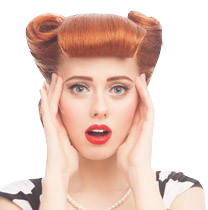 Sorry, we couldn't find any results! But... that doesn't mean that we don't have what you're looking for. Our items often have fabulous, creative and mostly foreign names, therefore we suggest that you select a category from our main menu first and then narrow your search by using the different filters available at the top, like colour, style, brand, size and price.

If you are looking for something particular and you still can't find it, please don't hesitate to ask: we're happy to help, gorgeous! 
Pinup Couture clothes
Pinup Couture's American designers want all women to feel their best in their clothes: the brand puts this idea into practice by producing gorgeous vintage inspired clothes in a wide range of sizes, catering to smaller as well as bigger sizes. And we love it! TopVintage also loves high quality clothes that's why we have curated a large collection of wonderful items. The collection in our webshop features gorgeous tops, dresses, skirts and blouses in 1950s and 1960s vintage style. We have also included the fabulous Pinup Couture pumps in our collection: beautiful designs in a variety of colours and prints. And Pinup Couture has even more to offer like their classy and sophisticated handbags! Every single one of them is super cute. Or maybe you're going on a holiday soon and are still looking for the perfect swimsuit? Make a splash in and out of the pool in a vintage inspired swimsuit with the splendour of 1950s Hollywood! Just one of those swimsuits is all it takes to be totally ready for summer! Oh… and don't forget to check out the new shoe collection of this American brand on our website. Gorgeous 1940s and 1950s inspired pumps that match perfectly with your Pinup Couture outfit! Because this brand has such a wide variety of items on offer, you will never have to worry if you have enough clothes. In short: these vintage stunners are perfect for many occasions. That's why we have some tips for you. That makes choosing so much easier, doesn't it?!   

The prettiest pin-up clothes by Pinup Couture
Party? No stress, with this dress: wear a vintage look swing dress by Pinup Couture and swing the night away! This timeless stunner will enhance your waist beautifully. 
Business lunch? There is nothing wrong with showing off your femininity in an outfit that is still office-appropriate. That's why a sassy top with a lovely stretch is your best friend. Pair the top with a sophisticated skirt, or – if you like a more casual look – with stylish trousers. 
Going out to lunch with your friends? A pair of super cute pumps by Pinup Couture will add the perfect finishing touch to any outfit of your choice. These beauties are styled with a super comfy footbed, so you'll be light on your feet all day long! 

Found an outfit that you love? That's wonderful! All orders completed before 3:30 pm CET will be dispatched the same day, Monday-Friday. Enjoy your new items!